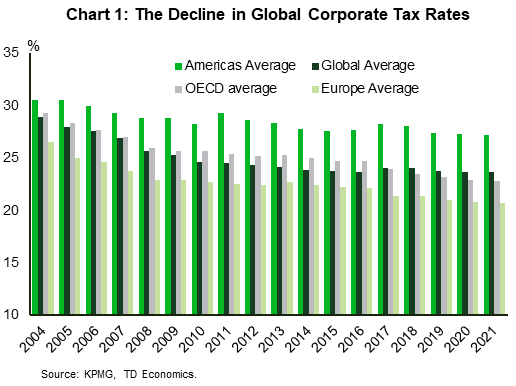 Corporate taxation has been the topic du jour for policy makers in recent weeks. In addition to President Biden's push to raise the U.S. corporate tax rate to 28%, Treasury Secretary Janet Yellen recently proposed a global minimum tax for larger multinational corporations, in order to "level the playing field" and avoid tax leakage.
This push comes after years of governments around the world actively reducing tax rates in order to attract corporate investment. Since 2004, the average global corporate tax rate has declined from 29%, to 23.7% in 2021 (Chart 1). For the U.S., it was only four years ago that the Trump administration passed one of the largest corporate tax cuts in modern history. The Tax Cuts and Jobs Act (TCJA) of 2017 reduced the U.S. corporate tax rate from 35% to 21%, with the intent of triggering a corporate investment boom. Corporate investment has disappointed, but the policy did result in a greater percentage of profits being retained by large corporations. To be exact, corporate earnings after tax and interest payments rose from 67% of total operating earnings at the end of 2017, to 75% by the end of 2018. Corporations retained a larger share of the pie, while investors in these companies saw a valuation adjustment and strong price appreciation.
The international story is also telling. U.S. companies have spent years setting up and investing in holding companies (non-bank) domiciled in lower taxed countries. Indeed, roughly half of U.S. foreign investment has been in holding companies, with the majority of this investment in Europe. The TCJA eased this trend by lowing the corporate tax rate to more competitive international levels. Conversely, the Biden administration is proposing a different approach by proposing to raise the tax on overseas profits from 10% to 21%. The new strategy will calculate the minimum tax on a country-by-country basis, which should help address the tax avoidance issue.
Policy analysts know that U.S. corporate taxes are both controversial and convoluted. From an economic perspective, it is imperative the Biden administration strikes the right balance to ensure that corporate incentives to invest remain in place. Assuming the administration is successful in unwinding a large portion of the Trump administration's corporate tax cut, it must also make sure it does not erode U.S. competitiveness. Hence the focus on rewriting the rules globally. Thus far, we have seen supportive voices from Europe, stating that an agreement on corporate taxation could bring about stability. While there is a big difference between voicing support for ending tax avoidance and actually signing onto a U.S.-led agreement, this is a step in the right direction.
James Orlando, CFA, Senior Economist | 416-413-3180