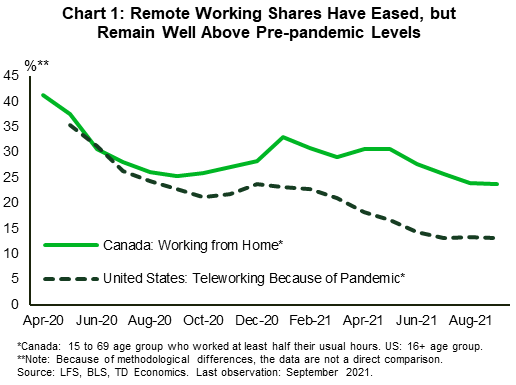 Chances are that if you use a computer for work, you have had to work remotely at some point during the last nineteen months. The shift to remote work in the U.S. and Canada had been gaining ground steadily in the years leading up to the pandemic. But the health crisis helped expedite the trend in a major way, as it forced millions of workers across North America to work remotely. As this happened, plenty of office space sat empty, while vacancy rates surged higher. Against this backdrop, builders, for their part, have eased off the accelerator – a trend that's expected to continue for some time and one that will avoid overburdening the commercial real estate (CRE) office market as it recovers from the pandemic's hit.
With large swathes of the North American population having already been vaccinated, the worst of the health crisis may be over. Indeed, more workers have returned to the office, even as the latest Delta-driven infection wave slowed down the rate of progress in early autumn. As of September, roughly 13% of U.S. workers were still operating from home because of the pandemic, down from a peak of around 35% earlier last year (Chart 1). This measure does not factor in those working remotely for reasons other than the pandemic (estimated at close to 6% before the health crisis), leading to some undercounting.
In Canada, where governments and businesses are proceeding with greater caution, 24% of employees continue to work remotely, compared to about 40% at the high-point last year and a pre-virus level of roughly 5%. Note that due to methodological differences, these data series are not a perfect apples to apples comparison. Still, the main point to highlight is that even as remote work shares have declined, they remain well above the pre-pandemic levels in both countries. As the pandemic wanes and firms resume the return-to-office plans that were put on hold as a result of the Delta wave, the remote work shares are expected to ease further in both.
Companies and employees are still in the process of figuring out what the future of work will look like over the long term. Recently announced company-specific decisions and survey data point to a fragmented picture. Consider that while client-facing businesses may be eager to get employees back to the office, companies like LinkedIn, Twitter and Amazon will give many of their workers the option to work remotely full-time. Then there's the hybrid approach, where companies allow workers to split time between in-person and remote work. This latter strategy, which may allow for greater flexibility, appears to be relatively popular, garnering the support of 50-75% of employees (depending on the survey).
Whatever the individual path, one thing is for sure: remote work will take on a permanently higher share than it did pre-pandemic, even as the traditional office recaptures some activity. Ultimately, this will mean lower demand for office space over the long-term. But the need to reduce worker density in a post-pandemic world, which can be achieved by increasing space per employee, could provide some important offset. In the meantime, besides greater elbow room, look for work offices to also become more welcoming as they compete with the conveniences of the remote office.
Admir Kolaj, Economist | 416-944-6318
Disclaimer
This report is provided by TD Economics. It is for informational and educational purposes only as of the date of writing, and may not be appropriate for other purposes. The views and opinions expressed may change at any time based on market or other conditions and may not come to pass. This material is not intended to be relied upon as investment advice or recommendations, does not constitute a solicitation to buy or sell securities and should not be considered specific legal, investment or tax advice. The report does not provide material information about the business and affairs of TD Bank Group and the members of TD Economics are not spokespersons for TD Bank Group with respect to its business and affairs. The information contained in this report has been drawn from sources believed to be reliable, but is not guaranteed to be accurate or complete. This report contains economic analysis and views, including about future economic and financial markets performance. These are based on certain assumptions and other factors, and are subject to inherent risks and uncertainties. The actual outcome may be materially different. The Toronto-Dominion Bank and its affiliates and related entities that comprise the TD Bank Group are not liable for any errors or omissions in the information, analysis or views contained in this report, or for any loss or damage suffered.