The Weekly Bottom Line
Our summary of recent economic events and what to expect in the weeks ahead
Date Published: December 2, 2022
Highlights
Employment rose by 0.2% month-on-month (m/m) for the fourth consecutive month in November, surpassing expectations for a moderate slowdown in job growth.
Core PCE inflation for October eased slightly to 5% year-on-year (y/y), but was supported by strong spending growth and a drop in the consumer savings rate to a 17-year low.
FOMC Chair Powell noted in his speech on Wednesday that rate hikes may slow as early as December but reiterated that the Fed has a long way to go in restoring price stability.
U.S. - The Job Market Marches On
---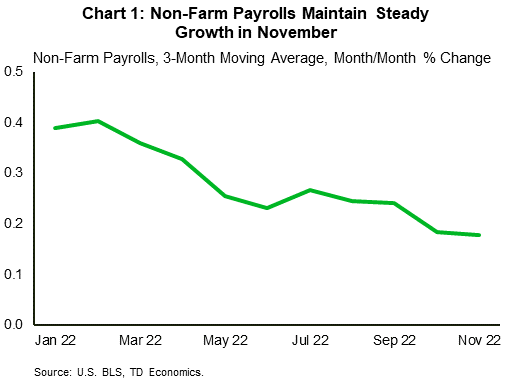 Markets had to hit the ground running after the Thanksgiving holiday, with a full slate of economic data and news. The November jobs report, personal income and spending data for October, and FOMC Chair Powell's speech on Wednesday were just the headliners. Markets rallied to start the week, but gains were pared back after the release of the November jobs report on Friday. At the time of writing, the S&P 500 is up 0.3% on the week while the ten-year yield is down 10bps to 3.59%.
In November, the seemingly indomitable U.S. labor market recorded another strong rise in employment. Non-farm payrolls rose by 263k jobs, rising at a pace of 0.2% month-on-month (m/m) for the fourth consecutive month (Chart 1). The unemployment rate remained unchanged at 3.7%, while the labor force declined slightly (-0.1% m/m). Average hourly earnings accelerated by 0.6% m/m, doubling market expectations.
Oil prices rose this week after Chinese officials eased up on their Zero-Covid messaging in the wake of wide-spread protests. With health protocols expected to be loosened heading into 2023, the prospect of renewed Chinese demand drove oil prices higher. Looking to next week, OPEC+ will have its bi-monthly meeting on Sunday after previously cutting production by 2 million barrels per day in October. The following day, the EU will implement its embargo on Russian oil. European officials also recently announced a $60 per barrel price cap on Russian oil, which they intend to implement in coordination with the G7 and Australia on the same day their embargo goes into effect. Overall, bullish sentiments linger in the oil market as we head into the final month of the year.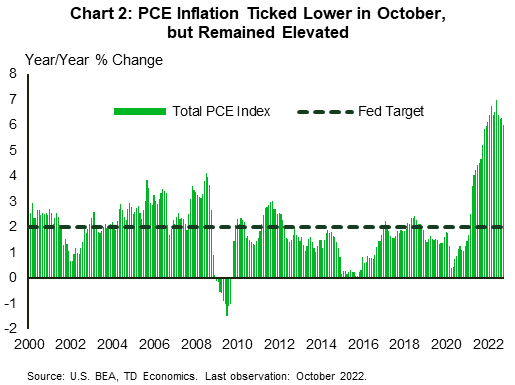 Personal income saw a healthy gain in October (+0.7% m/m), driven by strong growth in employee compensation (0.5% m/m) alongside one-time refundable tax credits issued by states. Consumers were keen to spend those gains, with spending rising even more (+0.8% m/m). That took the consumer savings rate to a 17-year low of 2.3%. It wasn't all inflation either. Controlling for taxes and inflation, income rose 0.4% m/m. Real spending was up a healthy 0.5% m/m, which puts third quarter consumer spending on track for a healthy gain. Headline PCE inflation fell 0.2 percentage-points (ppts) to 6% y/y (Chart 2) while the Fed's preferred core PCE measure fell 0.1ppts to 5% y/y.
Earlier in the week we heard from Chair Powell for the first time since the November FOMC meeting. His remarks were little changed overall, but markets reacted strongly to his statement that "the time for moderating the pace of rate increases may come as soon as the December meeting". This reaction, however, overlooked his reiteration that the FOMC has "a long way to go in restoring price stability" and that this will likely require "holding policy at a restrictive level for some time". Coupled with his insistence that the FOMC will need to see "substantially more evidence to give comfort that inflation is actually declining" alongside the strong November jobs report, it is fair to say that their job is far from done.
Andrew Foran, Economist | 416-350-8927
Disclaimer
This report is provided by TD Economics. It is for informational and educational purposes only as of the date of writing, and may not be appropriate for other purposes. The views and opinions expressed may change at any time based on market or other conditions and may not come to pass. This material is not intended to be relied upon as investment advice or recommendations, does not constitute a solicitation to buy or sell securities and should not be considered specific legal, investment or tax advice. The report does not provide material information about the business and affairs of TD Bank Group and the members of TD Economics are not spokespersons for TD Bank Group with respect to its business and affairs. The information contained in this report has been drawn from sources believed to be reliable, but is not guaranteed to be accurate or complete. This report contains economic analysis and views, including about future economic and financial markets performance. These are based on certain assumptions and other factors, and are subject to inherent risks and uncertainties. The actual outcome may be materially different. The Toronto-Dominion Bank and its affiliates and related entities that comprise the TD Bank Group are not liable for any errors or omissions in the information, analysis or views contained in this report, or for any loss or damage suffered.