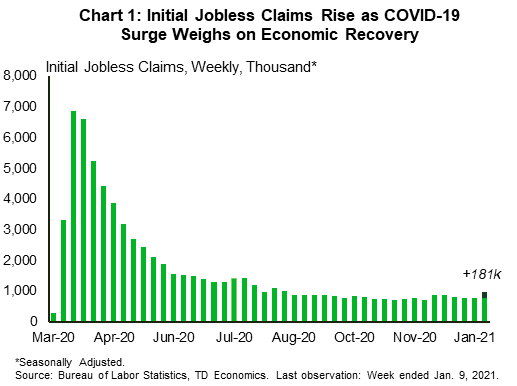 This week offered some welcome respite following the turbulent events that marked the start of the year. From an economic standpoint, the biggest news came from President-elect Biden's address on Thursday as he unveiled a new $1.9 trillion coronavirus relief plan. The proposal, which will need to go through Congress, notably includes a round of $1,400 stimulus checks for individuals with expanded eligibility, a $400-per-week unemployment insurance boost through September, as well as funding for state and local governments. With eviction and foreclosure moratoriums set to expire later this month, Mr. Biden also called to extend these measures until September.
Additional fiscal support will go a long way toward breathing new life into a faltering economic recovery. Indeed, the heavy toll of the third wave of COVID-19 infections was on full display in economic data released this week. Initial jobless claims rose by 181,000 last week to levels not seen since last summer (Chart 1). This marked the largest weekly increase since last spring and suggests that layoffs are picking up speed. The near-term outlook is not particularly bright. The U.S. economy already lost 140,000 payroll jobs last month, mainly in the leisure and hospitality industry, which was hit hard by restrictions imposed across the country to curb the spread.
These difficult conditions are weighing on business confidence. In December, the NFIB small business optimism index plummeted by 5.5 points to 95.9 – one of the steepest drops in the survey's history. The decline was driven by lower expectations for real sales, earnings trends and economic improvement in the near-future. This downbeat tone was also echoed in last month's retail sales report. Sales contracted by 0.7% in December from the previous month, marking their third consecutive month of decline. They fell the most at nonstore retailers (-5.8%), electronics and appliance stores (-4.9%) and food services and drinking places (-4.5%). By contrast, sales at gasoline stations increased by 6.6% on the month.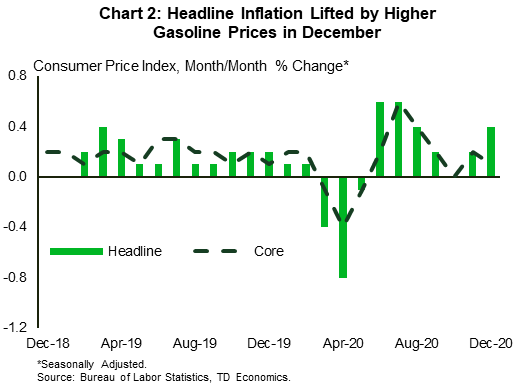 Alongside stronger gasoline sales came higher prices at the pump, which lifted overall consumer prices in December. The headline Consumer Price Index (CPI) rose by 0.4% month/month, while the core series – which excludes volatile food and energy items – was more muted at 0.1% (Chart 2). On the whole, the pandemic continues to dampen consumer price growth, particularly for core services, which are now trailing their goods counterpart. This is a notably rare occurrence, which usually manifests itself on the heels of an economic recession.
Inflation will likely pick up later this year as vaccination rates increase and the economy gets back on track, but the Federal Reserve is in no rush to shift away from its accommodative monetary policy stance. This week, Chairman Powell brushed aside concerns about higher inflation, noting that the central bank has the tools to stave off unwelcomed price growth, though he doesn't expect to use them anytime soon. What is more, Mr. Powell indicated that the U.S. economy is still a long way from a complete recovery. The message was clear – interest rates will remain low for the foreseeable future.
Johary Razafindratsita, Economist | 416-430-7126