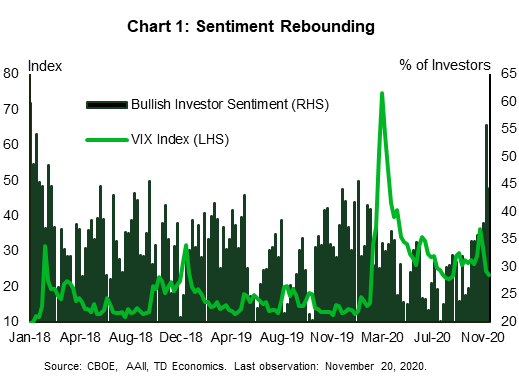 Over the last few weeks, sentiment has rebounded on the back of a market-friendly U.S. election result and encouraging covid-19 vaccine progress. The S&P 500 Index has jumped 9% since late-October, which is 5% above its pre-pandemic peak. In tandem, measures of volatility have eased, and investor sentiment hit the highest level since the beginning of 2018 (Chart 1). With covid-19 infection rates reaching new highs, stricter social restrictions will act as a strong headwind on near-term economic growth. But, financial markets are forward-looking and focused on the light that is now shining at the end of the tunnel.
The U.S. Election Impact
Volatility is usually somewhat greater ahead of elections, but this time around it captured even more investor nervousness. The result of a Joe Biden victory and a divided Congress was subsequently viewed as favorable for risk assets, setting up a relief rally.
However, there are push-and-pull forces at work. On one side, market participants have tempered their expectations for near-term fiscal stimulus that would alleviate business and household financial pressures caused by the pandemic. Typically, this would dampen yields and equity prices because the economic recovery would be placed at greater risk.
But, the other side of the equation was dominated by market relief. With Republicans likely to maintain control of the Senate, President-elect Biden will be more limited in enacting policies related to higher corporate taxes and increased regulation. These policies would have pressured profits for large publicly traded corporations, directly translating into lower equity prices. Although Presidential powers are great and can influence many aspects of the political agenda, the sweeping policy changes that require funding and congressional oversight will now be limited under a Republican Senate. The end result is a corporate backdrop that hues more closely to the status quo and limits some investor uncertainty.
The market reaction post-election clearly signaled a preference for the latter of the two impacts. Equity prices rose 4% in the 3 days that followed.
The Promise of a Vaccine Versus the Wave of New Infections
Less than a week after the election, equity prices jumped a further 1% on news that two covid-19 vaccines might be available by the end of the year, with a full rollout to the public within sight during the first half of 2021. If the vaccine works as hoped and is accessible to the population, this would likely succeed in accelerating the recovery in 2021 by about 3-6 months relative to prior expectations. In turn, for people and businesses that work or operate in the most impacted sectors, this helps avoid greater job losses and potential bankruptcies. In fact, the vaccine news might be viewed by some investors as now requiring less urgency on further pandemic fiscal support given that an end is coming into sight for business restraints.
However, much remains to be known on the timing, distribution logistics, and take-up rates of the vaccines. In the meantime, the next few months will be tough and surging infection and hospitalization rates will slow economic growth into early 2021. Regardless of whether counties and governments impose mobility and business restrictions, a lower sense of health safety has its own effect on restraining mobility and spending behavior. Though we don't expect job losses anywhere on the scale of the first half of 2020, there is certainly a rising risk that the recovery stalls as this year comes to a close. Although forward-looking markets are currently looking past this near-term risk, any hiccups related to the vaccines or recovery expectations can quickly throttle back that sentiment.
Yields Moving Higher on the 2021 Outlook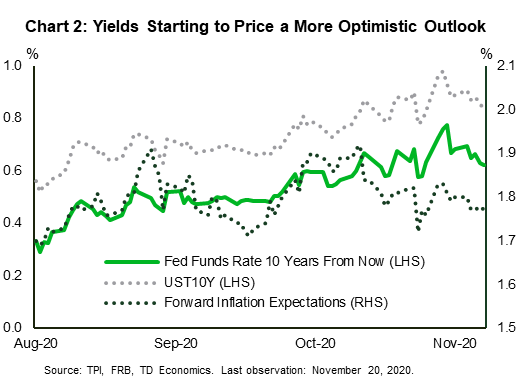 Improved sentiment around the medium-term outlook has not only driven risk assets higher, but it has also resulted in higher government bond yields (Chart 2). The U.S. 10-year yield reached an eight-month high of 0.98% on the day after the Pfizer announcement, which is 46 basis points higher than the low on August 4th. Yields have come down from the recent peak, but remain at elevated levels.
What is interesting is that over this same time period, the Federal Reserve has reinforced expectations that it will keep its policy rate at the current level until at least the end of 2023. It's important to make the distinction between the short end of the curve and the long end. The Fed can control short-term interest rates by pinning down the fed funds rate, but it has only partial influence on long-term rates. Just because the policy rate is telegraphed to remain flat over the next three years, doesn't mean longer-term yields will also remain static. The UST 10-year embeds expectations for the Fed today and over the next ten years. Back in early August, markets were pricing that the fed funds rate ten years from now would only be at 0.29% (compared to an effective rate of 0.10% today). In a very short period, those Fed expectations are now pricing a policy rate of 0.63% within the next ten years. This shift in expectations has contributed to about half of the move higher in the U.S. 10-year Treasury yield over the last few months – and we judge that it's still not done on the repricing.
The other half of the contribution is coming through on the term premium. The risk that Treasury yields could rise more than expected has increased over the last few months. There are two reasons for this. One is that the Fed has moved to flexible average inflation targeting (AIT), which means that it is willing to allow inflation to overshoot its target of 2% for a period of time. Higher inflation risk is bad news for long-term bond holders and a higher yield premium is required as compensation.
The second reason for higher term premiums is that debt levels continue to rise. The U.S. government has aggressively stepped in to support the economy. As is almost always the case, greater government spending means greater borrowing. The consequence is that the debt-to-GDP ratio is set exceed its WWII peak of 103%. The Congressional Budget Office projects the debt-to-GDP ratio will reach 104% by 2021 and stretch further to 106% by 2022. And, this is without any further fiscal spending for the pandemic or otherwise. Given this backdrop, investors are logically demanding more of a premium for buying Treasury debt.
These three dynamics are rowing in one direction: higher yields. Increasing expectations for Fed policy, rising inflation, and an increasing supply of debt should be enough impetus for the UST 10-year yield to rise past 1% and settle around 1.5% by the end of next year. With the Fed policy rate locked at the lower bound, this amounts to a steeper yield curve over the next year.
Many Factors Will Affect the Speed of Adjustment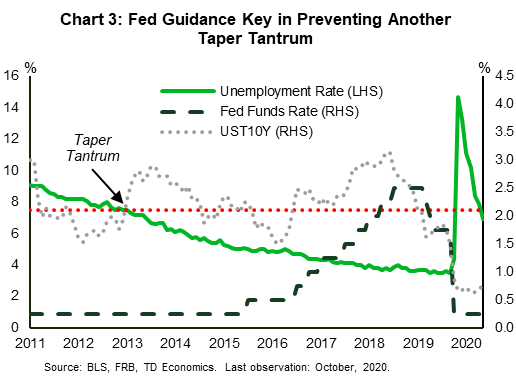 Economists are often better at predicting the direction in yields, rather than the speed of adjustment. That's probably more true today since central banks have a number of additional policy manoeuvres to influence outcomes. For instance, under the Federal Reserve's Quantitative Easing (QE) program, it is already purchasing roughly a quarter of Treasury securities on the secondary market. This is keeping yields lower than would otherwise be the case. Should market repricing of expectations occur too swiftly, the Fed could opt to target its purchases more heavily within those areas of the yield curve. Conversely, they could adjust the timing and amounts of their purchases all together. However, this action needs to be done with caution and appropriate communication.
As a way of comparison, in May 2013, Fed Chair Ben Bernanke communicated a forthcoming change to the Fed's QE program. Investors took this to mean that rising rates were right around the corner. Changing Fed expectations caused the UST 10-year yield to rise from 1.66% in early May, to 2.98% by the beginning of September 2013. It was as if the Fed was holding down a spring that shot up strongly with just a little bit of pressure released.
Interestingly, the unemployment rate at that time was 7.5% (down from 10%) and the economy was clearly on the path to recovery. The unemployment rate is currently 6.9%. Luckily this time around the Fed has communicated that it won't let broad economic variables such as the national unemployment rate dictate policy in a prescriptive way, as it did in the past. It will need more evidence of a fulsome recovery before it eases its finger off the spring. However, nothing is written in stone, including their forward guidance. A sooner-than-expected distribution of the vaccine that significantly lifts growth could be the convincing factor for the Fed to adjust the timing of its policy stance. Its forward guidance is done in the context of the current environment and recovery assumptions, but they are not bound by it as new data become known.
Bottom Line: A delicate balance to neither choke nor stoke
In spite of rising covid-19 cases and the negative headwind of partial lockdowns, investors have focused on the optimism coming from the U.S. election and vaccine developments. This has pushed risk assets higher. It has also lifted government bond yields to their highest levels since March. Since that time, the Fed has been active in forcing yields lower in order to accelerate the economic recovery. As the post-pandemic world becomes evermore clear, markets will likely continue to push yields higher. In turn, the Fed will want to ensure a cautious transition to a higher yield environment that won't choke the recovery or stretch the economic scars. At the same time, the Fed will want to avoid stoking risk taking behavior that can become divorced from fundamentals. Vaccines in 2021 will mark the start of the next chapter for the Fed.
Tables
Interest Rates & Foreign Exchange Rates
Spot Rate
2020
2021
2022
Nov-20
Q1
Q2
Q3
Q4F
Q1F
Q2F
Q3F
Q4F
Q1F
Q2F
Q3F
Q4F
Interest Rates
Fed Funds Target Rate
0.25
0.25
0.25
0.25
0.25
0.25
0.25
0.25
0.25
0.25
0.25
0.25
0.25
3-mth T-Bill Rate
0.07
0.11
0.16
0.10
0.10
0.10
0.10
0.10
0.10
0.10
0.10
0.10
0.10
2-yr Govt. Bond Yield
0.16
0.23
0.16
0.13
0.20
0.20
0.20
0.20
0.20
0.20
0.25
0.30
0.35
5-yr Govt. Bond Yield
0.37
0.37
0.29
0.28
0.30
0.40
0.50
0.60
0.75
0.90
0.95
1.05
1.15
10-yr Govt. Bond Yield
0.82
0.70
0.66
0.69
0.80
0.95
1.10
1.25
1.40
1.55
1.60
1.65
1.70
30-yr Govt. Bond Yield
1.52
1.35
1.41
1.46
1.60
1.75
1.85
1.95
2.05
2.10
2.15
2.20
2.25
10-yr-2-yr Govt Spread
0.67
0.47
0.50
0.56
0.60
0.75
0.90
1.05
1.20
1.35
1.35
1.35
1.35
Exchange rate to U.S. dollar
Chinese Yuan
CNY per USD
6.56
7.08
7.07
6.79
6.60
6.65
6.70
6.75
6.80
6.80
6.80
6.80
6.80
Japanese yen
JPY per USD
104
108
108
106
103
104
104
104
103
103
103
103
102
Euro
USD per EUR
1.19
1.10
1.12
1.17
1.19
1.20
1.21
1.23
1.24
1.25
1.25
1.25
1.25
U.K. pound
USD per GBP
1.33
1.25
1.24
1.29
1.31
1.33
1.34
1.36
1.37
1.38
1.40
1.40
1.40
Swiss franc
CHF per USD
0.91
0.96
0.95
0.92
0.91
0.92
0.93
0.94
0.95
0.96
0.97
0.98
0.99
Canadian dollar
CAD per USD
1.31
1.41
1.36
1.33
1.30
1.29
1.28
1.29
1.30
1.30
1.30
1.30
1.30
Australian dollar
USD per AUD
0.73
0.61
0.69
0.72
0.73
0.73
0.73
0.73
0.73
0.73
0.73
0.73
0.73
NZ dollar
USD per NZD
0.69
0.60
0.65
0.66
0.69
0.70
0.70
0.69
0.68
0.67
0.67
0.67
0.67
Exchange rate to Euro
U.S. dollar
USD per EUR
1.19
1.10
1.12
1.17
1.19
1.20
1.21
1.23
1.24
1.25
1.25
1.25
1.25
Japanese yen
JPY per EUR
123
118
121
124
123
124
126
127
128
129
128
128
128
U.K. pound
GBP per EUR
0.89
0.89
0.91
0.91
0.91
0.90
0.90
0.90
0.90
0.90
0.89
0.89
0.89
Swiss franc
CHF per EUR
1.08
1.06
1.06
1.08
1.08
1.11
1.13
1.15
1.17
1.20
1.21
1.22
1.23
Canadian dollar
CAD per EUR
1.55
1.56
1.53
1.56
1.55
1.55
1.55
1.58
1.61
1.63
1.63
1.63
1.63
Australian dollar
AUD per EUR
1.62
1.79
1.63
1.64
1.64
1.64
1.66
1.68
1.70
1.71
1.71
1.71
1.71
NZ dollar
NZD per EUR
1.71
1.85
1.74
1.77
1.73
1.73
1.74
1.78
1.81
1.87
1.87
1.87
1.87
Exchange rate to Japanese yen
U.S. dollar
JPY per USD
104
108
108
106
103
104
104
104
103
103
103
103
102
Euro
JPY per EUR
123
118
121
124
123
124
126
127
128
129
128
128
128
U.K. pound
JPY per GBP
138
134
133
136
135
138
140
140
141
143
144
144
143
Swiss franc
JPY per CHF
114.0
111.7
113.8
114.9
113.2
112.6
112.0
110.4
109.0
107.7
106.4
105.1
103.8
Canadian dollar
JPY per CAD
79.3
76.1
79.2
79.2
79.2
80.2
81.3
80.2
79.4
79.2
79.0
78.8
78.7
Australian dollar
JPY per AUD
75.8
66.0
74.3
75.6
74.8
75.9
76.3
75.6
75.4
75.2
75.0
74.8
74.6
NZ dollar
JPY per NZD
72.0
64.1
69.5
69.8
71.1
72.1
72.5
71.4
70.5
69.0
68.8
68.7
68.5
F: Forecast by TD Economics, November 2020; Forecasts are end-of-period.
Source: Federal Reserve, Bloomberg.