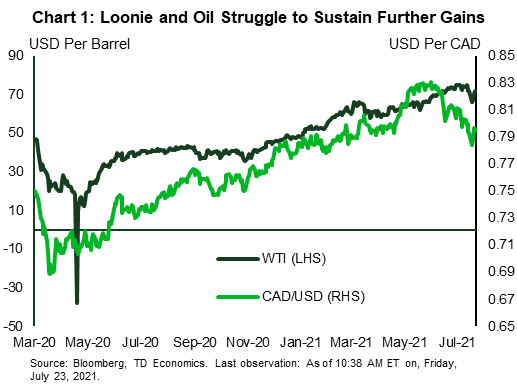 This week was light on economic data, but heavy on financial market developments. All eyes were on the bout of risk-off sentiment that extended from late last week into Monday. Though somewhat uncertain, this was likely driven by concerns around the delta variant, some recent negative economic data surprises, and in some economies, central bank policy uncertainty. Despite this, markets swiftly brushed off Monday's sell-off, with most risk assets rebounding quickly in the following days.
For Canada, the sell off included a downshift in the loonie and sizeable hit to oil prices (Chart 1). Both have since partially rebounded. While further volatility is always possible, we see little further sustained upside from current levels for either going forward. Last weekend saw OPEC+ producers reach agreement after a two-week long impasse. The group agreed to extend their deal until late 2022, and will start adding around 400k barrels per day (bpd) each month, starting in August. While markets are currently tight, this expected two million bpd increase in supply by year-end should cap any further sustained gains in prices.
For the loonie, there are two factors at play. Several commodities had already peaked in the second quarter, with oil likely the latest to the party in the third. At the same time, the Bank of Canada has already begun tapering its asset purchase program and telegraphed a relatively more hawkish stance vis-a-vis the Fed. We suspect that the Federal Reserve will follow suit later in the year, lessening the likelihood of loonie outperformance based on expected interest rate differentials and central bank guidance.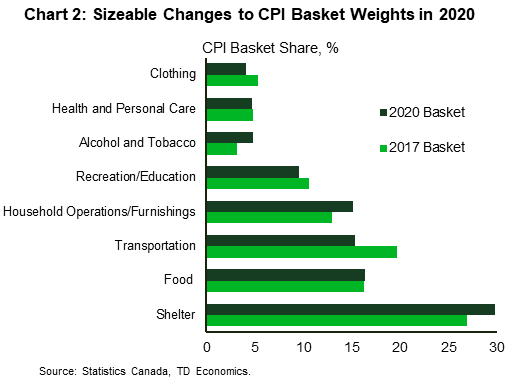 On the economic data front, a backward-looking retail sales release revealed a 2.1% drop in May. Since then, restrictions have eased and vaccinations have ramped up. In turn, flash estimates for June point to a robust 4.4% rise in sales.
As is the case in most economies, inflation remains front and center, putting next week's Consumer Price Index (CPI) release in the spotlight. On this note, Statistics Canada released its updated CPI consumption basket weights (Chart 2). The release was closely watched given the sizeable impact COVID-19 had on consumption patterns. For instance, shelter saw its weight in the basket rise from 26.9% to 29.8%, and household operations/furnishings saw an increase from 13% to 15.2%. Meanwhile, transportation saw a sizeable drop in its weight from 19.7% to 15.3%. The lingering question is whether these changes will have lasting power. Statistics Canada will now update the basket annually. This lessens the likelihood of any mismatch between baskets and consumption patterns.
In terms of what it means for next week's release, Statistics Canada has been publishing an adjusted CPI measure to reflect changes in consumption patterns, with the measure only slightly higher than headline CPI. The new weights will start being applied to the headline measure in June's data. The resulting impact will likely be modest and will depend on offsetting forces of the categories witnessing the largest weight adjustments (transportation on the one hand, and shelter/furnishings on the other).
Omar Abdelrahman, Economist | 416-983-8806
This report is provided by TD Economics. It is for informational and educational purposes only as of the date of writing, and may not be appropriate for other purposes. The views and opinions expressed may change at any time based on market or other conditions and may not come to pass. This material is not intended to be relied upon as investment advice or recommendations, does not constitute a solicitation to buy or sell securities and should not be considered specific legal, investment or tax advice. The report does not provide material information about the business and affairs of TD Bank Group and the members of TD Economics are not spokespersons for TD Bank Group with respect to its business and affairs. The information contained in this report has been drawn from sources believed to be reliable, but is not guaranteed to be accurate or complete. This report contains economic analysis and views, including about future economic and financial markets performance. These are based on certain assumptions and other factors, and are subject to inherent risks and uncertainties. The actual outcome may be materially different. The Toronto-Dominion Bank and its affiliates and related entities that comprise the TD Bank Group are not liable for any errors or omissions in the information, analysis or views contained in this report, or for any loss or damage suffered.