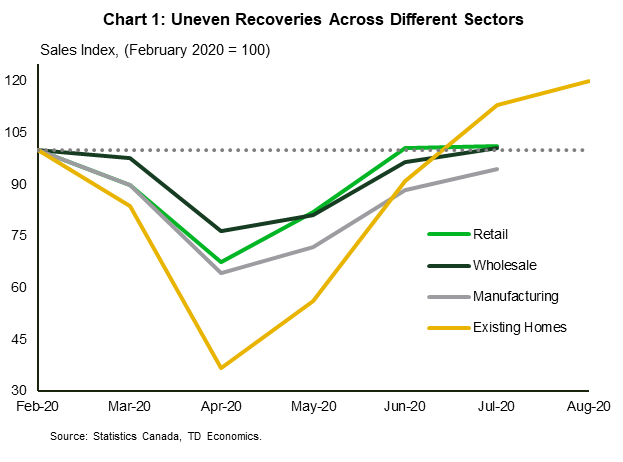 Financial markets were mixed this week, with risk sentiment alternating on global central bank meetings, ongoing uncertainty around U.S. fiscal policy, and the upcoming election. The S&P/TSX ended the week almost flat (as of writing). Turning to oil markets, WTI prices recorded a 9% gain on the week. This was driven by a bullish report from the Energy Information Administration (EIA) which revealed a larger-than-expected crude oil inventory draw in the U.S. Prices were also helped by messaging from major OPEC+ producers on their commitment to rebalancing markets.
Domestically, news flow focused on the U.S. decision to reverse tariffs on Canadian aluminum – a welcome development that should prevent an ill-timed drop in exports for aluminum producers, namely in Quebec (see our latest Provincial Economic Forecast).
Data releases this week point to a recovery that remains intact, but with varying "shapes" across different sectors. Our latest Quarterly Economic Forecast imbeds a Nike "swoosh"-shaped recovery - a middle ground between the V-shaped snapback seen in areas such as housing, and the more elongated recoveries observed in other sectors.
At one end of the spectrum, existing home sales clocked in another 6.2% month-on-month gain in August, leaving overall sales 20% above pre-pandemic levels. Average prices, likewise, saw a 4% boost (17.8% year/year) as markets remained broadly in sellers' territory. The stark divergence between housing market activity and other economic indicators is driven by a combination of pent-up demand, borrowing rates, and stable incomes. The solid rebound will support the economic recovery. That said, pent-up demand is unlikely to have lasting power, giving way to some pullback in activity in Q4.
Elsewhere in the economy, retail (+0.6% m/m) and wholesale trade (+4.3%) also recorded further gains in July. Retail sales remained above pre-pandemic levels for a second consecutive month, with a further 1.1% increase anticipated by Statistics Canada in August. However, this swift rebound in retail sales masks diverging trends across the subsectors. For instance, gasoline and clothing sales both were still 14-15% below February levels.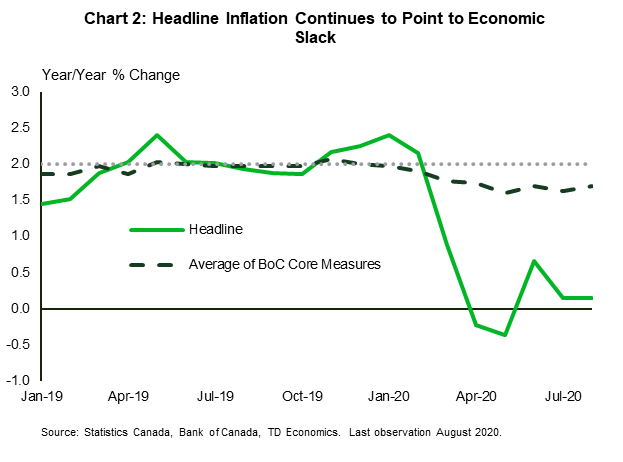 Meanwhile, manufacturing sales in July remained 5.4% below pre-pandemic levels, despite a 7% increase in July's shipments. The sector remains vulnerable to an uncertain global macroeconomic and business investment backdrop - especially in Canada's oil & gas sector.
All told, positive data received this week are a welcome sign, but the recovery appears to be slowing. More timely indicators (such as Google's mobility reports, TD spending data) suggest that momentum is tapering off as we enter the autumn season. Perhaps best capturing lingering economic slack is this week's CPI inflation release for August, which at 0.1% y/y, underperformed consensus expectations for a second consecutive month. Although firmer core inflation measures provide some respite, the persistent weakness in headline measures and notable softness across some hard-hit spending indicators (i.e. clothing, recreation, travel) is a reminder that we have a long way to go before pandemic-induced losses are fully recouped.
Omar Abdelrahman, Economist | 416-734-2873
Disclaimer
This report is provided by TD Economics. It is for informational and educational purposes only as of the date of writing, and may not be appropriate for other purposes. The views and opinions expressed may change at any time based on market or other conditions and may not come to pass. This material is not intended to be relied upon as investment advice or recommendations, does not constitute a solicitation to buy or sell securities and should not be considered specific legal, investment or tax advice. The report does not provide material information about the business and affairs of TD Bank Group and the members of TD Economics are not spokespersons for TD Bank Group with respect to its business and affairs. The information contained in this report has been drawn from sources believed to be reliable, but is not guaranteed to be accurate or complete. This report contains economic analysis and views, including about future economic and financial markets performance. These are based on certain assumptions and other factors, and are subject to inherent risks and uncertainties. The actual outcome may be materially different. The Toronto-Dominion Bank and its affiliates and related entities that comprise the TD Bank Group are not liable for any errors or omissions in the information, analysis or views contained in this report, or for any loss or damage suffered.