Since the closing months of 2018, we noted that the first quarter of 2019 would be make-or-break for the global economy. The slowdown that took root was a reflection of overlapping event risks colliding with mature business cycle dynamics. Financial market volatility set in play rampant talk of recession, which risked undermining business and household confidence. Fortunately, improved financial conditions are now being followed by early signs of stabilization in the economic data that are closing out the first quarter. Even though the data are not blowing our socks off, we'll settle for a bottom forming in economic momentum.
Stable growth is enough to push risk assets higher
Table 1: Central Banks 2019 Real GDP Forecasts
Tightening Bias
"Patience"
6 months prior
3 months prior
Today
U.S. (Q4/Q4)
2.5
2.3
1.9
Canada
2.1
1.7
1.2
ECB/European Commission
1.8
1.7
1.1
Bank of England
1.8
1.7
1.2
Source: Central Banks
Overall sentiment towards risk assets has improved due to two main factors. The first was an easing in negative economic data surprises, and the second was the quick response by major central banks towards a dovish tilt (Table 1).
By the time March economic data began to roll in, a handful of key leading indicators, like manufacturing sentiment, offered some confidence in stabilization. At the same time, the service side of major advanced economies proved solid, as did labor markets. Importantly, there are two call-outs on this front. When the going gets tough, China gets going on fiscal stimulus. A large injection of stimulus has underpinned market confidence that it's only a matter of months before real economic activity responds in kind. In turn, this will help shore up global trade flows. Across the pond, the U.S. economy was defiant in the face of negative market sentiment. The tracking for real GDP growth in the first quarter is coming in at around 2.5%. This is more than double initial estimates, despite a number of negative temporary factors hitting the quarter, such as a lengthy government shutdown and weather disruptions. The consumer was not in fine form, but did make a late-quarter appearance that will help propel economic momentum again towards the 2% mark in the second quarter.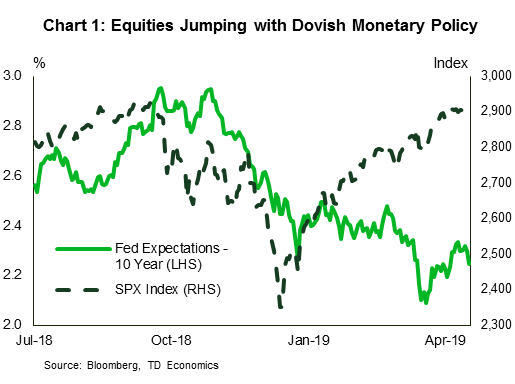 Market sentiment received a second boost from the decisive action of central banks, led by the Federal Reserve, to respond to deteriorating sentiment by putting future rate hikes on ice. This monetary support spurred risk taking, evidence by an S&P 500 Index that is now at a record high (Chart 1) and corporate credit spreads that have dropped below their average since 2010.
Not only did the Federal Reserve use forward guidance to remove any market pricing for higher interest rates, it also announced an earlier end to the normalization of its balance sheet. Several Fed members went further in also hinting an openness to cutting interest rates. The U.S. 10-year Treasury yield responded by dropping to 2.34% on March 28th, causing the yield curve to invert against the 3-month yield. This held for no more than a handful of days. Given the yield curve's strong track record of predicting recessions, its inversion captured significant market attention. However, a look back at history shows that inversions need staying power to have predictive power. In the U.S. and Canada, the yield curve has inverted for short periods (of less than a week) and not resulted in a recession on several occasions. The better recession signal occurs on yield inversions over the course of months.
The direction of bond yields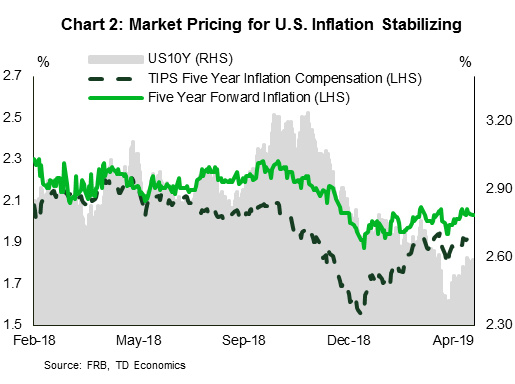 Nonetheless, the Federal Reserve's dovish tilt has prompted market participants to believe that the next move in the policy rate will be a cut. We view this as premature. In our view, the current level of the policy rate is right around the neutral level. If economic growth continues to stabilize as our tracking implies, then the Federal Reserve has got it right on rates just as they are. On the inflation front, market based measures have clearly bottomed (Chart 2) and with wages increasing above 3% on average, we forecast that core measure of inflation will begin to improve in the next couple of months. As the data begin to confirm this trend, market pricing for the policy path and inflation should unwind the pricing for a cut and offer some slight upside for Treasury yields. We maintain our year-end target of roughly 2.85% for the 10-year Treasury yield.
A sustained break above this mark would likely need a few conditions to materialize. Importantly, inflationary pressures would have to become significantly more threatening. By extension, economic momentum would have to heat up much more than we are currently expecting. Likewise, global risks would need to recede. Europe is front and center in our minds. With Italian bank weakness, populist disruptions in France, and Germany's dependence on trade flows, growth in Europe is treading water. It would not take much of a data miss to undermine confidence once again in the region's prospects. And, it may get worse for them yet. As progress occurs with U.S./China trade talks, the U.S. Administration is now lining Europe and Japan within its sights as the next target. China had the luxury of high growth during the tit-for-tat tariff inflictions, which is not afforded to the economies of either Europe or Japan. Lingering economic threats will ultimately cap the upside for yields globally.
Taking Canada's pulse
The Canadian economy has also showed some signs of stabilization. The first quarter was a blow-out in terms of job creation, even with the slight pull back that occurred in March. China's fiscal stimulus announcements have caused a rebound in broader commodity prices. Likewise, Alberta's initiatives to narrow oil spreads via production curtailments have proven successful, alongside a rebound in oil prices more broadly due to global developments. Lastly, the Bank of Canada has tempered investor nerves. It too followed in the footstep of the Federal Reserve by tilting to a more dovish stance and downgrading the outlook in alignment to the reality of the data. Government yields have subsequently dropped and mortgage rates are starting to follow. This will help highly levered Canadian households, particularly as the housing market remains stuck in a cooling pattern.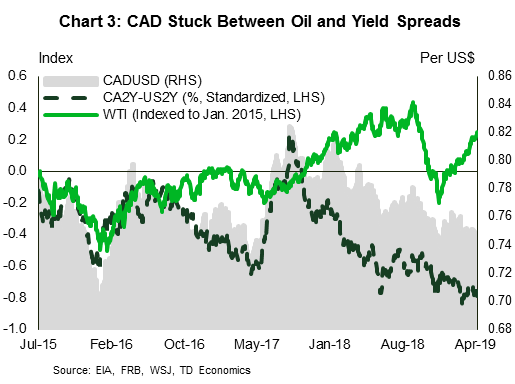 For the Canadian dollar, there isn't a lot of scope for a sudden upward push. It has been largely range-bound between 73 and 77 U.S. cents since last summer. Several dominant factors play into why this is the case. In a typical econometric model, a handful of variables capture the bulk of the movement of the loonie. These are energy prices, U.S.-Canada yield spreads, and the market's perception of risk. When movements in these variables fail to largely "explain" changes in the value of the dollar, the residual gets larger, indicating that there's more going on than meets the eye. Over the last few months, there have been offsetting push and pull forces coming from the main variables. Commodity prices and risk-on sentiment have supported the loonie, while yield spreads have pushed against this dynamic (Chart 3). More interestingly, the residual has captured a greater-than-usual amount of significance. We suspect this is likely due to political risk and related economic uncertainty, stemming from both the international front, as well as domestic issues related to developments in the energy sector. So just like we think there's some, but limited, upside to yields, the same holds true on the Canadian dollar, as long as U.S.-Canada interest rate spreads remain constrained (and we think it will) and geopolitical risks remain in play.
Bottom Line
The global economy is starting to show signs of improvement. This is good news, but it's premature to get excited given its early days and now the test will be on evidence that momentum can indeed strengthen into the second half of this year. Despite firming economic momentum, the multitude of significant global risks will likely continue to limit the degree to which bond yields can make any significant headway.