Last week's rapid sell-off in equity markets is a demonstration on how quickly the foundation under sentiment can erode. It was less than two weeks ago that the S&P 500 hit an all-time high. In just seven trading days the Index declined approximately 15% peak-to-trough. Though the speed of the decline has been anomalous outside of recessions, the current sell-off from the peak is right around what typically occurs in any given year (Chart 2). For equity markets outside of the US, the drawdown started earlier, but has been just as pronounced.
The Safe Haven of the Bond Market
The Treasury market has been the biggest beneficiary of the risk-off environment. The UST 10-year has declined from 1.92% at the end of 2019, and is now below 1% today (Chart 3). This is reminiscent of the approximate 1% decline in response to the escalation of China-U.S. trade tensions last spring/summer. During that time, the expectation was that the Federal Reserve would respond to the economic risk by cutting interest rates. It did just that by cutting the policy rate by 75 basis points over three successive meetings from July to October 2019. The Federal Reserve's current response is even quicker and reminiscent of efforts to sure-up markets during past recessionary episodes. Money markets are expecting further action that would bring the policy rate well below 1%.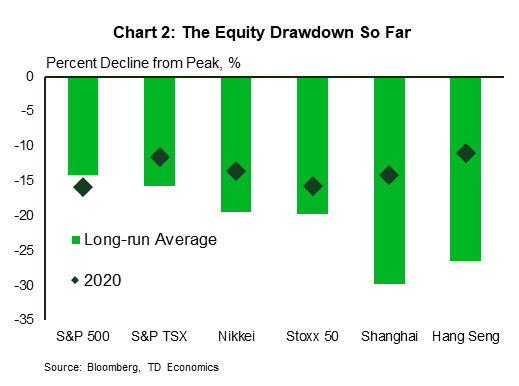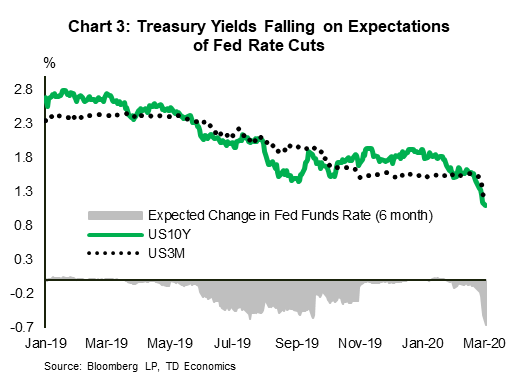 The Federal Reserve has shown a willingness to act when there are sustained deteriorations in market sentiment or deviations in global conditions from their expectations. Members of the Federal Reserve have been especially attuned to signals coming from the bond market. Even with the rate cuts this week, the yield on the UST 10-year is still below the effective fed funds rate. This inversion of the curve signals that investors think the Federal Reserve's policy rate is too high given the current economic environment.
Our baseline view is that the Federal Reserve will cut the policy rate again at its scheduled meeting in March and look to see how the virus has evolved before cutting again at its meeting in late April. It is important to note that the U.S. economy continues to rest on a solid foundation, consistently outperforming peers by a wide margin. Any response to cut interest rates is to address the sentiment channel, not to address a clear-and-present danger on real economic activity.
The Bank of Canada has mirrored the response of the Federal Reserve with a 50 basis point rate cut this week. We expect it will continue to follow the Fed and cut again in April. We were pleased to see the Bank of Canada take such strong action in the face of such a large economic risk. Global growth estimates have deteriorated significantly, and the economy will suffer the sizable income shock from plummeting commodity prices. Even without an outbreak within a large urban center, economic activity will be whittled away through more cautious behavior to travel and attend activities. Their growth-at-risk framework argues for further cuts in the policy rate.
The Impact of Easier Monetary Policy
Let's face it, monetary policy is far more limited in addressing supply-side shocks, as we've noted in a recent report. Rate cuts will help ease debt service costs, which is meaningful given high debt loads. But it's unlikely to light a fire under the economy. The biggest near-term benefit occurs through the sentiment channel. The "do whatever it takes" mantra of central bankers over the last three decades has supported investor confidence. Knowing that central banks will make efforts to stabilize the economy raises the probability of a quick recovery once the shock recedes. This also raises the probability that investment in risk assets will prove more profitable. In this way, central bank support can ease market tensions, to allow other areas of the economy to stabilize under the benefit of time or action of fiscal mechanisms. Our forecast for cuts to policy rates means that sovereign bond yields, mortgage rates, and corporate borrowing rates are all likely to hold lower.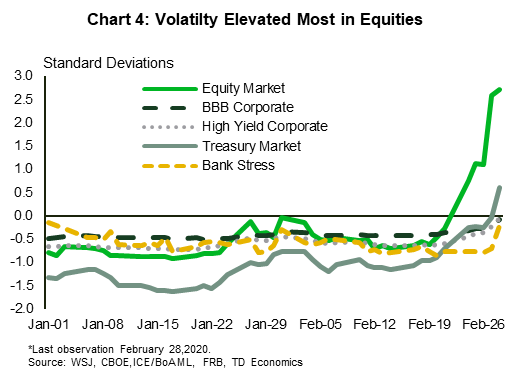 Just How Stressed Are You?
When we run our financial stress models, we find that market stress has risen from very low levels in early 2020, to a 1 standard deviation level today. The stress is most apparent in equity markets, with volatility at 3 standard deviations (Chart 4). This is greater than during the equity market sell-offs of 2018 and 2015, and comparable to levels during the European sovereign debt crisis in 2011. On the other hand, indicators of stress within corporate credit, Treasury, and money markets have been much more muted. This infers that investors are pricing a hit to corporate profits (hence the repricing in equities) but are not yet pricing significant business or consumer defaults. In fact, outside of the lowest rated corporate borrowers, bond yields are closer to historical averages than before the sell-off. The same goes for US equity valuations, where forward looking price-to-earnings ratios have gone from elevated levels at the end of January, to levels that are much closer to historical averages today. In this way, it appears equities may have been primed for repricing.
Bottom Line
The spread of COVID-19 outside of China triggered a significant risk-off move in financial markets. Based on the information we have right now, our baseline view is that the economic fallout from this shock will reduce US and Canadian economic growth by about 0.5% to 0.7%. This number will grow based on the extent of the virus' geographic spread and whether fear changes peoples' day-to-day pattern (spending). With equity markets having corrected 15% last week, a significant economic shock was priced. Same goes for fixed income markets, where expectations for even lower policy rates has pushed bond yields lower.
The truth is that we don't know how bad this will get. What we do know is that some amount of economic growth is already at risk and supporting market confidence is key to mitigating that depth. It is likely the Federal Reserve and the Bank of Canada will continue to cut rates at their upcoming meetings. Should the economic outlook materially worsen from expectations, the Federal Reserve has about 1% in interest rate cuts available and is open to implementing unconventional monetary policies such as Quantitative Easing. The Bank of Canada has 1.25% in cuts until the zero floor is hit. But, we don't anticipate hitting either of these milestones. In a worst-case scenario, there's little doubt that central banks and governments would join forces to leverage policy tools to cushion the shock. As seen globally, governments within impacted regions are acting swiftly on the fiscal front, and we expect no less in North America.
For our regular readers, we want to let you know that we are closely watching the evolution of the virus and assessing the economic impact of the events. We will be providing regular updates to make sure you are aware of any material changes to our outlook.
To be continued…