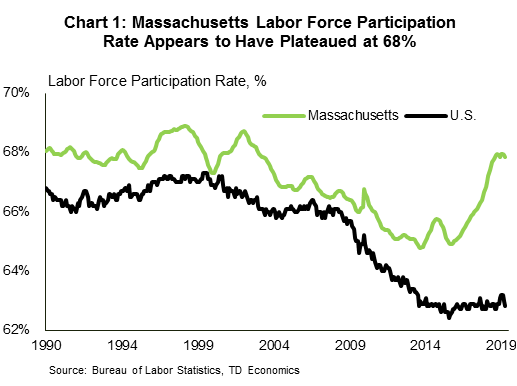 The Massachusetts labor market has had a strong start to 2019, with more jobs created in the first four months of this year than in all of last year. The unemployment rate now sits at just 2.9%, just a hair above its historic dot-com low. Given this backdrop, finding skilled workers will remain a key challenge.
Population growth is expected to remain among the fastest in the Northeast, but the continued wave of retiring baby boomers will be a headwind to labor force growth. After rising for three years, the labor force participation rate appears to have plateaued at 68% in the last twelve months – still well above the U.S. rate (Chart 1). That is expected to limit annual employment growth to just below 1.0% over the medium term. Economic growth should do somewhat better, at 2.2% in 2019 and 1.7% next year, driven by healthy productivity gains in high value-added clusters such as life-sciences and technology.
Health-related sectors are poised to remain an area of strength, with Boston's concentration of research hospitals and other life science companies to benefit from abundant federal and private funding. Research and development jobs continue to grow at an impressive pace, and are up nearly 9% so far this year. However, a focus at both the state and federal level on reducing drug costs has the potential to temper growth in the state's thriving pharmaceutical industry.
Prospects remain upbeat for high-tech more broadly. Given the deep talent pool, tech companies continue to bolster their presence in the Bay State. Planned expansions at Facebook, Verizon, Apple and Amazon, are expected to create thousands of new jobs. The positive trend is not confined to tech giants, with smaller firms, such as Forcepoint – a cybersecurity firm – also expanding in the region.
The high-tech tilt, along with limited exposure to goods trade with China, should help the state prove more resilient to international trade skirmishes. That said, a major escalation in the conflict – particularly given recent rhetoric on 5G technology and rare earth materials – poses downside risk to the outlook.
Connecticut: Modest improvement ahead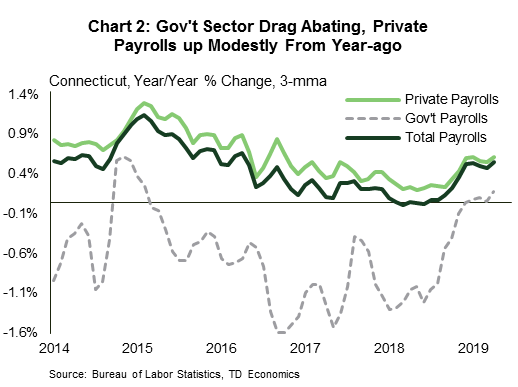 The Connecticut economy is expected to see a modest improvement upon 2018's 1.0% growth performance with real GDP growth averaging 1.3% in 2019 and 2020. Still, demographic challenges and a precarious long-term fiscal position are likely to restrain the pace of economic growth relative to its New England neighbors. Slow-to-nil population growth continues to be a key challenge, weighing on potential economic growth and limiting improvement in the still-sluggish housing market.
Despite these structural headwinds, job growth has continued at a moderate clip, although gains in recent months have been narrowly based. After years of decline, the government sector appears to have stemmed the bleeding (Chart 2). Upcoming expansions at several firms, such as Indeed, Infosys, FedEx, PWC and KPMG suggest that the uptrend in payrolls should continue, with job growth likely to clock in at roughly 0.5% over 2019 and 2020. Still, increases to the state's minimum wage, which will amount to nearly 20% in the next year and a half, may dampen hiring in some sectors. Connecticut's minimum wage will rise to $15 an hour by 2023, with two planned increases over the next year and a half.
The manufacturing sector has emerged as a major growth pillar, driving about half of economic growth over the past two years. Prospects for the industry remain solid, with a ramp up in defense spending in recent years keeping production pipelines busy at many defense-related manufacturers. Recent U.S. Navy contracts totaling around $1.5 billion will further boost activity, with benefits also trickling down to the local supplier base. UTC's headquarter move to Boston marks a setback, but the company is poised to keep a strong manufacturing presence in Connecticut.
With continued economic growth, the state's fiscal position is sturdier in the near-term but large unfunded pension liabilities loom as a future risk. Connecticut is not immune to the heightened US-China trade risk, but is less exposed than other states along the eastern seaboard. On the other hand, US-EU negotiations bear careful watching, given relatively higher exposure to the region and strong linkages in areas such as aerospace.
New Hampshire: The sun still shines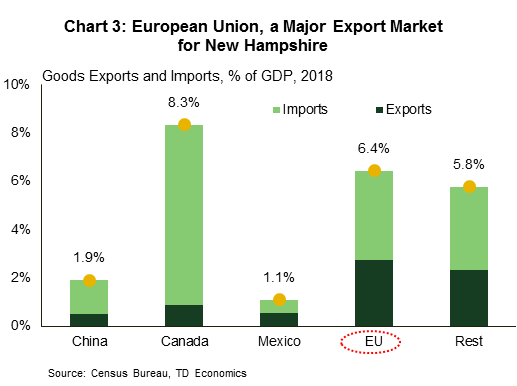 The Granite State remains one of the best-performing economies in the Northeast. Healthy growth has kept the jobless rate close to a record low of just 2.4%. Given the tight labor market, worker shortages remain a central theme, but its economy should still manage to expand at a healthy 2.1% this year and 1.6% next.
So far, most sectors are still managing to find workers thanks to positive in-migration. Payroll growth perked up in recent months, supported by an expanding labor force, which is up 1% from year-ago levels. Indeed, New Hampshire's population growth is among the best in the region. With plenty of unfilled job openings and no state personal income tax, the flow of new people to the state is expected to persist. This will help keep the employment engine humming at 1.2% this year and slightly below 1.0% in 2020.
From an industry perspective, the fusion of high-tech and manufacturing is expected to remain a key growth driver. Defense contractor BAE Systems is opening up a new facility in Manchester and plans to hire hundreds of workers this year, the vast majority of which will be in high-tech fields.
The fast-growing aerospace industry should also offer some lift. Total aerospace exports have increased an impressive tenfold in the last four years. Trade skirmishes pose a downside risk to the sector, in particular since the EU has become an important market (Chart 3). But, as long as the more adverse scenarios are avoided, the industry should continue to fare well. An improved relationship with neighboring Canada should also lend a hand.
Biotech is another good news story. With the Advanced Regenerative Manufacturing Institute (ARMI) up and running, the bio-fabrication cluster should continue to gain prominence. State incentives, which include a custom-tailored tax holiday until 2027 for bio-fabrication companies and funding for workforce development programs, will further support growth in the sector.
Plenty of other sectors, such as leisure & hospitality and healthcare, are primed for growth, so long as worker shortages are addressed. On this front, an increase in the H-2B Visa limit will provide some respite for tourism businesses relying on seasonal workers. Similarly, initiatives that focus on workforce development programs and increasing Medicaid reimbursement rates may help alleviate some pressures in healthcare.
Middle Atlantic (NJ, NY, PA)
---
New York: Trailing the nation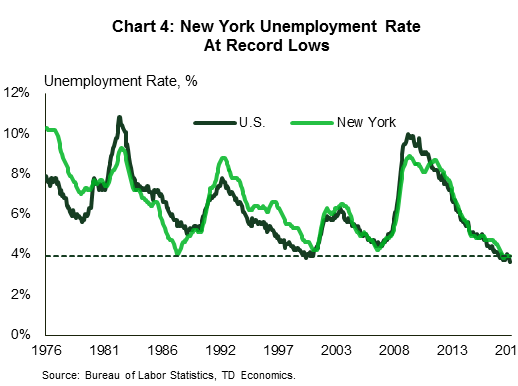 The New York job market has had a strong run so far in 2019, with payroll gains averaging nearly 20k per month, more than double last year's pace. The upswing in jobs, led by healthcare, professional & business services and leisure & hospitality, has kept the unemployment rate near record lows (Chart 4). Limited slack is expected to slow job growth going forward. While higher wages should help to draw more people into the workforce, an aging and shrinking population remains a major headwind. New York's population has declined since 2016. Recent data have shown that this trend is not confined to Upstate NY, with New York City also experiencing a decline recently. This backdrop is likely to keep payroll growth moderate at 1.1% this year and 0.6% next. Output growth should do somewhat better at 1.7% and 1.1% thanks to productivity gains.
Knowledge-based and creative industries should continue to do some of the heavy lifting. New York's deep talent pool continues to lure in tech giants, while ample venture capital funding remains supportive of startup activity. Google, which plans to double its footprint in the city over the next decade, appears to be holding firm to that commitment by expanding, yet again, through the purchase of another Chelsea building. Netflix is also growing its presence in the Big Apple, with plans for a new $100mn production hub, which will include new sound stages that will have the potential to support thousands of production crew jobs.
Healthcare is another growth sector, in light of demographic tailwinds. The sector is arguably more crucial for areas outside of the NYC core, which tend to have an older population. Expansions at the Eastern Niagara and White Plains hospitals highlight the positive narrative on this front. But, strong demand in New York City is also prompting new investments, with a $2.5bn hospital revamp from Northwell Health marking a recent example.
The outlook for tourism is also upbeat, with NYC's attractions a strong magnet for both domestic and international tourists. WorldPride celebrations in NYC this month will be an added boon. Still, the US-China trade spat presents some risks. The industry has thus far overlooked concerns stemming from trade, with the number of Chinese tourists setting a new record of 1.1 million last year. But, this was before China issued an official warning to its citizens about travelling to the U.S., which may present some downside risk to the sector as the trade conflict continues.
New Jersey: Growth expected to moderate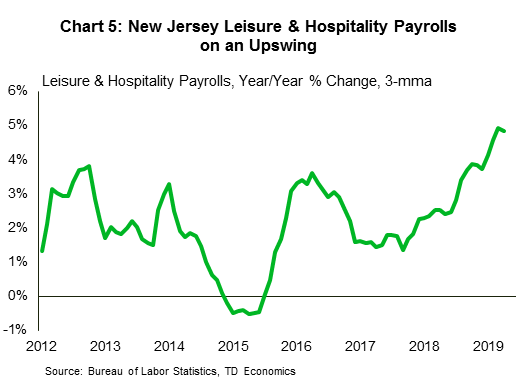 Coming off of a sturdy 2018, the Garden State economy has continued to perform well so far this year. Indeed, monthly job gains through April have come in at double last year's pace. This has allowed the unemployment rate to hover just above historical lows, even as more workers have joined the labor market.
Job gains in recent months have been led by professional & business services, with healthcare also stepping on the accelerator to regain its status as a top contributor. This duo is primed to continue doing the heavy lifting. A graying population will continue to support demand for health services. This tailwind has allowed hospital networks to loosen the investment purse strings, with a planned $700 million hospital in Paramus marking a recent example.
Pharma has the potential to add to economic growth, but it will have to get through a rocky patch related to increased litigation. In a recent price-fixing lawsuit, more than half of the companies sued were headquartered in New Jersey. Lawsuits related to opioids mark another headwind for the industry. Even so, emerging biotech firms should help fill some of the void by taking advantage of existing infrastructure and talent pool.
The leisure and hospitality sector – another major job contributor this year (Chart 5) – should offer a helping hand. While competition remains brisk, the industry is catching wind from a tight regional labor market, legalized sports wagering and online gambling. With two new casinos operational in Atlantic City, New Jersey should be able to capture additional business over the medium term.
Despite some recent improvement, state finances continue to be troubled. Further tax increases are a distinct possibility, with a renewed focus on broadening the millionaire tax a recent example. The trade spat with China poses additional downside risk, with New Jersey among the most exposed East Coast states on imports from China. Supply chain disruptions would have knock-on effects on the logistics industry, where job growth has already cooled from its red-hot pace of the last five years.
Pennsylvania: Sturdy underneath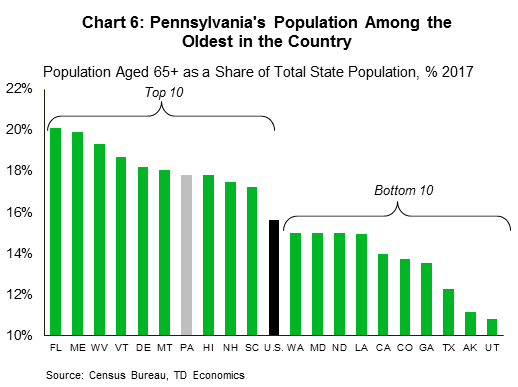 Pennsylvania's unemployment rate fell rapidly in the first few months of the year, setting a new record low of 3.8%. The new nadir came even as labor force growth picked up and more workers came off of the sidelines. With such a tight job market, job growth has eased a touch. But, at just below 1.0% over the past year, is not far off its regional peers.
Healthcare has been leading job creation for the past half-decade, and, so far, 2019 has been no exception. Limited labor market slack, in both the state and region, is likely to be the key challenge to maintaining healthcare hiring at its current clip near 3% (year-on-year). But overall, prospects for the sector remain bright. Pennsylvania's share of senior population is among the top 10 states in the country (Chart 6). Health networks have followed through with large investments to meet growing demand for medical services. Capacity-enhancing expansions continue, with UPMC's West Shore Hospital and Penn Medicine's Emergency Department in Chester County to name a few.
Higher value-added branches of medicine should offer additional thrust. Biotech is gaining ground in the east of the state. In addition to recently announced expansions by Spark and Amicus Therapeutics, Iovance Biotherapeutics is also slated to expand in Philly. Iovance has committed to settle at Philadelphia Navy Yard life sciences hub, with hundreds of jobs to follow.
In the west, Pittsburgh is in the process of making the transition from steel city to tech town. Tech heavyweights such as Microsoft, Google, Apple and Facebook are all building their presence in the city. The role of Carnegie Mellon University remains crucial in not only supplying tech giants with talent, but also fostering homegrown success stories.
Pennsylvania's proximity to large population centers and more affordable real estate remains fertile ground for the logistics sector. The rise of e-commerce will continue to provide a strong tailwind, while ongoing improvements at the PhilaPort also bode well for the sector. Still, with most Pennsylvania merchandise imports originating from China, an escalation in trade tensions remains a key downside risk.
All in all, we expect the Pennsylvania economy to expand by 2.0% this year and 1.5% in the next, which should enable it to retain its top spot in the Mid-Atlantic region, if only by a small degree. The upcoming state budget poses both some upside and downside risk to this outlook. Restore PA, a major infrastructure project that earmarks some $4.5bn in spending over four years, would be a boon for construction and engineering. But the project's financing solution – the re-proposed natural gas severance tax – could weigh on the mining sector.
Upper South Atlantic (DC, DE, MD, NC, VA, WV)
---
Delaware: Unemployment takes the plunge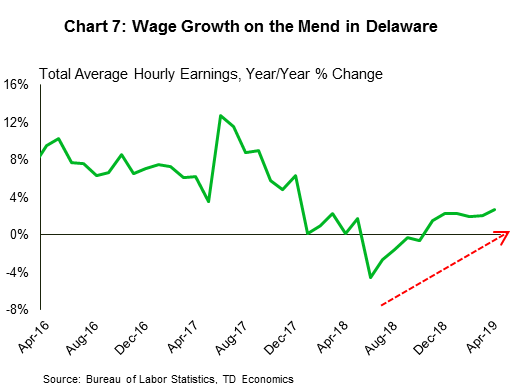 Economic activity in the First State is looking up. After several quarters of anemic growth, Delaware's economy trekked above 2.0% year-on-year in the final quarter of 2018. The labor market is particularly robust. In April, the unemployment rate hit the lowest point in 30 years at 3.2%, down from 3.9% a year ago – the steepest drop of any state. After declining in the latter half of 2017 through to mid-2018, wages have been moving higher in response to the tight labor market (Chart 7). Leading the charge has been robust wage gains in financial services and manufacturing.
Small businesses account for a notable share of employment in Delaware. Indeed, over half of the state's workforce is based at businesses with fewer than 100 employees. This sector is therefore critical to the job creation engine. The Division of Small Business has recently launched a new grant program aimed at helping small businesses scale up their operations, increase output and expand employment.
While non-farm businesses are expanding at a vigorous pace, farmers in the state are being negatively impacted by trade tensions between the U.S. and China. China's retaliatory tariffs on soybean exports have added to price pressures farmers were already facing. The administration's plan to distribute up to $16 billion in aid however, should help to mitigate these effects.
Overall, the First State benefits from a business-friendly climate and a low tax environment. These characteristics should continue to be a draw for both businesses and workers resulting in favorable migration flows and business formation. Health care, logistics and financial services are some of the sectors expected to contribute to continued growth. All told, Delaware's economy is projected to expand at a respectable 2.1% and 1.8% in 2019 and 2020 respectively.
D.C.-Maryland-Virginia: HQ2 stirs local labor and real estate markets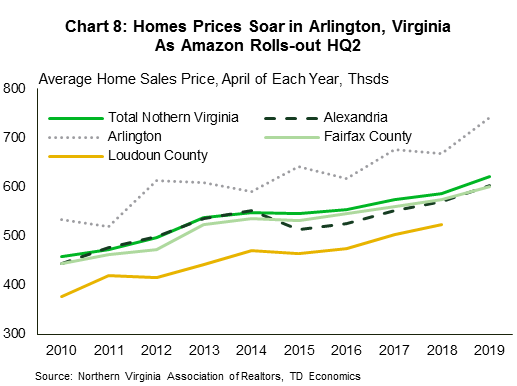 Economic activity in the capital and surrounding states has remained buoyant over the past year, coming in close to the 3% rate seen nationally (fourth quarter to fourth quarter). Labor markets in the region have also been resilient, recovering from shutdown-induced turbulence earlier in the year. Virginia in particular continues to do well, with payrolls up 1.1% (year-on-year) and an unemployment rate at near record lows (2.9%). In Maryland, job growth is running at 0.7% and the unemployment rate is just slightly above national at 3.8%, while in D.C. jobs are up 0.5%, and the unemployment rate, while modestly-above the national rate (5.6%), is still showing improvement.
Job growth should be expected to continue. Activity in Virginia is particularly robust, as both tech and long established manufacturing companies seek to expand their presence in the state. Hershey Candy Company, for example, is investing over $100 million to expand its operations in Virginia, while tech company, Incentive Technology Group, is moving their headquarters to Crystal City eventually creating up to 1,000 jobs.
Meanwhile, Amazon's HQ2 arrival will continue to add heat to labor and real estate markets in the region. The effect has been particularly evident in Virginia's residential real estate market. Median home prices in Arlington, where HQ2 will be located, have risen by more than 18% year-on-year in April with both buyers and sellers noting proximity to Amazon as influencing their decisions (Chart 8). For the entire Northern Virginia region, home sales reached a 14-year high in April with over 2,100 homes sold in the month. The impact of Amazon on real estate activity is expected to filter out to both the D.C. and Maryland areas as well, as the company draws from the regional labor pool given the current low unemployment rate in Virginia.
The commercial market has also benefitted from increased activity. Amazon has signed contracts to lease office space in three buildings while they have also purchased two other properties that are currently undergoing renovations for future occupancy.
As Amazon ramps-up the implementation of HQ2 related activity, economic prospects are bright. The main downside risk to the outlook is that Congress and the White House lock heads over funding the Federal Budget later this year. Balancing the risks, growth of 2.2% is projected in D.C. and Maryland over the course of 2019. Virginia is expected to grow even faster at 2.8%.
North Carolina: Dynamic business investment, the engine of growth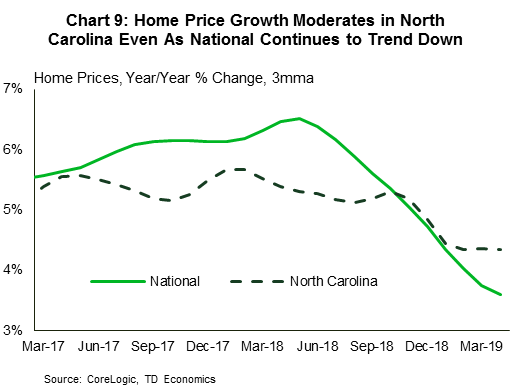 Investment is growing at a torrid pace in the Tar Heel State, pulling the labour market along with it. At 4.0%, the state's unemployment rate is just a touch above national. Job creation has been expanding at a healthy clip with payrolls up 1.6% year-on-year in April.
This trend is expected to continue as numerous projects have been announced that should drive further investment and job gains. An online pet supply retailer, for example, will be investing $55 million in a new fulfillment center, creating 1,200 new jobs. Similarly, Pacon Manufacturing Corporation will be investing $37.6 million. Numerous other business investment projects in the pipeline are also anticipated to add to the employment tally.
While big established businesses are contributing to North Carolina's strong economic performance, greater emphasis is also being placed on developing smaller businesses. The One North Carolina Small Business Program has been instrumental in this drive, recently awarding grants totaling $1.1 million to 24 small tech-related businesses throughout the state. The grant will help small companies develop new and innovative technologies that have high potential for commercialization leading to business expansion and increased employment.
The state's tourism industry is also doing well. The economic development office estimates that in 2018, domestic travelers spent over $25 billion in the state, a 5.7% increase from the previous year. The industry supports over 240,000 jobs and over 45,000 businesses directly provide goods and services to tourists. With active efforts by state officials to promote and strengthen it, this appears likely to continue.
As with other states along the East Coast, the housing market has been going through a soft patch and growth in home prices has been decelerating of late. Nonetheless, the market has held up better than the national average, with price growth holding just above 4% (Chart 9). Despite the moderation in prices, the market is underpinned by strong demand and limited supply, which should see price growth sustained at around 4.3% in 2019.
Overall economic growth in North Carolina is expected to average 2.7% this year and 2.1% in 2020.
Lower South Atlantic (Fl, GA, SC)
---
South Carolina: Trade risks resurface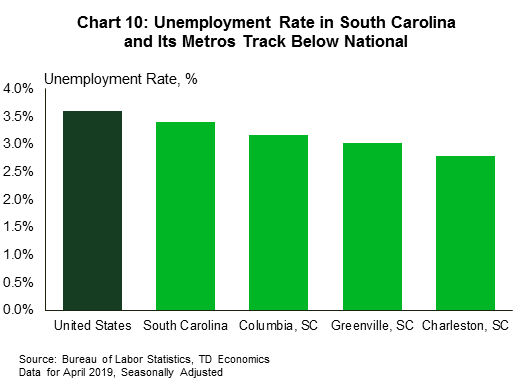 South Carolina continues to be a growth outperformer along the east coast, but increased uncertainty surrounding the trade outlook has led us to downgrade our growth forecast for 2019 and 2020 relative to our previous projections. South Carolina is the most heavily export-dependent state on the east coast, and its important manufacturing sector stands to be hit by escalating import tariffs and retaliatory actions by trading partners.
The state's key aerospace and automotive industries are particularly at risk given that South Carolina is home to many of Boeing's manufacturing facilities, which will also be impacted by the halt to production of the 737 MAX aircraft. The state is already facing additional tariffs on Chinese imports, as well as the retaliatory tariffs by China.
The list of threats to international trade in South Carolina is mounting. The Trump administration has threatened to extend tariffs to virtually all Chinese imports and impose $11 billion worth of tariffs on EU imports following a WTO decision over subsidies given to European aircraft manufacturer Airbus. On the bright side, escalating tariffs on Mexican imports were narrowly averted.
Trade actions could materially affect output in two of the state's leading industries and put a dent in economic activity in South Carolina. Fortunately, the immediate risk of tariffs on autos has diminished. The administration has delayed imposing tariffs on cars and auto parts for up to six months as negotiations with the EU and Japan continue.
Despite the trade risks, labor markets in the Palmetto State have continued to perform well. The unemployment rate is 3.4%, with several urban areas posting even lower rates: Columbia – 3.2%, Greenville – 3.0% and Charleston – 2.8% (Chart 10). Low unemployment rates, however, have not resulted in remarkable wage gains. On average, hourly earnings rose just 1.3% year-on-year in the state as a whole.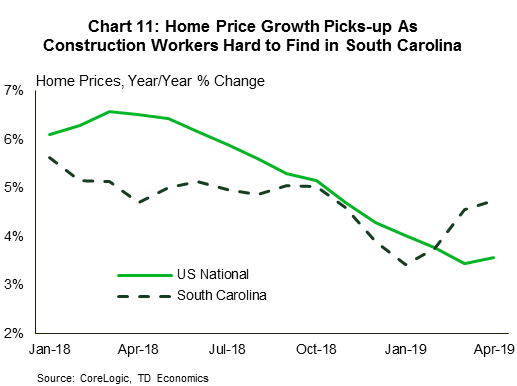 Nevertheless some sectors have been more adversely affected than others by the lack of available labor. Construction workers have been particularly difficult to find, and this has prompted some contractors to scale back building activity. Such actions are likely to curtail the supply of housing, which is already running below demand, especially in densely populated urban metros. As a result, home prices, are likely to continue to trek higher (Chart 11).
In the meantime, the state's vibrant economy should continue to attract migrants. This will help mitigate worker shortages and support future growth.
As with many other states, the South Carolina legislature passed its budget for the 2019/2020 fiscal year. The plan calls for a 4%-10% increase in salaries for teachers, whose pay have not kept pace with inflation. Other public sector workers are also in line for pay increases. Residents will also receive a $50 rebate, as revenue collected in the previous year exceeded state target. Overall, the expansionary budget is likely to lift activity in the state and contribute to growth in the range of 2.7% in 2019 and 2.0% in 2020.
Florida: Nurturing new economic drivers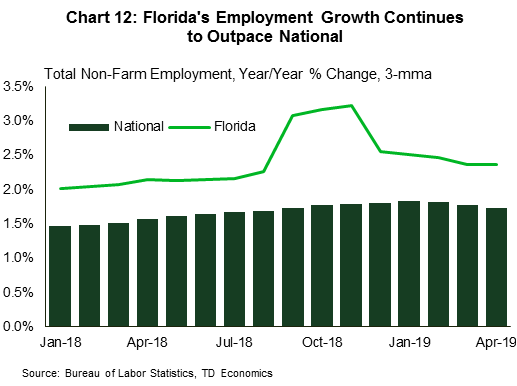 The Sunshine State is the fastest growing state along the eastern seaboard and with numerous investments and expansions on tap, this performance is expected to continue over the forecast horizon. Real GDP growth of 3.4% and 2.6% is expected in 2019 and 2020 respectively.
Florida's growth and favorable business climate has fostered a few notable recent investments. This includes a 170-mile inter-city track extension between West Palm Beach and Orlando by Virgin Trains USA. The project represents a potential total of $4 billion in private investment and is anticipated to generate more than 10,000 construction jobs, over $650 million in federal, state and local tax revenue and $2.4 billion in labor income. This service expansion should improve intercity rail infrastructure, complement the tourism industry, and expand employment opportunities.
In addition, online retail giant Amazon, is expanding operations in the state and will invest $100 million on a new air cargo complex in the City of Lakeland. The company will lease over 47 acres from the city, paying over $80,000 per month for the next 20 years and creating up to 1,000 jobs.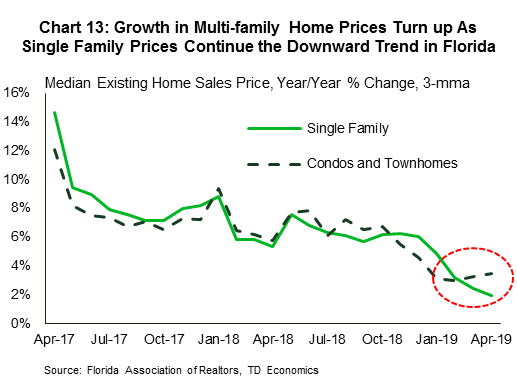 There is also potential for further growth in a couple of non-traditional emerging sectors, most notably technology and hemp production – supported by recent government legislation. Florida is on a short list to become the headquarters of SoftBank Group's artificial intelligence hub for the Caribbean and Latin American region. This could potentially result in the creation of numerous jobs and significant new tech investment.
The State's latest budget also sets aside funds to address long standing water and environmental problems, which resulted in devastating algae blooms last year, including money for the restoration of the Everglades. In addition, significant public education expenditure is penciled in, to repair and construct new educational buildings. The boost from government expenditure should provide a fillip to overall economic activity.
Job growth in the Sunshine State has been progressing at a healthy clip with employment growth outpacing national at 2.4% year-on-year (Chart 12). The developments currently underway and in the pipelines are expected to contribute to continued strong performance and boost the Sunshine State's employment outlook. Solid growth is expected in education and healthcare as the state seeks to improve the quality of education and an aging population drives demand for health services.
Momentum in the housing market however is slowing down. As at the national level, home price growth has been decelerating. More recently, this has largely been concentrated in the single-family segment, as price growth for condos has accelerated (Chart 13).
The single family market will continue to struggle with stretched affordability weighing on price growth, but the multi-family market, which has a high degree of condos geared to luxury buyers and heavy demand from renters, should weather the slowdown in prices a bit better. Overall, home prices are expected to decelerate from the 6% pace seen last year to 4.5% in 2019.