COVID-19 has posed a unique shock to the global economy. Developments on the health and economic front are moving faster than the frequency at which most conventional economic data are released. What is more, the unprecedented nature of this crisis means that we cannot rely on past crises to benchmark economic forecasts. To bridge this gap we use available high frequency data to assess the real-time economic implications of COVID-19. This collection of charts should help guide readers through the various aspects of the crisis and recovery in advanced economies, emerging markets, and North America, as well as within the service industry, commodity markets and financial markets.
Note: This publication will be updated periodically to reflect changes in the global economy.
Advanced Economies
Virus caseloads and deaths have declined across most advanced economies (AEs). However, several European countries are witnessing a third wave of infections, with Italy and France registering the highest cases since November 2020. This has forced some European countries such as Germany to extend lockdowns. Others, such as Italy and France, have tightened existing restrictions. As a result, social distancing remains relatively high across most European countries. On the vaccine front, Israel continues to lead, while the U.S. and UK are outpacing other AEs in the race to vaccinate their populations. Vaccine shortages have prevented Canada and the EU from catching up.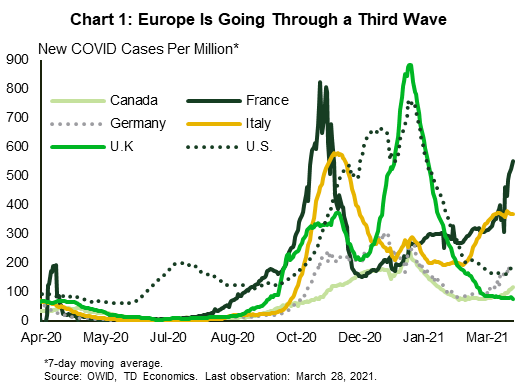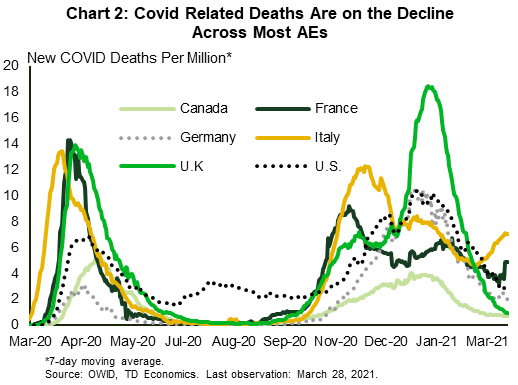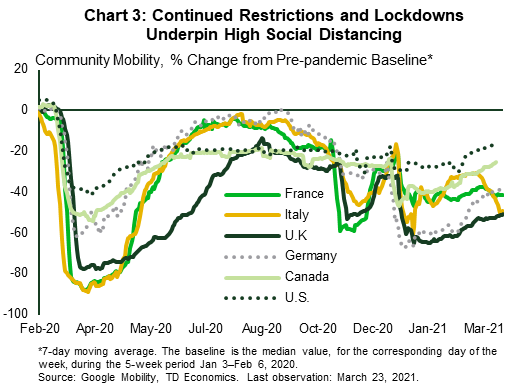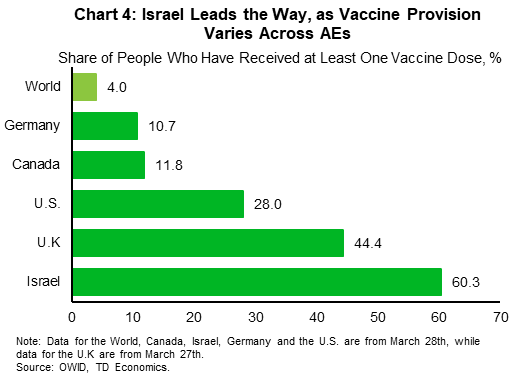 Emerging Markets
Daily new cases are declining in most major emerging markets (EMs), with the notable exception of Brazil, which has hit an all-time high, as it struggles to deal with a more contagious variant of the virus. Deaths due to the virus are following the same trend as infections across most countries. This is a welcome sign for nations like Mexico and South Africa where cases are falling. With declining cases, social distancing has eased across most EMs in recent weeks. Meanwhile, EMs' vaccine rollout remains sluggish and continues to lag AEs. High-income EMs such as Chile and Bahrain are exceptions, as they continue to outpace other EMs and even some AEs.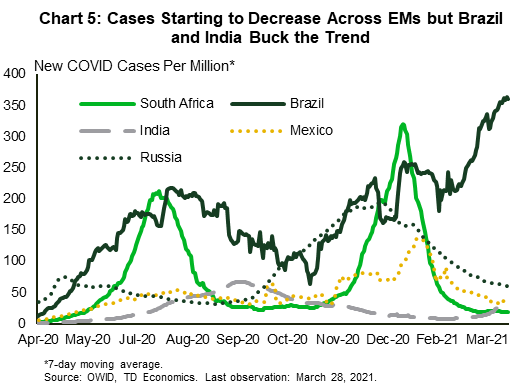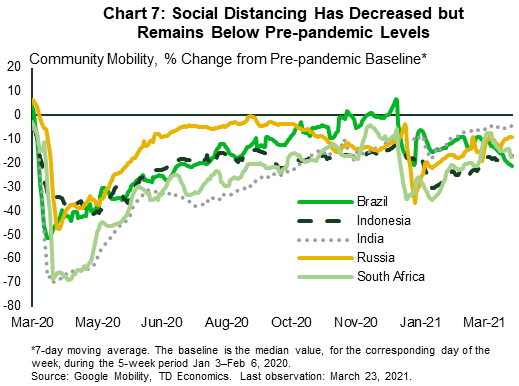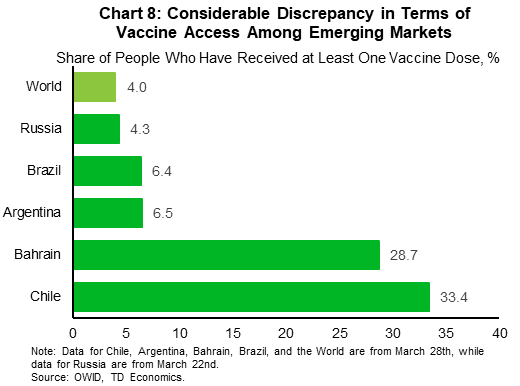 United States
The January surge in infections has subsided. Still, the recent easing in restrictions has been accompanied by an uptick in cases in several states. The American labor market, meanwhile, continues to recover. Initial unemployment claims dropped by 97k in the week ending March 20 but remain well above pre-pandemic levels. With new stimulus cheques in the mail, investor sentiment has become more bullish in recent weeks. The economic data support the upbeat narrative. The New York Fed Economic Index – an indicator of the pace of economic growth relative to a year ago – broke into positive territory for the first time since March 2020. While new virus variants pose some downside risk to economic re-opening, the U.S. economy looks set to accelerate further in the months ahead.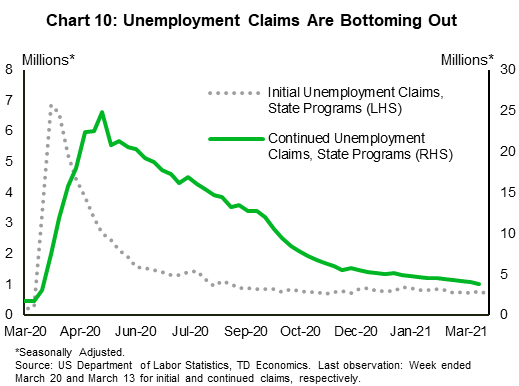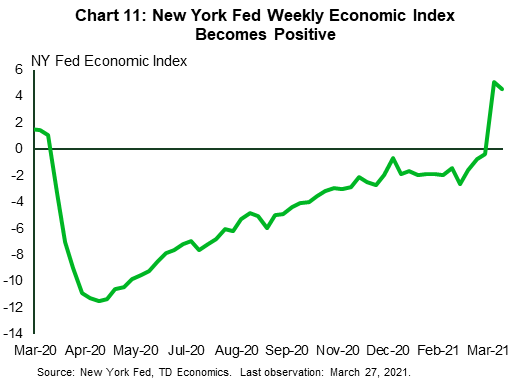 Canada
New cases remain stable in much of the country but are rising in B.C, Ontario and Quebec. In Ontario, the rise is significant enough to be labeled a third wave. After setbacks in December and January, due in large part to more stringent measures in Ontario and Quebec, the Canadian labor market bounced back in February, adding almost 260k jobs. Total hours worked also continued its upward trend in the month. The trends are encouraging but both employment and hours worked remain below pre-pandemic levels. Meanwhile, spending by Canadians has improved in recent weeks on the back of eased restrictions. The housing market continues its strong upward trend, with interest in housing moving higher and now sitting at its highest level since the pandemic began.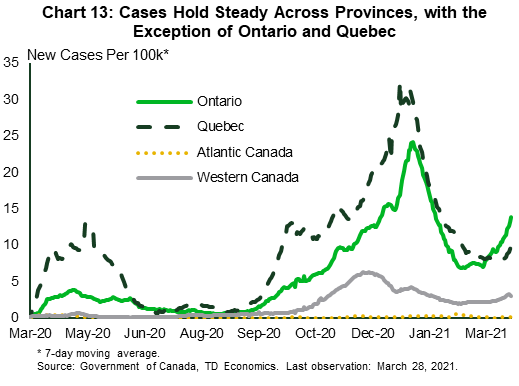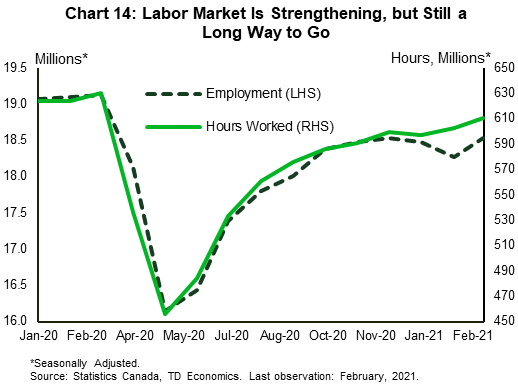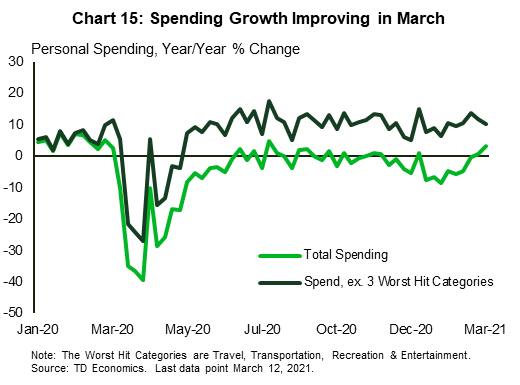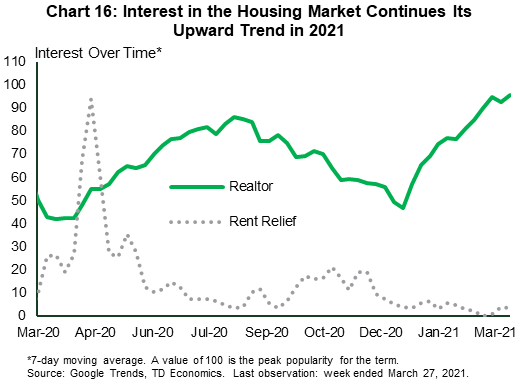 Services
Retail activity across AEs is improving on the back of falling cases as consumers gradually scale up retail and recreational activities. Restaurants continue to struggle, but warmer weather in the northern hemisphere has allowed for some improvement in recent weeks. Meanwhile, air travel has edged up as spring break approaches. Still, international travel remains stymied by tight cross-border travel restrictions in several countries. The entertainment industry continues to struggle due to the in-person nature of its business. Most countries' box office revenues remain well below the levels seen before the pandemic.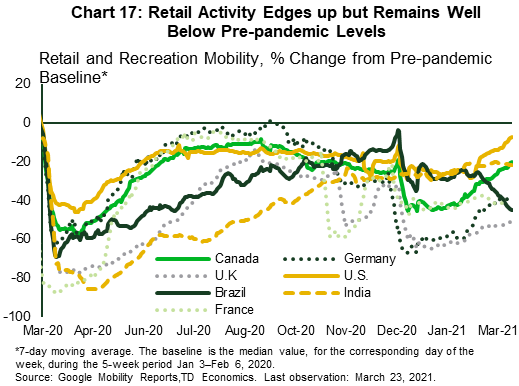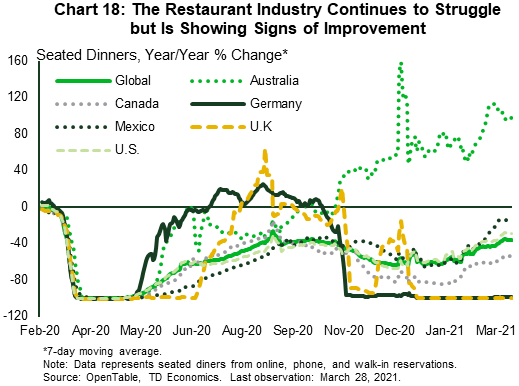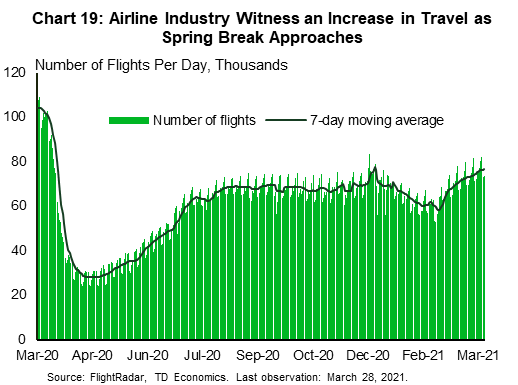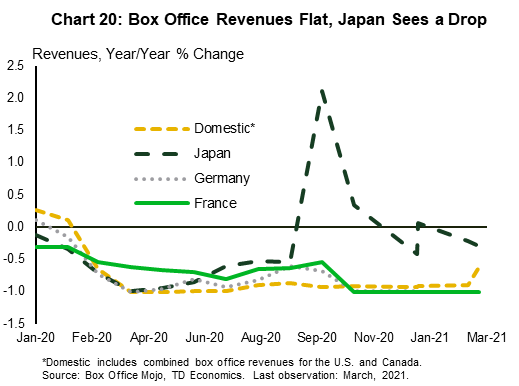 Commodities & Financial Sector
Global economic recovery continues to support commodity prices, especially copper, which rose to almost a 10-year high in February before pulling back modestly in recent weeks. Gold, meanwhile, has trended lower since hitting a record-high of $2,075 an ounce in August of last year. Oil prices have hit a snag in recent weeks, falling from their high-point in early-March. Concerns over renewed restrictions and the slow vaccine rollout in Europe have contributed to the recent pullback. Meanwhile, government borrowing rates have continued to climb amid rising concerns over inflation. This contributed to an increase in financial market volatility in late-February and early-March, which has since subsided. A particularly large jump in Turkey's borrowing costs reflects markets' waning confidence in the Turkish Government, as it sacked the Central Bank Governor four months into his job.