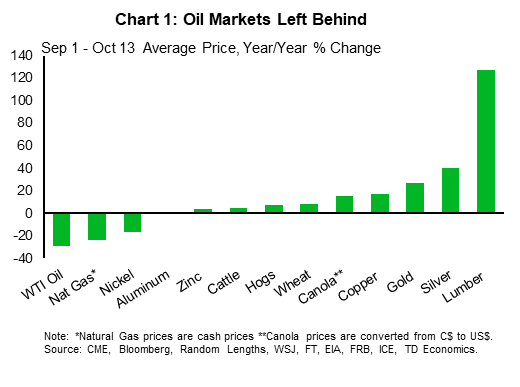 The lifting of mobility restrictions over the summer supported a bounce-back in demand across all commodities. At the same time, supply-side curtailments in oil markets and ongoing virus-related disruptions in metal mines were also critical in partially rebalancing oversupplied markets. China's government stimulus package was more supportive for commodity demand than initially expected. The downshift in the USD and increased investor appetite for inflation-sensitive assets further bolstered these trends in the latter part of the summer.
Notwithstanding this, the commodity complex remains on shaky grounds. With the low hanging fruit already picked, price growth has stalled across most commodities. A modest uptrend is still expected as the global economy gains more traction in 2021. That said, strong summer gains will give way to a more elongated recovery going forward.
The impacts of the pandemic and subsequent recovery paths remain uneven across the commodity complex (Chart 1). Oil – the most decoupled from its pre-pandemic levels – continues to face the longest uphill battle. Emerging COVID-19 second waves and seasonal factors are limiting demand growth at a time when supply-side supports are being gradually eased. Most other commodities are now trending above their year-ago levels. However, price growth will notably moderate across most base metals as the impact of stimulus measures wanes and supplies grow. In agriculture and forestry markets, lumber prices are expected to moderate after reaching record highs as housing activity slows to more sustainable levels. Livestock prices stand to modestly gain from improved supply-demand fundamentals and the African Swine Fever. Meanwhile, crop markets are mixed. Pre-existing oversupply concerns continue to cloud the outlook for wheat prices, while oilseed prices are benefitting from lower production and inventories. Elsewhere, precious metal prices are expected to be flat-to-slightly-down.
Once again – at the risk of sounding like a broken record – the outlook remains subject to heightened uncertainty. Consistent with our latest Quarterly Economic Forecast, it is predicated on a continued "swoosh-shaped" recovery and the rollout of a vaccine by the second half of 2021. Second wave restrictions are assumed to be more targeted, preventing another slump in demand. Supply-side supports will remain critical in some markets – namely oil. In light of this, risks to the commodity price outlook remain tilted to the downside.
The Marathon Begins in Global Oil Markets
As restrictions on mobility were lifted over the summer, oil demand has partially recovered from its April slump. Prices have remained stable around the US$40 mark since July (Chart 2). However, inventories remain bloated, and the journey back to pre-pandemic levels of demand is expected to be long and choppy.
A mix of second wave restrictions and seasonal effects are putting a temporary lid on demand growth. Mobility gains are levelling off across most major economies. At the same time, the boost from China's import surge over the past few months is unlikely to be sustained. From a product demand perspective (Chart 3), timely data on U.S. gasoline shows a plateauing following strong summer gains. Meanwhile, jet fuel remains well below pre-pandemic levels (stuck near -50% y/y). Gains in the latter are expected to remain muted until a vaccine is widely available.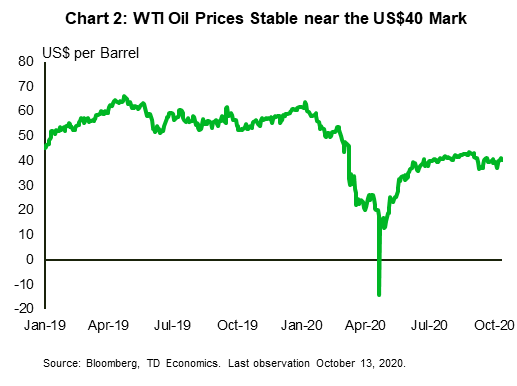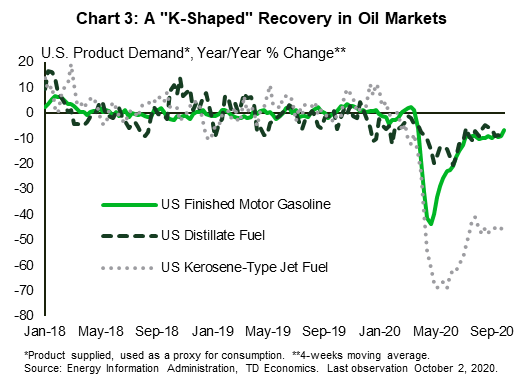 Supply side curtailments have also been critical in rebalancing markets since May. Compliance with OPEC+ quotas has been high. The group's messaging also signaled a strong intent to keeping inventories on a downward trend and prices stable. Namely, it included a warning to speculators in the September JMMC meeting. In the meantime, shut-in wells in the U.S. and Canada are only slowly resuming production. With that said, support from this side of the ledger has also likely peaked. OPEC+ production quotas are set to be eased again in January. Importantly, compliance from all producers will be critical. More recently, Libya has restarted production in its oil fields, with the International Energy Agency (IEA) projecting a 400K bpd increase in its production by December.
Against this backdrop, oil markets are expected to remain in deficit territory in the near term, but only narrowly. At the same time, financial market sentiment is likely to be unsupportive amid lingering uncertainty on COVID-19. As a result, prices are expected to move sideways before edging up slowly above the US$40 mark. Risks to this price trajectory are tilted to the downside in Q4.
Turning to the medium term, our Quarterly Economic Forecast embeds a moderate acceleration in global economic growth in the second half of next year. This uptick is predicated on a vaccine becoming available. A vaccine/treatment would disproportionately benefit oil relative to other commodities. Consistent with this, we anticipate the next leg up in prices to the US$45-US$50 level to occur by the second half of 2021.
Looking beyond 2021, there are some compelling arguments that our price target is on the conservative side. The pandemic-induced slump in upstream investment, namely in the U.S., is expected to lead to lower future production. Given this, tighter markets may eventually emerge, especially if global demand continues to recover gradually. Until then, however, there is more than enough spare capacity to meet any shortages in the market.
Heavy Oil Discount Likely to Widen Only Modestly
Lower heavy oil discounts provided some modest offset to Canadian oil producers amid this year's turmoil. In the Western Canadian Sedimentary Basin (WCSB), production in May declined by 14.5% in Alberta and 26% in Saskatchewan relative to year-ago levels. The latest readings for July show production only slowly rebounding in both provinces. At the same time, exports on the more expensive crude-by-rail option continue to dive lower. This notably lower level of production has lessened transportation and storage capacity pressures. With only a gradual rebound expected in production, the WTI-WCS discount is likely to remain in US$10-US$15 range through 2021.
Natural Gas Oversupply Should Ease
Natural gas markets were already facing an unfavourable backdrop prior to COVID-19 – largely due to a spike in U.S. production in 2019. COVID-19 has hit demand for natural gas end-uses, albeit significantly less than the hit seen in oil. Yet, prices tumbled to multi-decade lows over the summer, and volatility has surged. The market continues to be characterized by high inventories, which remain above their five-year average (Chart 4).
Going forward, an expected recovery in U.S. LNG exports should help reduce bloated inventories. In a similar vein to oil, U.S. natural gas rig counts have tumbled, and the Energy Information Adminstration (EIA) is also anticipating a drop in natural gas production (Chart 5). Together with the upcoming heating season, these forces point to some easing on the supply side in the upcoming months. Consequently, the price environment should gradually improve.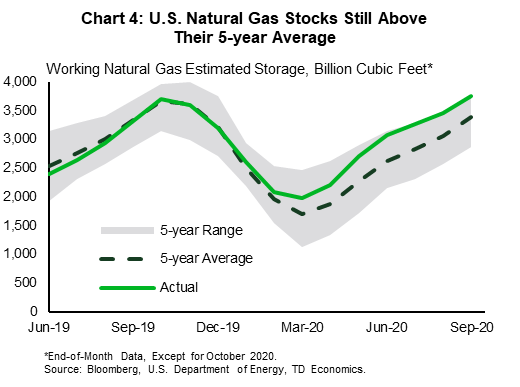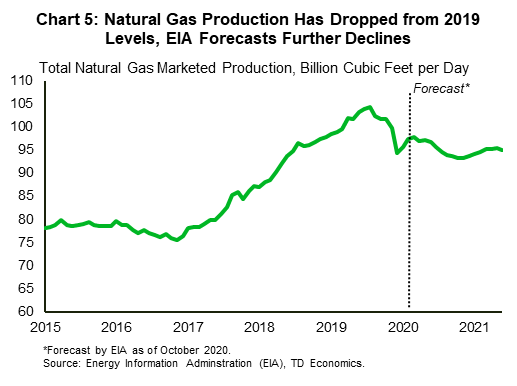 Base Metals Buoyed by China's Industrial Recovery, but Momentum is Slowing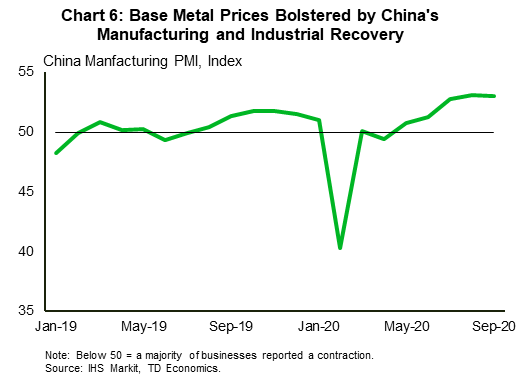 Despite the steepest global economic contraction since the post-world war period, base metals have surged well above their pre-pandemic levels. The culprit here was China's stimulus, which fueled a strong industrial and manufacturing rebound. The boost in demand benefitted all metals across the spectrum, including previously oversupplied markets such as aluminum.
China's robust September manufacturing PMI readings (Chart 6) point to a recovery that remains intact. However, the impacts of China's stimulus on commodity prices will likely wane as we progress into 2021. Divergences are also expected going forward. These will be largely dictated by supply-side developments. Pandemic-driven mine disruptions in Latin America (namely in Peru) weighed on copper and zinc production, temporarily improving their supply-demand fundamentals. A recent strike at Chile's Escondida Aluminum prices poses some further downside risks to production. That said, caution remains warranted as the impacts of these supply-side disruptions wanes going forward. Aluminum prices, on the other hand, appear on track to decline. The metal continues to face elevated inventories and the expectation of added production capacity in China. Nickel prices were heavily impacted by the pandemic, but prices should benefit from ramped up restrictions on Indonesian ore exports and the potential for increased battery demand.
Like oil, near-term risks to base metal prices appear to be weighted to the downside. An uneven recovery in China's economy could set the stage for bouts of significant selling pressure. Moreover, the recent flattening in consumer spending trends globally (and in China) may eventually hinder the industrial recovery and lead to a pull-back in metals prices.
Backdrop Remains Supportive for Precious Metals, but a Further Leg Up is Unlikely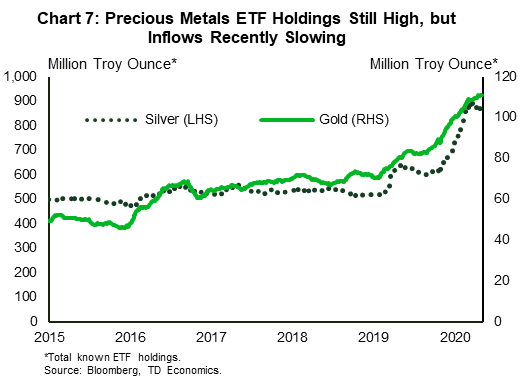 The confluence of tailwinds supporting the surge in gold prices this year is almost too long to list. Demand for the yellow metal prior to COVID-19 was already on a strong footing as a result of dampened bond yields and geopolitical uncertainty. These forces were amplified by the pandemic. Real interest rates dropped further, central banks unleashed significant asset purchase programs, and economic uncertainty spiked to unprecedented levels. Over the summer, a downshift in the trade-weighted US dollar value lifted prices further to record levels. Strong investor appetite is reflected in still-high ETF holdings (Chart 7), although net inflows have recently slowed.
These forces should prevent a strong downshift in prices in the near term. That said, they are also arguably mostly priced in, precluding another strong price rally. Nominal interest rates have likely hit rock bottom. At the same time, expectations for a period of low-for-long rates are already priced in across treasury and federal funds futures. Central banks have already signaled a "whatever it takes" approach to support the recovery. Economic uncertainty remains high but, has ebbed since the onset of the pandemic. These developments lessen the potential for any bullish surprises that would act as a catalyst for prices.
Prices are expected to remain flat-to-slightly down over the next few quarters. Nevertheless, there are some scenarios whereby bullion significantly overshoots our prediction. Appetite for the metal as a hedge against inflation has resurfaced amid spiking government expenditures and money supply. While not our base case, a spike in inflation would also add further downward pressure on real interest rates, supporting the metal further.
Agricultural Prices Mixed, but Oversupply Concerns are Easing
During the pandemic, food and agricultural demand has held up well compared that of other commodities. Notwithstanding this relative advantage, longstanding oversupply issues remain front and center. Wheat prices have spiked in the past few weeks on dry weather concerns, but a further leg up appears unlikely to be sustained amid high global stocks and rising global production. Indeed, estimates from the USDA point to a strong year for wheat production and higher ending stocks (Chart 8). This is driven by strong increases in Russian production. The surge in China's soybean imports from the U.S. to fulfill its Phase 1 trade commitments has lifted the oilseeds complex higher. With this, canola prices have surged to their highest level in more than two years. In contrast to its wheat counterpart, lower production and ending stocks this year are supporting oilseed prices. Additionally, slowly recovering pig herds in China should revive demand for soybean feed. Price strength should remain in the near and medium term. However, a flattening or even some pullback is possible going forward as production and acreage respond to higher demand and prices.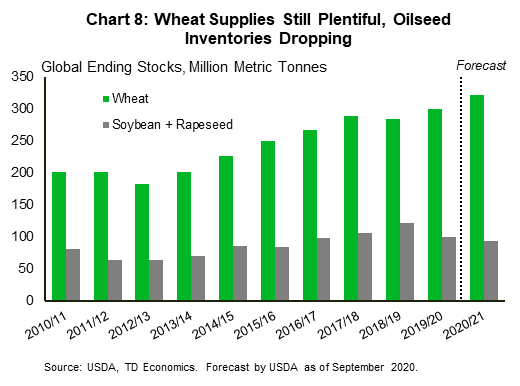 In contrast to crops, livestock commodities were more impacted by pandemic-induced shutdowns in meat-processing plans. These shutdowns created a backlog in herds, pressuring prices downwards. As the impact of transitory processing plant shutdowns fades, prices should continue to recover. Hog prices have already bounced back above pre-pandemic levels, supported by increased U.S. exports. While herd sizes are recovering, the African Swine Fever has left a sizeable hole to fill in China's markets. Hog prices should remain resilient near current levels, but a strong acceleration is unlikely amid still-high U.S. inventories.
Lumber's Rally Cooling
Lumber's pandemic-driven slump in April was short-lived, as U.S. and Canadian housing demand rebounded promptly in V-shaped fashion. This came against supply shortages driven by Canadian mill shutdowns.
The resulting market tightness lifted lumber prices to record levels in August. Prices have since retreated but remain far above their pre-pandemic levels. Our latest Quarterly Economic Forecast embeds a near-term slowdown in U.S. and Canadian homebuilding. Likewise, seasonality and exhaustion of pent-up demand will likely weigh on growth in renovation activity. Given this backdrop, we see further room for prices to recede. However, the recently-improved market balance should keep prices from slipping below their pre-pandemic levels.