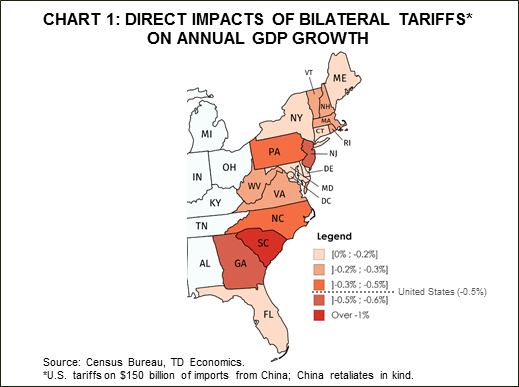 Despite some toning down of rhetoric among Chinese and U.S. officials in recent days, the risks of a trade war between the two countries remains real. Most of the analysis around the economic impacts of the trade actions has been focused at the national level. In this report, we re-orient the focus to potential vulnerabilities for regional economies, focusing on TD's eastern footprint. Ultimately, we anticipate that most states on the Eastern Seaboard would duck much of the blow from the prospective tariffs, although South Carolina in particular and Georgia to a lesser degree could still be hit by outsized impacts given an overreliance on trade with China.
Trade tensions ebb and flow
Trade tensions between the U.S. and China reached a boiling point earlier this month when, in a series of tit-for-tat moves, the two titans appeared to be veering toward a trade war. The U.S. got the ball rolling by releasing details on proposed tariffs targeting $50 billion worth of goods imports from China, with the latter retaliating swiftly by releasing a narrower list targeting a commensurate amount of U.S. exports. The U.S. then threatened to raise the threshold to $150 billion, while China again vowed to retaliate in kind. Tensions simmered down somewhat in the ensuing days, following more constructive messaging. China's President Xi Jinping recently renewed pledges to open up the economy to foreign investment, strengthen protection of intellectual property and increase imports from other countries by reducing tariffs – placing an emphasis on significantly lower tariffs on vehicle imports. Jinping's message was further complemented by the head of the People's Bank of China, Yi Gang, which provided additional detail in opening up China's financial sector. The messaging from the U.S. has also included some peripheral positive strokes on trade policy, featuring softer demands on NAFTA auto-content and even flirting with the possibility of rejoining the Trans-Pacific Partnership (TPP).
Yet, the recent progress is far from reassuring, with trade tensions all but certain to be inflamed again as the May 22nd deadline for industry consultations on the proposed U.S. import tariffs approaches. For one, China's forthcoming 'carrots', have also been accompanied by 'sticks'. Last week, following an antidumping ruling, China imposed an import charge of 179% on U.S. sorghum, which is expected to wipe out roughly $1 billion of American exports of the cereal grain to China. On the other hand, the U.S. is reportedly hard at work on a list of products related to tariffs on an additional $100 billion of goods imports from China (the list may be released shortly), and on an aid package to American farmers to help blunt the impact of Chinese retaliation. These actions point to a digging of the trenches rather than a defusion of tensions.
Clearly, this evolving trade spat remains highly fluid, with the strong possibility that the two sides ultimately manage to come together. In that case, these sizeable tariff threats may not see the light of day. However, in the event that tariffs are implemented, we consider how they could impact regional economies.
Eastern Seaboard to escape brunt of fallout
At a high level, the implementation of bilateral tariffs would adversely hit state economies directly through reduced demand for their exports in China, and domestically, by way of higher costs of Chinese goods imports. While trade flows account for a relatively small 3.3% of U.S. GDP, state exposures do vary significantly from coast to coast (Chart 2). State-level data does have some limitations. For instance, in some cases it may overstate export activity for states with major ports.1 With that caveat in mind, Tennessee, Washington and California appear to be the most exposed states, with the trade-to-GDP metric among all three being roughly double that of the U.S. average. In contrast, most states across the Eastern Seaboard are generally less exposed to trade with China relative to the U.S. average. In fact, the TD footprint is roughly half as exposed compared to the rest of the country combined (Chart 3). This suggests that the TD footprint would be somewhat better positioned at weathering possible negative impacts from a trade skirmish with China.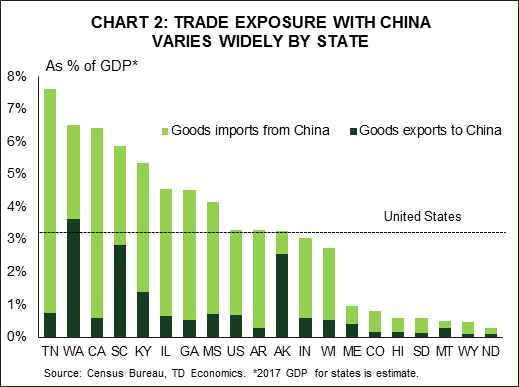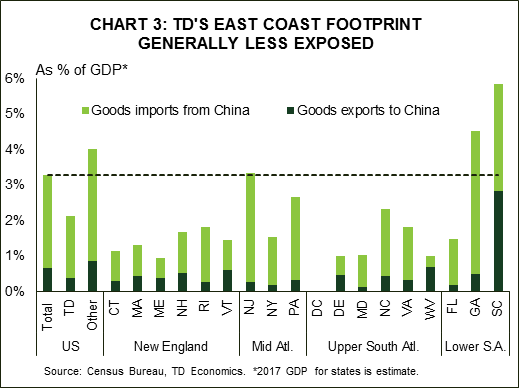 There are, however, a few states in the Eastern Seaboard that are somewhat more vulnerable. For instance, given outsized imports from China, New Jersey's overall exposure is higher relative to its eastern counterparts and on par with the nation, while Georgia's count is a notch higher. Import overexposure suggests that among the two sets of tariffs, the most detrimental to New Jersey and Georgia would be the American tariffs on Chinese goods, which could result in notable supply chain disruptions. South Carolina, however, is roughly four times more exposed on the export front relative to the U.S., and is the most exposed state to overall trade with China in the region. China is South Carolina's top export market, with transportation equipment marking the largest line of products shipped to the Middle Kingdom (see tables in the Appendix for details). In this vein, slumping car and aircraft exports – items targeted in China's proposed $50 billion tariff list – would have direct negative consequences for the Palmetto State.
Trade exposure determines who will be hurt most by tariffs
Before getting to the regional impacts, it's worth briefly reviewing our estimates of the national impact of the tariffs. In an earlier report we estimated that American tariffs of 25% on $50 billion worth of Chinese goods would shave off up to a modest 0.1 percentage points from U.S. growth annually over 2018-19, featuring disruptions to suppliers that rely on imports, particularly of aerospace, information and communications technology and general machinery and equipment.2 Using a similar methodology, we estimate that China's measures targeting $50 billion worth of U.S. exports would have a roughly commensurate impact on U.S. growth (see Box 1 for insight about possible employment impacts from the Chinese tariffs). Altogether, we estimate that the proposed tariffs cumulatively would shave off up to 0.2 percentage points from annual U.S. growth over the medium term. While the direct impacts are relatively small, the potential hit to business confidence, increased financial market volatility and collateral damage to global supply chains could exert an even greater drag on economic activity. Overall, tariffs could work to at least partly offset the boost to growth stemming from tax reform and expanded government spending that is projected to propel U.S. economic growth toward 3% over 2018-19.
We map out these impacts onto East Coast states using exposure metrics, with the results presented in Table 1. Impacts for the vast majority of states are lower than the U.S. average, with the hit to regional GDP estimated at up to 0.1 percentage points annually over the next two years – roughly half the national impact.
Box 1: The effect of China's tariffs on employment by state
Besides the drag on economic growth, another important element worth considering is the effect of China's tariffs on U.S. employment. A recent Brookings report estimates the share of employment in affected industries down to the county level.3 Unsurprisingly, there are clear differences in exposure between employment and exports – explained not only by varying labor intensities for the goods produced, but also the level of detail being considered (Brookings groups some 40 industries affected by China's already-enacted and proposed tariffs). Nonetheless, most states and the footprint as a whole are still significantly less exposed relative to the rest of the country.
The estimated direct (first-order) effects on the unemployment rate from a 10% decline in employment at affected industries – a burdensome threshold which would help root out any vulnerabilities – range between 0 and 0.1 percentage points for the vast majority of states (Table 2). West Virginia is the only outlier with an employment impact estimated at 0.2 percentage points. While the impact would likely be larger once indirect effects are considered, the estimates suggest that the region should fare slightly better than the rest of the U.S. when it comes to possible employment impacts.
Within the TD footprint, South Carolina in particular, and Georgia to a much lesser degree, are likely to incur an outsized drag on economic growth. The Palmetto State's export overexposure to trade with China suggests that the overall hit to GDP growth could be up to 0.5 percentage points per year – more than double the national impact from the announced tariffs. To ensure that the estimated impacts are stable, we derive a subset export-exposure metric by combing through roughly 230 products in China tariffs lists and selecting only the categories that contain targeted products. The main groups targeted by China are agricultural products, wine, tobacco, chemicals, autos and aircraft. Comparing this subset to overall export exposure, the results are not materially different, even as South Carolina's exposure increases slightly (Chart 4). Digging even deeper, however, reveals that one of South Carolina's major export products – Boeing airplanes – may not be materially affected by Chinese import tariffs which appear to target smaller aircraft. This suggests that the implied hit to South Carolina's GDP may be somewhat overstated.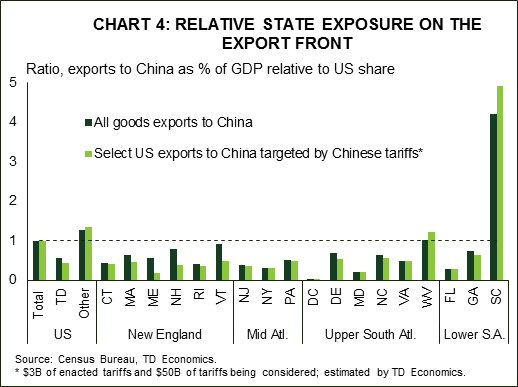 While details remain vague at the time of writing, the more recent threat by the U.S. to impose tariffs on an additional $100 billion worth of goods, with an equivalent China response would see proportionally larger direct impacts on regional economies (see last column in Table 1). Given the linear estimation of the first order impacts, going from $50 billion of targeted products to $150 billion would roughly triple the direct drag on national and regional economic activity. Once again, these rough estimates do not encompass the second-order impacts, including increased uncertainty and a possible deterioration in global financial market conditions.
An escalation could bring about other challenges. For instance, by increasing the threshold of Chinese imports targeted to $150 billion, consumer goods are likely to get impacted, thereby generating more upward pressure on consumer prices, which in turn could weigh more heavily on consumption.
On the other hand, the U.S. currently exports only about $130 billion worth of goods to China. This gives China limited room to retaliate in kind, not only because it cannot extend the tariffs to the full $150 billion on goods outright, but also because it would likely find it necessary to avoid imposing tariffs on crucial products that it needs (i.e. large aircraft). While seemingly farfetched, this could push China to explore the possibility of imposing tariffs on U.S. services, which could vault the two economic titans toward a full-scale trade war.
Bottom line
Although trade tensions between the U.S. and China appear to have simmered down for now, they are very likely to escalate again in the near term. Using the level of trade exposure with China, in combination with the derived impacts on the national economy that serve as guideposts, we estimate that the resulting negative economic impacts for most states on the Eastern Seaboard would be smaller than the average hit to the national economy. This suggests that the TD footprint is better positioned to weather possible impacts from protectionist trade policy as related to China. South Carolina is the only major outlier in the region, given export overexposure as per massive shipments of transportation equipment to China. As such, the implied hit on the Palmetto State's economy is expected to be at least twice that of the nation.