Prince Edward Island
---
PEI's population continues to advance at a strong pace. In turn, these population increases are providing a solid backdrop to economic growth, with real GDP projected to expand at a healthy 2.2% rate this year, followed by a slower, but still-solid 1.7% pace in 2019.
Although immigration has been the driving force behind population growth, it's possible that the number of newcomers from other countries is being overstated. Indeed, the provincial government has pledged to review all of its immigration programs in the wake of two large-scale immigration fraud investigations. However, even when we account for the possibility that the number of international immigrants is actually less than what's been recorded, population growth in the province has still run at a faster pace than the country as a whole since the end of 2015.
The growing number of residents is helping to sustain elevated levels of home sales and starts, though both are down from their post-crisis peaks achieved in 2017. Home price growth has been strong amid tight markets, causing a deterioration in affordability. Peering ahead, after a brief foray into negative territory this year, we expect both sales and starts to resume their upward trend in 2019, bolstered by ongoing economic growth.
Although housing activity has lost a touch of momentum so far this year, retail spending has forged ahead at a rapid clip. Job growth has also given a lift to household spending, with employment up strongly in the first 8 months of the year, compared to the same period in 2017. Looking ahead, retail spending should ease in 2019 and 2020 after solid growth this year, tempered by rising borrowing costs.
The province's tourism industry remains strong, with the number of room-nights sold and overnight stays down only slightly from their record 2017 level. Going forward, firm U.S. and Canadian growth should keep the industry growing at a healthy rate.
Despite continued trade policy uncertainty, 2018 is turning out to be a decent year for PEI's manufacturers, with the value of shipments up 5% in the first half, just above the national rate. Sales should be boosted by healthy U.S. demand next year, before easing in line with U.S. GDP growth in 2020.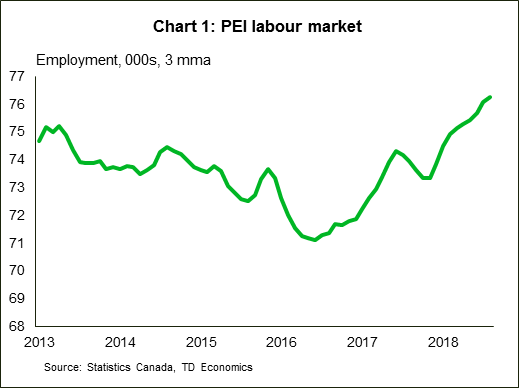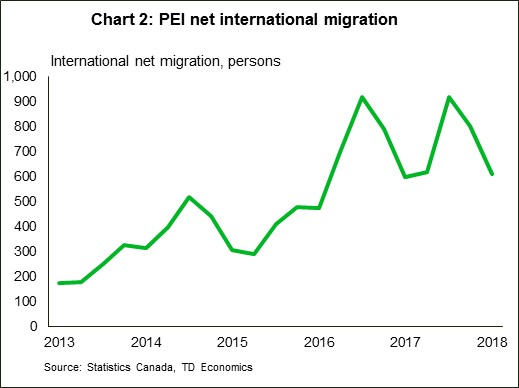 P.E.I. ECONOMIC FORECASTS
[ Annual average % change, unless otherwise noted ]
2018
2019
2020
Real GDP
2.2
1.7
1.2
Nominal GDP
4.3
3.7
3.2
Employment
2.8
0.1
0.1
Unemployment Rate (%)
9.7
9.6
9.6
Consumer Price Index
2.5
2.2
1.9
Retail Sales
4.4
4.0
3.4
Housing Starts (000's)
0.8
0.8
0.9
Existing Home Prices
6.3
4.1
2.8
Home Sales
-9.3
9.5
5.5
Source: Statistics Canada, CMHC, CREA, forecast by TD Economics