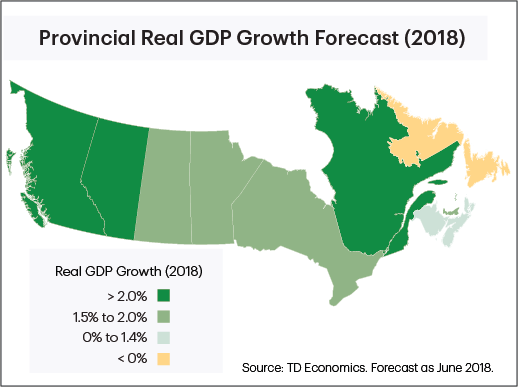 Last year will go down as one of the strongest and broadest provincial growth performances since the turn of the century, as just three provincial economies expanded by less than 3%. But, looking at growth rates alone conceals an ongoing sharp divergence in overall economic conditions. The economies of Ontario, B.C., Quebec and P.E.I. remain in the driver's seat, while commodity based provinces are merely slowly pulling themselves out of the depths of the recent commodity-related recession. A further narrowing in regional performances is in the cards for the next two years, as most provincial growth rates cool from last year's red-hot pace due to little, if any, economic slack, protectionist trade policy (particularly in the U.S.), and rising interest rates.
2017 a pleasant surprise
This edition of the Provincial Economic Forecast (PEF) incorporates recently-released GDP by industry estimates for 2017, which provide an accurate depiction of last year's activity on an expenditure basis. Particularly notable were the snap back in activity in oil-producing Alberta (+5%) and Saskatchewan (+3%), while growth in Newfoundland & Labrador (+2%) remained in positive territory for the second straight year on the back of rising crude oil output. These provinces – together with a Quebec economy that has been on a tear recently – were top contributors to Canada's economic acceleration last year. Elsewhere, British Columbia and Ontario, despite housing market volatility, continued to show consistent strength, registering their fourth straight year of 3%+ economic growth. Finally, Manitoba and P.E.I. should also be highlighted for their above-trend showings.
Growth still on track to normalize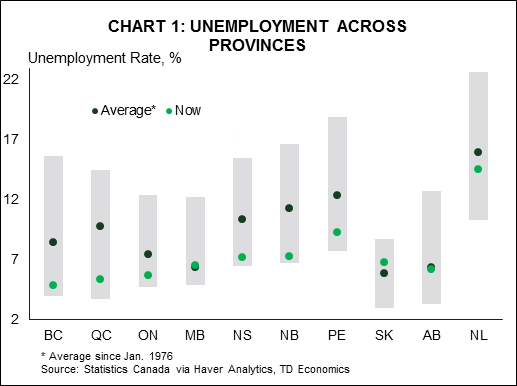 A repeat of such impressive performances would be a challenging feat in any year. However, our expectation for a return to more sustainable rates of expansion in the 2018-19 period is reinforced by recent economic developments, including:
Diminishing economic slack: while signs of economic tightness are not uniform from coast to coast, provincial unemployment rates have generally fallen to the low end of the 30-year range across most regions. Moreover, job market vacancy rates, a tell-tale sign of increased growing job skills mismatch, have been on a rise recently. Businesses are responding by hiking wages, utilizing various immigration programs, and increasing budgets on labour-saving technologies. While these actions can help raise output, they will not completely overcome fundamental economic limits that are ultimately tied to labor force growth and productivity gains.
Tighter regulation and credit: housing activity has been ratcheting down since the start of the year, partly reflecting the implementation of tighter B-20 lending guidelines by OSFI. Indeed, the pull-back in sales post implementation has been pronounced, particularly in the most expensive markets across B.C. and Ontario. On the positive side, real estate data for May showed signs of stabilization. However, while the B-20 impacts seem to be dissipating, mortgage rates will to continue to rise going forward. The Bank of Canada is likely to be cautious in raising rates, but nonetheless press ahead with removing monetary accommodation. Moreover, rising inflation in the U.S. will motivate the Federal Reserve to tighten policy, with spillover to Canadian bond yields and mortgage rates.
Trade uncertainty: the recent imposition by the United States of tariffs on Canadian steel and aluminum exports and retaliatory measures by Canada will be growth-dampening, primarily in Quebec and Ontario. So far, the negative impact on growth in 2018 has been to a large extent offset by stronger-than-anticipated momentum in domestic-oriented spending and investment. However, should the tariffs remain, the drag will become much more visible. Moreover, the prospect of an escalating trade war remains a key risk for the country as well as nearly all provincial economies, especially those in Canada's manufacturing heartland, with sentiment likely to come under pressure.
Abstracting from these downside factors, provincial economies still appear to be set for a decent showing over the near-to-medium term. Tailwinds to regional expansion include prospects for solid investment gains in domestic-driven industries and rising wages, which will provide ongoing support to household spending. The near-term external picture also contains some bright spots. U.S. economic growth has been upgraded for 2018, providing some benefits to Canadian exporters. Furthermore, oil prices have been running higher than we had envisaged, offering a near-term income boost to Alberta, Saskatchewan and Newfoundland & Labrador.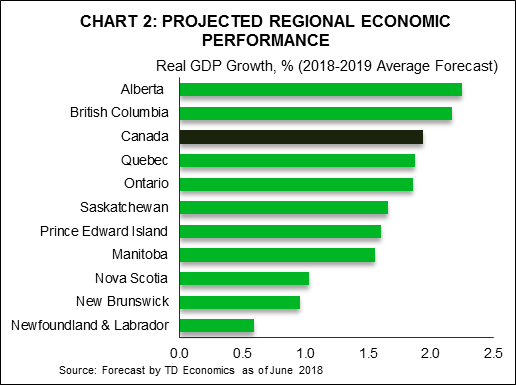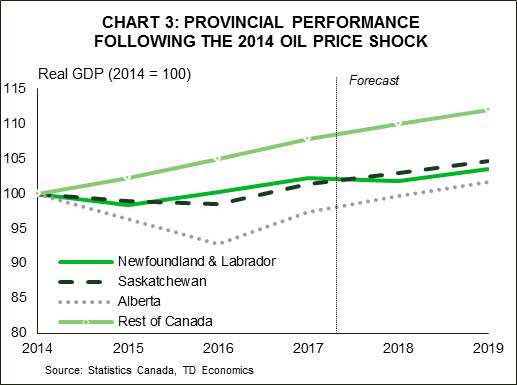 Regional divergence to narrow gradually
At first glance, last year's performance in Alberta and, to a lesser extent, Saskatchewan appear to show renewed strength. However, upon closer inspection, it becomes apparent that this is not, in fact, the case. For instance, Alberta's real GDP is still running below its 2014 level, with the 2015/16 downturn more severe than the Great Recession. The jobless rate in the province has managed to decline to near 6%, which is down from its recession peak of 9% but still about 1.5 percentage points above its pre-recession level. The economies of Saskatchewan and N&L are also operating at relatively low levels compared to their historical experience.
Large differentials are also manifesting in provincial fiscal performances, with the governments of Alberta, Saskatchewan and N&L facing significant red ink in the coming years. On the other hand, Quebec, P.E.I., N.S. and B.C. all recorded surpluses in the last fiscal year. In Ontario, the jury is out whether, and to what extent, the newly-elected provincial government may step back into deficit in light of tax and spending commitments made during the election campaign. Beyond the near term, economic growth among the provinces should coalesce within a narrower range in 2019 as structural factors come to bear over cyclical movements from housing policy adjustments and oil price swings.