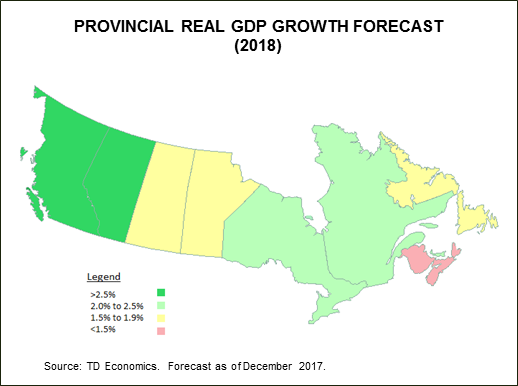 Since our last Provincial Economic Forecast in September, the economic environment has evolved largely in line with expectations. Robust economic activity over the first half of the year in the provinces topping the leader board – Ontario, Quebec, Alberta, B.C., P.E.I. – gave way to a slowdown in the third quarter, particularly in provinces that are export oriented. However, 2017 appears to be closing with renewed momentum. In particular, B.C. and Ontario have been enjoying a late year revival in housing activity, and the latter province is also expected to post a rebound in manufacturing exports after a third quarter pull-back. Consistent with an upgrade in the outlook for crude oil prices, production is ending the year on a firmer note, boding well for Alberta's economy, and to a lesser extent, Saskatchewan's. And, in Newfoundland and Labrador, an earlier start of output from the Hebron oil project provides a bit of good news for an economy in which most other industries are struggling to gain traction.
This hint of strength, occurring late in the year, has had little impact on our provincial growth estimates for 2017, but feature more prominently in terms of upgrades to the 2018 outlook. Even then, the changes we've made can be characterized more as tweaks than a sea-change in view. Looking ahead, there remain a number of issues in the pipeline – uncertainties surrounding NAFTA renegotiations, a gradual uptrend in borrowing rates and tighter mortgage lending guidelines (B-20) – that are expected to translate into slower growth across most regions of the country in 2018-19.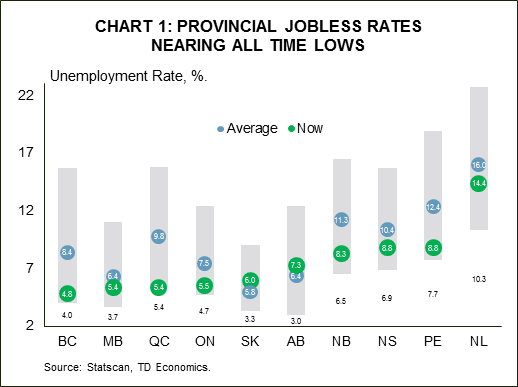 But, the biggest reason for a moderation in growth in the coming quarters is that economies outside of the energy producing provinces are bumping up against capacity constraints. Indeed, while the economic performance has been somewhat uneven during the second half of this year, job growth has not lost a beat. Employment gains have been particularly strong in B.C., Ontario, and Quebec. This surprising resilience has pushed unemployment rates down, in some cases to lows not seen in a decade or more. In a sign of growing tightness, wages are beginning to accelerate across most provinces. It is during the latter stages of the cycle that businesses tend to increasingly turn to productivity-enhancing capital spending as a means of raising output. Even then, increasing shortages of labour will likely set the stage for expansions to generally moderate more in line with potential speed limits in 2018-19.
Despite headwinds, Ontario running strong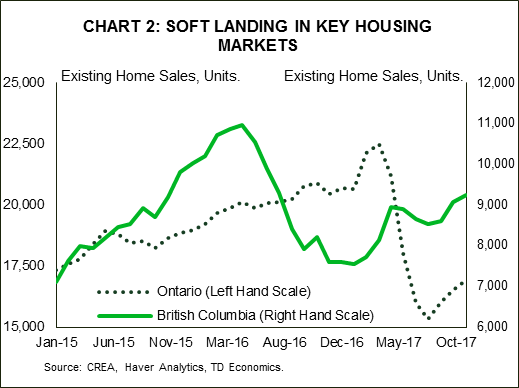 Ontario's economy continues to run strong. Although the pace of expansion appeared to moderate in the third quarter after a robust first-half performance, growth is ending 2017 on a solid footing. Wealth effects from past home price gains, combined with an impressive rate of job creation in recent months, has helped to keep consumers spending at a solid clip and brightened the outlook for the holiday season. Even the Greater Toronto Area's housing market, which cooled significantly this spring following the implementation of the provincial government's Fair Housing Plan, has shown signs of stabilizing in the autumn. Home prices have risen over the last four months, although on a quality-adjusted basis, price gains have continued to decelerate.
Going forward, still-stretched home valuations in the GTA raise the region's vulnerability to a further bout of weakness stemming from B-20 guidelines and additional interest rate increases. This has led to a downgrade in the outlook for both home sales and average prices for 2018-19. However, a soft landing is still anticipated in the absence of an economic shock. Although minimum wage hikes take effect in January and are expected to significantly cool employment growth, 2017 is ending with exceptional momentum. This mitigates the risk of a deeper housing adjustment in the near-term.
While most key sectors are likely to transition to a more sustainable, moderate pace of growth over the next year, one sector that could buck the trend is exports. Manufacturing activity has been held back in the second half of this year by the shutdown of an auto plant for retooling during the fourth quarter, as well as the month-long strike at the GM plant that ended in mid-October. As these factors reverse, auto production should rebound, giving overall output a boost. This will also give exports a much needed lift, which were down 14% in the third quarter. Of course, any changes to the NAFTA agreement poses some risk to exports – and the auto sector in particular given that significant changes have been proposed for the industry. But, given how slowly talks are progressing, any changes would not likely take effect until at least 2019. As it stands now, economic activity in Ontario is forecast to grow by a robust 2.9% this year, before cooling to 2.3% in 2018 and 1.9% in 2019.
B.C.'s economy still hot
British Columbia's economy is enjoying an extended economic boom, with growth expected to top 3% for a fourth straight year in 2017. Household spending has remained a linchpin for growth, supported by strong job gains of over 3%, which have driven the unemployment rate down to a 9-year low of 4.8%. Robust migration inflows have helped to fan the flames of hiring and spending, though labour market shortages are becoming increasingly evident in the province.
Manufacturing, wholesale trade and exports have also recorded solid gains this year, while the housing market has been the weak spot. Following last year's surge, new home construction took a breather over the first three quarters of the year and sales are sitting 16% below their 2016 peak. That said, the housing market has been gaining traction recently, with sales rising above year-ago levels and housing starts surging to a record high in October. This respite is unlikely to last, however, as the highly unaffordable market faces higher rates and new B-20 measures. The final decision on softwood lumber tariffs in the U.S. will be a challenge for the province's forestry sector, although U.S. demand should remain strong and some companies have indicated their intent to increase shipments elsewhere. Despite these headwinds, a stronger-than-expected handoff into 2018 has led us to upgrade the forecast for next year to 2.7%, keeping B.C. at the upper end of the provincial leader-board.
Widespread strength boosting growth in Quebec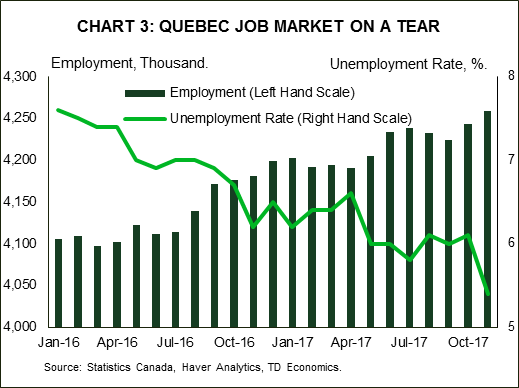 Quebec's economy is turning in a banner year in 2017, displaying across-the-board strength. The leading engines of expansion in recent months have been the manufacturing and construction industries. The gains in manufacturing have been fairly widespread across sectors, while new home construction is on track to reach a 5-year high this year. Non-residential construction has also been supportive of growth with a few large projects such as the Champlain Bridge underway. Despite a recent cooling, exports remain up by 8% through September, led by metals and minerals and energy products. As such, Quebec's economy is expected to advance by a robust 2.9% this year – more than double the 1.4% pace recorded in 2016. The uptick in economic activity has spilled over into the labour market, where net hiring is on track for a solid 2.1% gain this year, and the unemployment rate is sitting at a record low of 5.4%. Wage growth has also picked up over the course of the year, and at 3.1%, is on track for the fastest advance in five years.
Economic activity in the province is expected to lose some steam heading into 2018, as growth moves back toward a more sustainable pace. While some giveback in residential construction will weigh on growth, a number of industries are expected to remain supportive. In particular, consumer spending is likely to benefit from the recent wage gains as well as tax cuts that will put cash back in consumers' pockets. In addition to tax relief announced in the spring, the provincial government, in its fiscal update, announced a one percentage point reduction in the personal income tax rate on the lowest bracket as well as cash for parents to help cover the cost of school supplies. This stimulus will help keep household spending a key source of growth in the economy. Overall, we expect economic activity to advance at a healthy 2.3% clip in 2018, before decelerating to 1.6% by 2019 – nearing its longer term trend rate.
Several headwinds ahead for Manitoba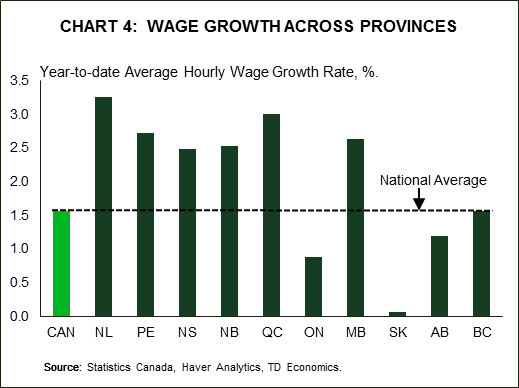 Construction has been the key driver of Manitoba's economy this year, with housing starts up by nearly 40% this year, and non-residential construction up by about 15%. Manufacturing has also picked up in recent months, and the province's agriculture sector looks to be having a good year as it avoided the drought that hit some other regions. The labour market has strengthened, with job growth tracking 1.7% following a decline last year, and wages are up by a solid 2.5%. While this should be supportive of consumer spending, the retail sales performance in Manitoba has trailed most other provinces.
Going forward, the province will be facing a number of headwinds. In addition to a pullback in home starts, the winding down of two hydro projects will weigh on non-residential construction, although this is unlikely to hit until the second half of 2018. Moreover, three mines are set to shut down between now and 2020, as well as some nickel smelting and refining operations in mid-2018. This will weigh on overall economic activity – which is set to slow to 1.3% by 2019 and manifest in slower job growth.
The provincial government unveiled a climate change plan that includes a flat $25 per tonne carbon tax over the 5-year horizon. This is in contrast to the federal requirements for the tax to grow from a minimum of $10 per tonne in 2018 to $50 per tonne in 2022. The provincial government believes that their plan will be more effective than the guidelines set out by the federal government, but there has been some criticism that it does not meet the federal requirements.
Rising oil output lifting producing provinces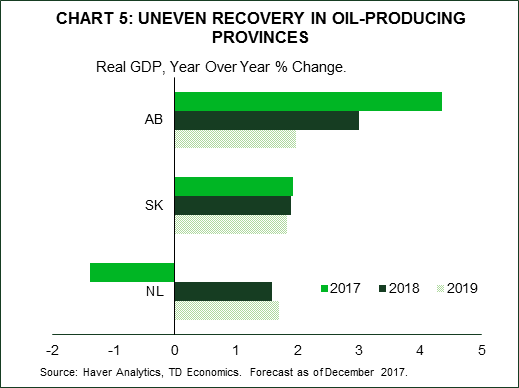 The oil producing regions are all benefiting from higher output, but the dynamics in each province remain quite different. Alberta is in the midst of a sharp rebound after contracting by 3.7% in each of the last two years, with part of the bounce due to the recovery from last year's wildfires. Strength has been fairly widespread across industries, with manufacturing, retail, housing and exports all gaining momentum. The oil industry is providing the largest lift to economic growth, with rig counts up by 80% and production up by double digits so far this year. As such, economic growth is expected to come in at 4.4% this year. While this is certainly a great performance, it is not likely to be sustained. As the impact of the base year effects from the wildfires fade, growth should moderate, but remain supported by new capacity coming online in the oil sector and continued growth in manufacturing and household spending. This is projected to underpin a moderate job market recovery, helping to bring the unemployment rate below 7% by 2019. Overall, growth is forecast to come in at 3.0% and 2.0% over the next two years, keeping Alberta at the top of the leader-board. Despite these strong growth figures, Alberta's GDP is unlikely to surpass 2014 levels until 2019.
Economic growth in Saskatchewan is expected to turn positive this year as well, but will be more moderate than Alberta's at about 1.9%. The energy sector will prop up growth, with rig counts up by about 50% this year, while manufacturing should also be supportive. Agricultural output may turn out better than originally anticipated, but is unlikely to provide the same boost to growth that it has in recent years. Elsewhere, construction has been quite soft – particularly non-residential building activity – and retail sales, while up, are among the weakest in the country. In addition to austerity measures announced in the provincial budget, household spending has likely been held back by disappointing employment and wage growth in the province, both of which are on track to remain flat relative to last year's levels.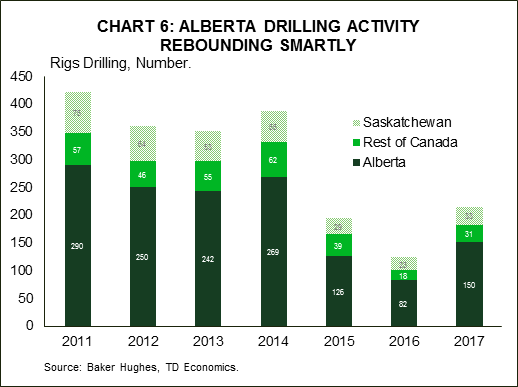 More of the same is expected heading into 2018, with gains in energy and manufacturing continuing to be offset by weak construction activity and further fiscal belt tightening. The government has announced that as of January 2018, the 0.5% cut in the corporate tax rate that went into effect before the summer will be reversed. All told, economic growth is forecast to come in around 1.9% in 2018 and 1.8% in 2019.
In Newfoundland and Labrador, oil production has continued to rise, remaining a key support for economic growth. Manufacturing has also been quite strong this year, despite many other industries continuing to struggle. Strong gains early in the year allowed the province to lead the country in wage growth, but it has since lost momentum. Fiscal restraint and falling employment have put a severe damper on household spending. Meanwhile, investment has also been a drag on growth. As such, the Newfoundland and Labrador economy is set to contract by 1.4% this year. The province should move back into expansion mode next year, as a ramp-up in the Hebron project gives oil output another boost. However, with a number of major projects winding down, further significant declines in investment and employment will provide some offset. This will leave growth at just over 1.5% over the next two years.
Construction giving the Maritimes a boost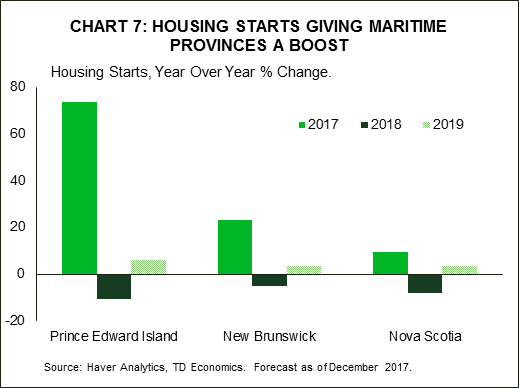 Among the Maritime Provinces, PEI is leading the pack, with growth expected to come in around 2.5% in 2017. Strength has been broad based throughout the province, with manufacturing, retail, tourism, exports, and construction all posting strong gains. New home construction has been particularly robust, up by over 75% so far this year. Non-residential activity has also advanced at a healthy clip. Both employment and wage growth, which are on track for at least 2.5% growth, are outpacing that of the national average. Many of these trends are set to continue into 2018, although momentum in residential construction is likely to fade after a strong showing this year. Moreover, with the loonie expected to hover around the 80 U.S. cent mark, travelling to and around PEI should remain close to this year's elevated levels. Economic growth in the province is expected to hold at over 2% next year, before heading toward its longer term trend pace in 2019.
Nova Scotia's economy has gained some momentum this year, driven in large part by residential construction and consumer spending. Auto sales in the province have been particularly strong, up by a solid 12% through October. Manufacturing and exports have picked up over the last two quarters, with forest products and chemical, plastic, and rubber products all showing strength. Employment growth has softened somewhat, although job growth has been healthy in manufacturing, trade, utilities and public administration. With growth on track to accelerate to around 1.6% this year, it is likely to slow over the next two years as household spending moderates alongside job growth, and new home construction declines. Moreover, offshore natural gas production is expected to wind down over the next two years, which will also weigh on growth. Exports should, however, continue to benefit from strong US demand, as well as the newly implemented trade deal with Europe.
In response to the federal government's mandatory carbon pricing policy, Nova Scotia has announced that a cap-and-trade system will be implemented in 2018. There are no details on the emissions cap or the price on carbon as of yet, however, the system will be restricted to the province, rather than joining the one being developed in Ontario, Quebec and California. Only 20 companies will be required to participate in the system and expectations are that the impact on consumers will be limited.
In contrast, the New Brunswick government has said it will introduce a carbon pricing strategy, but has yet to choose a model as it wants to take time to assess all the options. Meanwhile, the economy continues to chug along at a fairly steady pace. Construction has been a bright spot across both residential and non-residential segments, with the latter up by over 25% during the first three quarters of the year. Manufacturing and exports have also been strong this year, and retail sales have picked up some momentum in recent months. While employment has improved following three years of net job losses, wage growth has slowed from a 4-5% y/y pace earlier this year. Nonetheless, it remains among the best in the country on a year-to-date basis. Going forward, economic growth in the province is expected to decelerate over the next two years, reaching 1% by 2019, as construction activity slows and tourism stabilizes. The final decision surrounding softwood lumber exports to the US will be challenging for New Brunswick's forestry industry. Most sawmills in the province will be faced with a 21% tariff on average. Previously, N.B. mills were exempt from the tariff, just like the rest of the Atlantic Provinces that have retained exemption status. While the outcome puts the province at a disadvantage, U.S. demand for lumber is expected to remain quite strong – particularly in light of the rebuilding efforts following the hurricanes and rising single-family construction – which should be supportive of lumber prices.
Bottom Line
Economic activity is evolving largely in line with our expectations, with little change to our 2017 forecasts. However, with momentum expected to pick up as the year comes to a close, the stronger handoff has led us to modestly upgrade our outlook for 2018 across several provinces. Given that the recent surge in economic activity has absorbed much of the existing economic slack – the oil-producing provinces are an exception – our view that economic growth will decelerate across nearly all regions in 2018-19 remains intact.