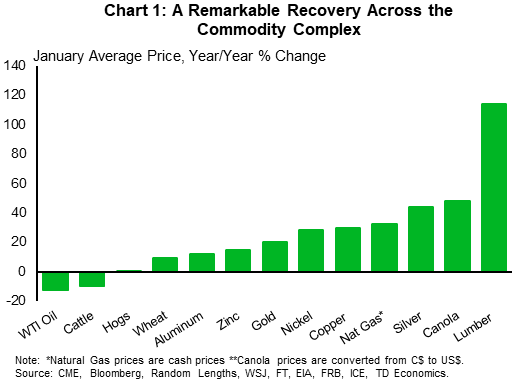 Most commodity sectors have staged a swift rebound, closing 2020 on a better-than-expected note (Chart 1). Following a brief autumn lull, the most recent leg up in prices was underpinned by vaccine developments and expectations around a second, and now likely third, jolt of U.S. fiscal stimulus. Macro tailwinds were also supportive. These included a persistent downdraft in the Greenback and rising appetite for inflation-sensitive assets as a renewed "reflation" narrative has taken hold in markets since the recent Democratic sweep of Congress. Markets still appear to be looking past the near-term setbacks to demand from renewed restrictions and elevated virus caseloads.
Looking ahead to 2021, our expectation for a solid 5.5% rebound in global growth should leave most prices above their pre-pandemic levels. In fact, growth estimates in our December Quarterly Economic Forecast will likely be upgraded in light of recent U.S. fiscal policy developments. However, recent rallies will give way to more modest performances, and in some cases, pullbacks going forward. Importantly, price support from supply side disruptions and China's import surge are expected to wane. And while demand is likely to pick up as growth accelerates, it may not be able to fully take up the slack.
It is hard to paint all commodities with the same brush. Sectors that have been most impacted by the pandemic are likely to outperform this year. This includes energy markets, which should benefit from increased mobility as the necessary vaccine thresholds are achieved. Livestock prices, also battered by the pandemic, should resume their long uphill battle as animal backlogs ease and the demand from the restaurant industry begins to rebound. In contrast, commodities most levered to China – notably some base metals – face the biggest risk of a pullback. While China is expected clock in solid economic growth in 2021, the impetus from its stimulus efforts last year is likely to ease. Additionally, some base metals (such as aluminum) will face excess supply conditions in 2021 as new supply comes online. Elsewhere, lumber and oilseeds have benefitted from markedly improved fundamentals since the pandemic began. Supply will inevitably respond to those gains, gradually pressuring prices downwards. Meanwhile, precious metals should remain range bound in the near-term before edging modestly lower. Previously supportive macro drivers underpinning bullion remain largely intact, but have arguably been mostly priced in.
Risks are now more balanced. The scale of new U.S. fiscal stimulus remains uncertain (see report). A tilt towards the upper end of possible fiscal policy scenarios and potential upside surprises in inflation could maintain the momentum in commodities for longer than expected. Meanwhile, China's purchases also remain a wildcard. A continuation of last year's import surge would further tighten markets. In this vein, agricultural commodities face the most upside risk should rising feed demand and Latin American weather concerns remain. To the downside, the path of the virus, with new strains being discovered, continues to cloud the picture. Repeated extensions of lockdowns may give way to persistent negative surprises in economic data. This would likely dampen risk sentiment and weigh on prices. At the same time, vaccine deployment efforts may face some hiccups along the way. In turn, more volatility should be expected in 2021 relative to the mostly uninterrupted post-pandemic uptrend across the complex.
The Supply Side Continues to Bolster Oil Prices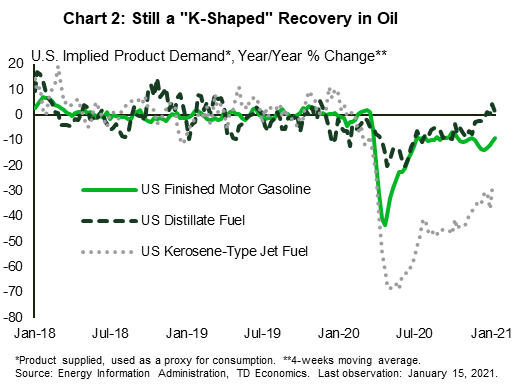 Few forecasters had been anticipating such a swift bounce in WTI oil prices back to the US$50-US$55 range given the fallout from the pandemic was the most drastic in oil markets. Like most other commodities, vaccine developments and fiscal policy have played a role in the recent rally. The reality on the ground, however, is that supply curtailments have been critical in keeping markets balanced so far. A sustained move above current levels is highly predicated on a successful vaccine deployment and a subsequent recovery in mobility and travel.
OPEC+ had initially delayed the tapering of their cuts in their December Joint Ministerial Monitoring Committee (JMCC) meeting, increasing production by only 0.5 million bpd in January (as opposed to an initially-planned 2 million bpd). Saudi Arabia then surprised markets in the January JMCC meeting with an unexpected voluntary 1 million bpd cut. This improved supply backdrop should help whittle inventories down further.
Positive sentiment in oil markets conceals a still-subdued demand picture. Renewed lockdowns and seasonal factors have capped demand growth since October. Across the oil product spectrum, the demand recovery remains "k-shaped". Based on timely U.S. data from the Energy Information Administration (EIA), distillates, and to a lesser extent gasoline have held up well. Unsurprisingly, jet fuel continues to lag (Chart 2). The uneven recovery in oil demand can also be seen across geographical markets. Non-OECD demand has mostly recovered, with China's consumption bouncing back vigorously above its pre-pandemic levels. On the flip side, OECD demand remains lackluster. This discrepancy has been exacerbated in recent months as lockdowns continue to intensify across North America and Europe.
We expect prices to move sideways in the US$50-US$55 range for the better part of the year. This is a marked improvement relative to last year. A further acceleration beyond these levels in 2021 is unlikely. In the near-term, risks to oil prices remain tilted to the downside. After all – the market is still "artificially" balanced by sizeable supply-side adjustments. Plenty of elastic OPEC spare capacity exists (Chart 3). In the past, OPEC+ was shown to be comfortable in keeping prices within that range. Disagreements emerged in recent OPEC+ meetings on the scale of production increases. This suggests that some producers will prefer to raise production with prices now above their operating break-even levels.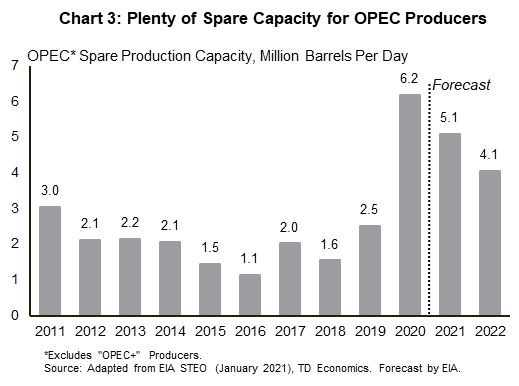 Looking into the latter part of the forecast horizon and further into the medium term, we see potential upside risks to prices forming on the back of the substantial hit to global upstream capital investment. For instance, U.S. production has stabilized at around 11 million bpd, down from a peak of 13.1 million bpd in early 2020. A sizeable part of this is attributable to shut-ins. Still-depressed oil rig counts suggest that production may fall even further in the medium term. With that said, this upside risk is only expected to evolve once demand fully recovers.
Canada's energy sector is also benefitting from an improved price environment. Discounts on the Western Canada Select benchmark (WCS) have trended upwards modestly (recently to around US$13), in tandem with gradually recovering oil production and exports. We expect the discount to oscillate within the US$10-US$15 historical range. Still-recovering production and incremental improvements in transportation capacity should temporarily prevent major bottlenecks seen in previous years. The recent cancellation of the Keystone XL pipeline is a negative development for the Canadian energy industry. However, uncertainty around the project has been longstanding. The impacts of this decision are mostly centered on longer-term investment prospects should the global oil environment improve. Assuming progress continues on the Trans Mountain and Line 3 pipeline expansions within the next two years, we don't anticipate a sharp widening inthe heavy oil spread over the near and medium term.
Natural Gas Outlook Modestly Improving
All eyes were on oil during the pandemic, but U.S. natural gas markets were similarly sideswiped by a glut that sent cash prices to multi-decade lows in the summer. Strong additions during the injection season were followed by cancellations of U.S. LNG shipments at the onset of the pandemic. As expected, excess supply continues to be absorbed gradually, lifting prices up. Inventories are edging closer to the five-year average (Chart 4). Both the demand and supply sides of the equation lent a helping hand. Dry gas production has recently dropped below the 90 Bcf/day (billion cubic feet), down from a peak of 97 Bcf/day in December 2019. The EIA is forecasting production to average 88.2 Bcf/day 2021. On the demand side, surging U.S. LNG exports have provided an avenue of relief for domestically oversupplied markets (Chart 5). This increase comes as added capacity becomes operational in the U.S. amid rising demand for heating in Asia and Europe. On this note, the EIA anticipates LNG exports to average 9.2 Bcf/day in 2022, up from 5 Bcf/day in 2019. Henry Hub natural gas prices are not anticipated to rise significantly beyond the US$3/MMbtu mark. Warmer than expected weather so far this winter is capping any meaningful boost to prices. Beyond the near term, production will likely tick up in 2022 in response to the improved pricing environment, putting a lid on prices.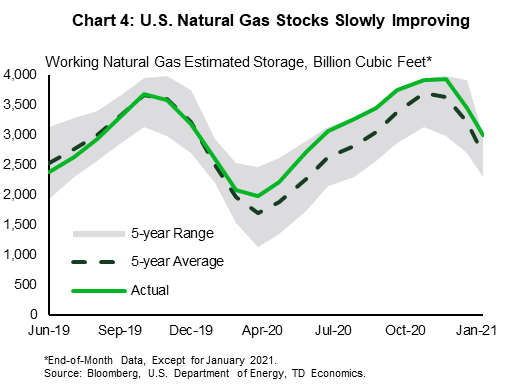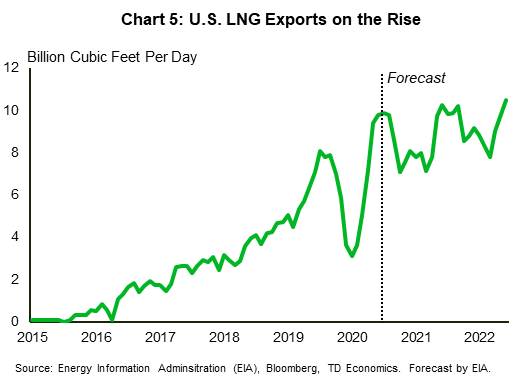 Base Metals Still on Winning Streak, but the Risk of a Modest Pullback Remains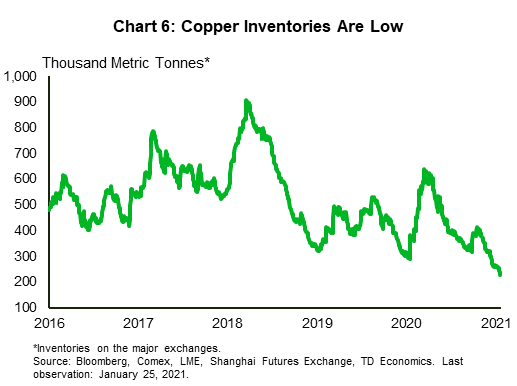 Common themes have played out across the base metals complex. At the forefront, China's strong industrial recovery was key in maintaining demand for industrial raw materials at a time when global growth was subdued. More broadly, the end-uses of base metals were not as heavily impacted by the pandemic as those in the energy space. Indeed, housing markets and manufacturing PMIs persistently surprised on the upside during the summer and early autumn months. On the supply side, pandemic-driven disruptions (or risk thereof) to mine activity in Latin America also played a role in supporting the price rally. More recently, base metals were further boosted by recent news on U.S. fiscal policy and vaccine-driven revisions to 2021 growth.
An expectation of a sizeable rebound in economic growth alongside ample fiscal stimulus should keep metals on a solid footing. However, the likelihood of new supply in some metals will likely put a damper on growth going forward. Risks of pandemic-driven disruptions to existing supply should also dwindle as vaccine deployment accelerates. At the same time, China's import surge is unlikely to be sustained. Indeed, credit conditions are likely to tighten as the focus on financial stability resurfaces. The confluence of these factors will leave base metals susceptible to a pullback from recent levels. Still, any decline will come off the heels of a scorching rally. A modest downshift would still leave prices solidly above pre-pandemic levels.
Supply-demand factors will dictate differences in base metal performances. All metals are likely to see a retraction from current levels, but to varying degrees. Copper markets are starting the year off tight, as evidenced by dwindling inventories on all major exchanges (Chart 6). Prices may thus take longer to adjust from current levels and in the near term could even enjoy an additional rally. Meanwhile, aluminum appears to be the most vulnerable to a drop given still-high inventories and the expectation of new supply coming online in 2021, particularly in China.
Macro Environment Still Supportive for Precious Metals, but Further Acceleration Appears Unlikely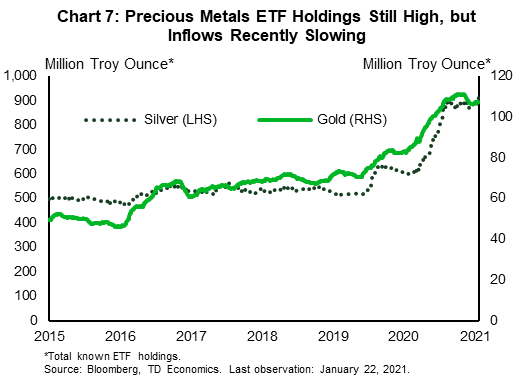 The confluence of factors propping up gold as a hedge and/or diversification tool remain intact. Most were longstanding factors that were further amplified by the pandemic. These drivers include depressed long-term yields, heightened economic and geopolitical uncertainty, and more recently, a weakening USD. Retail and institutional investor interest in the metal remains high but has flattened (Chart 7) since the late summer, in tandem with prices.
With many of these drivers already priced in, strong surprises that could act as a catalyst for prices appear unlikely. A period of low for long policy rates had already been in the cards for a while. Central bank forward guidance and a change in the FED's inflation regime over the autumn only reinforced it. Nominal yields have already bottomed, with a steepening in the U.S. Treasury curve seen since the fourth quarter (see report). We expect some further downside for the trade-weighted value of the USD going forward, but the bulk of the downshift in the currency has already materialized over the last two quarters. Meanwhile, real rates are already negative. The lingering slack in the economy suggests that any material increase in inflation will be transitory and largely driven by base effects. As vaccine deployment accelerates and economies start to show signs of life, a sudden move to safe havens like gold appears unlikely.
Still, we believe that the risk to the baseline outlook are biased to the upside. If inflation picks up meaningfully and for a sustained period of time, it could depress real rates further and for longer than expected. This risk has increased recently in light of U.S. stimulus plans and record global government debt levels. Another potential catalyst could be continued downward revisions to growth estimates if lockdowns were to get extended repeatedly or vaccine deployment efforts were to face setbacks.
Crop Markets Resilient, Livestock Space Yet to Recover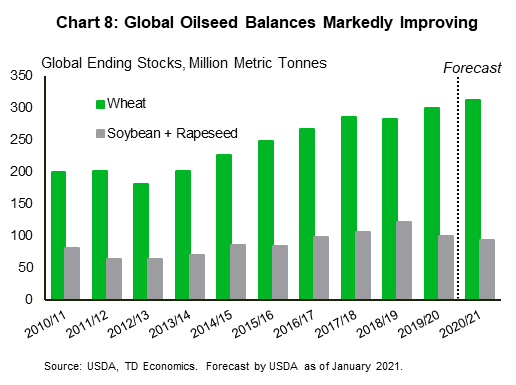 Crops have been among the least impacted commodities from the pandemic. Demand for food and agricultural products remained firm. Concerns related to supply chain disruptions also bolstered inventory stockpiling, as evidenced by China's import surge. In fact, oilseed prices have been among the best performers in the past year. Global balances were already improving on higher exports and of lower soybean production (Chart 8). Recent downward revisions to production and inventories by the USDA sent prices rallying further. La Nina and dry weather conditions in Latin America further exacerbated concerns relating to potential market tightness. The same forces applied to canola, which is now trading at levels last seen in 2010. Meanwhile, wheat prices moved sideways for most of the year. Global ending stocks and stocks-to-use ratios are still expected to reach a record high. However, a tightening backdrop within the U.S. market and an export tax on Russian wheat have been supportive for prices. We expect oilseed prices to trend downwards from currently elevated levels as farmers respond with higher planned acreage. Once again, the downshift should leave prices above pre-pandemic levels as demand conditions remain supportive. Alongside the potential for continued stockpiling, China's rebuilding of its pig herds should keep feed demand higher. More muted price performances are expected for wheat given still-high global inventories.
In contrast to the resilient crop space, livestock prices are yet to recover from the pandemic-driven hit. Accordingly, cattle and hog prices have the most upside potential this year. Effective vaccine deployment should support a rebound in the restaurant and accommodation industries, disproportionately benefitting meat producers. A solid rebound in global growth should also be supportive of incomes, which help revive demand for beef.
Lumber Markets Continue to Surprise on the Upside
.Lumber's descent after hitting all-time highs was short-lived. North American housing markets continued to surprise on the upside alongside a lagged supply response, lifting prices above US$800 once more. This reflects increased appetite for renovation spending as well as higher demand for housing in tandem with low borrowing rates. The supply side of the equation, particularly in Canada, is still ramping up gradually after curtailing output during the spring months.
Unusual gains in lumber markets are expected to ease as supply continues to respond to the attractive price environment. Our December Quarterly Economic Forecast embeds a moderation in U.S. housing starts in 2021 following 2020's torrid pace. As a result, we expect prices to downshift gradually by year-end. Note that this price level still far surpasses the subdued 2018-2019 environment for lumber prices. Key in supporting the improved medium-term backdrop for prices relative to 2018-19 is our expectation for a stronger U.S. homebuilding profile.