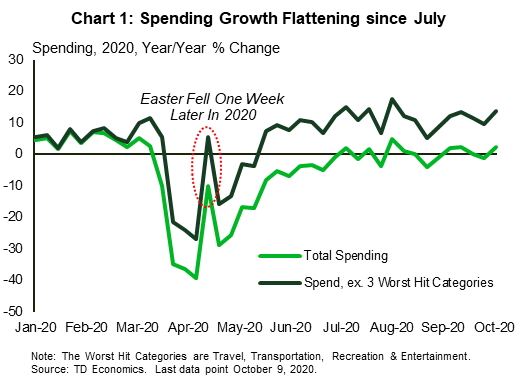 Anonymous, aggregated TD spending data provide valuable, timely insights on Canadian spending patterns. September and early October brought with it, beautiful fall foliage, cooler temperatures, and heaps of pumpkin-spice products. But this appears to not have overly excited Canadians as consumers have eased up on spending activity so far this month (Chart 1). Average weekly spending growth slowed from 1.6% y/y in September to 0.6% during the first two weeks of October. Zooming out, spending growth has been fairly flat recently and remains below pre-pandemic levels. However, when excluding the categories hardest hit by the pandemic, spending has grown at a faster clip.
Provincially, we are beginning to see divergences in spending patterns. Quebec, the standout performer in consumer spending, saw growth drop off in early-October (Chart 2). In the first two weeks of this month, average weekly spending rose 2% y/y, down from the 6.6% pace observed from July to September. Digging into the details, the driver of the decline was the recreation and entertainment category, where spending fell 14% y/y in the first nine days of October. This coincides with the 28-day shutdown the Quebec government imposed on high-touch businesses, such as restaurants and bars, in regions experiencing the brunt of the second wave of the virus (i.e. Montreal and Quebec City). Ontario could be next to see a decline in spending growth, given the province also imposed 28-day shutdowns in major cities and surrounding areas. However, the decline may not be as steep as Ontarians exhibited more cautious spending behavior during the summer despite the province moving into stage three of reopening. Indeed, spending growth in Ontario never returned to pre-pandemic levels since reopening, but it did for Quebec (Chart 2). Spending in the rest of Canada has seen some strength recently, driven by solid pick-ups in Saskatchewan and Atlantic provinces.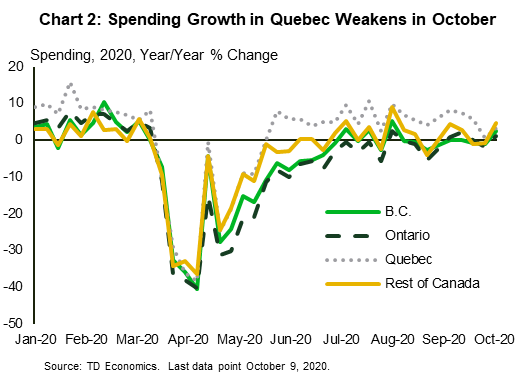 Unlike flattening consumer spending trends, business spending accelerated in early-October, moving past consumer spending growth for only the second time since economies reopened (Chart 3). It's not clear whether business spending growth will continue to outpace consumers, since the data are volatile, but what is less ambiguous is that the gap between business and personal spending growth has narrowed since August. This suggests that initial gains from reopening are diminishing, and the economy is transitioning to a recuperation phase where advances in business and consumer activity may be more difficult to come by.
Flattening debit and credit usage support this conclusion (Chart 4). We have not seen any material shifts in these trends for the past few months, debit use remains elevated, while credit spending continues to face challenges given the devastating impact of the pandemic on travel, transportation, and recreation and entertainment industries. Excluding these categories, a brighter picture is emerging for credit use in recent weeks. Credit fueled spending is on a slight upward trend and is not too far off debit spending growth. This could be an early indication that consumers are feeling more secure in their employment and income situations and are venturing to use credit to finance spending again.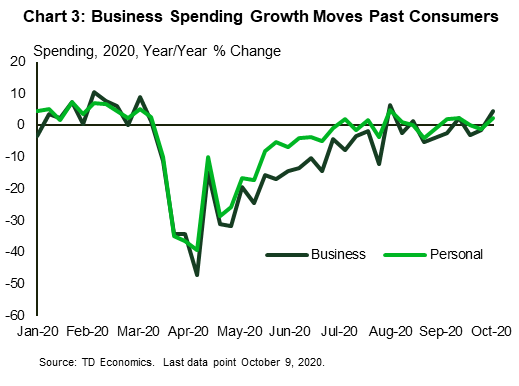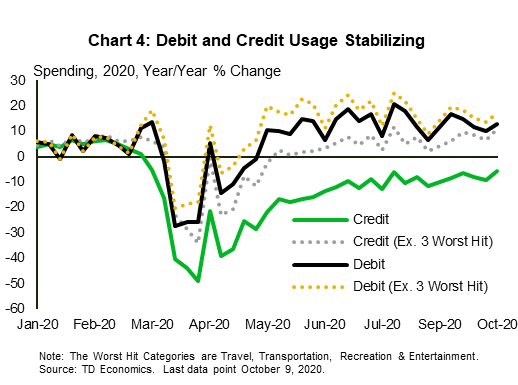 Nevertheless, the path of the pandemic will dictate the return to normalcy. The impact of the second wave and related restrictions already appear to be hobbling the recovery in Quebec and could do the same in Ontario. The robust gains of the summer are behind us, the challenges of winter await.
Disclaimer
This report is provided by TD Economics. It is for informational and educational purposes only as of the date of writing, and may not be appropriate for other purposes. The views and opinions expressed may change at any time based on market or other conditions and may not come to pass. This material is not intended to be relied upon as investment advice or recommendations, does not constitute a solicitation to buy or sell securities and should not be considered specific legal, investment or tax advice. The report does not provide material information about the business and affairs of TD Bank Group and the members of TD Economics are not spokespersons for TD Bank Group with respect to its business and affairs. The information contained in this report has been drawn from sources believed to be reliable, but is not guaranteed to be accurate or complete. This report contains economic analysis and views, including about future economic and financial markets performance. These are based on certain assumptions and other factors, and are subject to inherent risks and uncertainties. The actual outcome may be materially different. The Toronto-Dominion Bank and its affiliates and related entities that comprise the TD Bank Group are not liable for any errors or omissions in the information, analysis or views contained in this report, or for any loss or damage suffered.