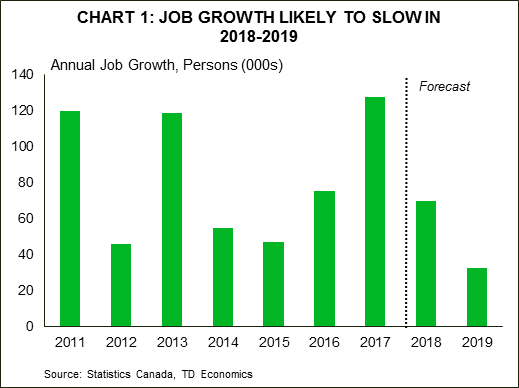 Ontario's job market has been coming off its strongest 2-year growth spurt since 2010-2011. During 2016-2017, some 102,400 net new jobs per year were created, sufficient to take the unemployment rate down to a near 20-year low of 5.6% by the final quarter of 2017. With the economy bumping up against full employment, a repeat of such rapid employment growth in 2018-19 would be a tall order. But recently, focus has shifted on a series of additional pressures that are poised to exacerbate the looming slowdown in the province. These include a ratcheting down in housing activity (post B-20 implementation), higher borrowing rates, and a sharp rise in the province's minimum wage. A recent loss in tax competitiveness relative to the U.S. and ongoing uncertainty around U.S. trade policy have raised concerns around investment spending and hiring in Ontario's trade-oriented sectors.
Yet, consensus forecasts (including that of TD Economics) still point to positive, though more modest, net job creation in Ontario over the next few years. Indeed, reflecting better momentum, our near-term view has been upgraded somewhat since the winter. TD Economics now expects net new hiring to average about 50k in 2018-2019, up from about 35k in the prior forecast. Amid the lengthy list of headwinds, this raises the question of which industries are most likely to step up to the plate as job generators over the next year or two.
Hiring in retail, primary and accommodation and food to lag
The table below presents TD Economics' ranking of job leaders and laggards through 2019. Perhaps least surprising to many is the fact that the areas poised to lag overall employment growth are consistent with where the headwinds are likely to be most acute. The near 30% rise in minimum wages will hit jobs in agriculture, administrative and support services, retail and accommodation and food sectors the hardest, with year-to-date results suggesting a disproportionately negative impact in the retail sector. Retailers will also face the unenviable mix of a scaling back in housing-related spending (as housing activity remains subdued) and the growing trend of e-commerce. But even though the retail sector will likely see the softest job performance in 2018-19, the projected losses are only expected to offset part of last year's hefty increase and are not far off the annual average decline of 0.5% observed from 2012-2016.
One factor that appears to be limiting the downside on jobs in the accommodation and food services industry is the apparent success in passing on some of the pressure from a higher minimum wage on to prices. Moreover, higher wages more broadly are expected to drive further gains in household spending, which along with healthy tourism activity, will provide support to retail and other consumer-oriented industries.
Hiring in the finance, insurance and real estate (FIRE) sectors is likely to slow materially as housing market activity continues to come off the boil, in part due to the implementation of the updated B20 guidelines. But even there, we look for job growth to stabilize, not shrink outright. A still-low rate environment, strong population growth and a relatively healthy economic backdrop will provide support to housing markets as they embark on an orderly cooldown. Within the construction sector, an easing in the pace of homebuilding should keep a lid on job growth though a likely pickup in non-residential investment amid increased federal and provincial infrastructure spending should offer a counterbalancing effect.
Employment Growth (Ranking)
2012-16 Average (%)
2017A (%)
2018-19F Average (%)
Contributions to 2018-19 Average Growth (ppts)
Wholesale Trade
4.1
-5.8
3.9
0.14
Transportation and Warehousing
0.3
4.3
3.6
0.17
Professional, Scientific and Technical Services
2.4
5.7
1.7
0.15
Manufacturing
-0.5
2.6
1.6
0.17
Educational
1.9
-1.3
1.3
0.09
Info, Culture, Recreation
-1.0
-1.7
1.1
0.05
All Industries
1.0
1.8
0.7
0.70
FIRE
2.3
0.9
0.5
0.04
Other*
0.6
-1.8
0.4
0.03
Construction
2.1
1.9
0.4
0.02
Healthcare
2.2
3.7
0.2
0.02
Accom and Food
2.6
-0.5
0.0
0.00
Public Admin
-0.5
4.9
-0.5
-0.03
Primary and Utilities
-2.0
-7.7
-0.9
-0.02
Retail Trade
-0.5
6.9
-1.2
-0.13
* Business, Building and Other Support Services and Other Services categories
Source: Statistics Canada, Forecast by TD Economics as of April 2018.
Primary industries will also occupy the bottom end of the job growth rankings, hurt by soft momentum heading into 2018. Job growth is likely to be on the weaker side again next year. However, we expect the pace of decline to ease considerably during 2018-2019 compared to the outsized drop recorded last year.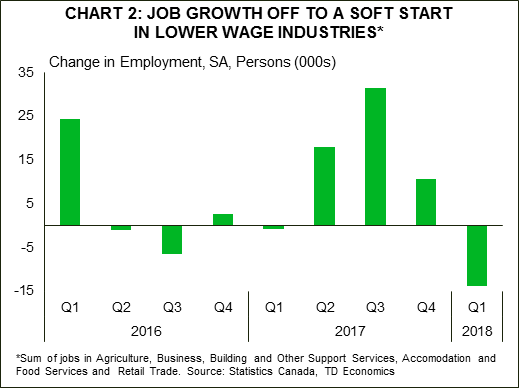 Trade-oriented and high-skill services industries to be leading growth engines
More surprising may be some of the areas that are likely to lead the way as job generators over the forecast period.
Manufacturing, wholesale trade and transportation services are expected to be at the top end of the job growth rankings. Trade policy uncertainty and tax competitiveness worries have not been helping the longer-term investment outlook in export-oriented industries (though we do note a more positive tone around the NAFTA discussions recently). Regardless, with the U.S. economy on track to expand rapidly in 2018-19 and the Canadian dollar to remain on its back foot in the near term, we expect export-oriented industries and hiring in general to be pulled along for the ride. One area that is likely to exert a drag on hiring within the manufacturing sector is automotive, where output is projected to recede during 2018-2019. However, the highly capital-intensive nature of this production should dampen the labour market impact while other pockets of manufacturing (i.e., machinery, computers and electronic products, fabricated metal products) enjoy growth in both output and jobs.
The professional, scientific and technical services (PSTS) industry should also be a significant source of job creation, continuing its strong performance seen in recent years. Further underlying growth in domestic spending and exports bode well for job growth in PSTS. Moreover, as companies increase their investment in digital technologies in order to keep up with the latest innovations and increase productivity, opportunities for technology professionals should be well supported. These same factors are likely to boost demand for telecommunications and data processing services, supporting hiring in the information, cultural and recreation industry. However, increased output in this sector would likely be sourced in part by productivity gains, muting the impact on hiring.
Public sector hiring is likely to turn in a more mixed performance. Government spending plans are consistent with increased employment in priority areas, notably in education and health, though softer momentum in the latter sector flags modest net hiring in 2018. In contrast, employment in public administration has been underperforming in recent months, perhaps reflecting some efforts to record efficiencies. Keep in mind that our forecasts do not include sizeable stimulus presented in the March 2018 budget, with the fate of policy measures uncertain ahead of a June election. This would present an upside risk to employment in health, education and the broader public service.
Bottom Line
Several notable downside influences will trigger a slowdown, rather than an outright decline in job creation in Ontario, with growth likely to slip below trend over the next few years. However, there are two silver linings to this outlook. Firstly, output gains and wages are likely to hold up relatively well as businesses in general move to raise productivity levels. Secondly, continued above-trend job growth at this stage of the cycle would lead to growing labour shortages, which tend to be problematic from a medium term perspective. With softer job growth on the horizon, the unemployment rate is likely to tick back up slightly over the next few months from its current multi-decade low.
By industry, hiring is likely to be concentrated in trade oriented sectors, as well in some of the usual suspects (i.e., professional, scientific and technical services) that have led the way structurally in recent years. Conversely, industries leveraged to a cooling housing market and those impacted by the sharp increase in the minimum wage should fall to the low end of the rankings.