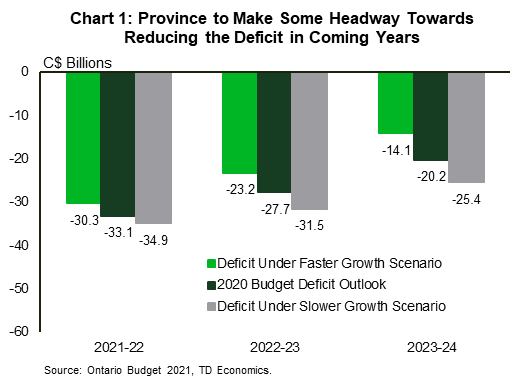 Today's budget is focused on providing additional pandemic-related support to households and businesses. A key takeaway of this budget is the longer-term legacy that the pandemic leaves on the province's finances. With shortfalls remaining elevated in the short run and falling only gradually over time, the province's net debt burden is forecast to reach a lofty 50% of GDP. On the plus side, debt servicing charges are expected to remain well below historical peaks, helped by continued relatively low interest rates. In addition, the budget is based on very cautious near-term economic growth assumptions, leaving room for an upside surprise on growth and revenues.
The scope of new initiatives introduced in this year's budget is narrower than last year. That said, the government is introducing new tax relief for households while adding some $6.1 billion in new COVID-19 support spending, bringing the total to $51 billion over four years.
Last year's massive shortfall unchanged from fiscal update
In FY 2020/21, the deficit was $38.5 billion, unchanged from the autumn fiscal update, as both revenues and expenses came in roughly as expected. At 4.5% of GDP, this shortfall was one of the largest in the country. However, Ontario was also among the provinces hardest hit by the pandemic, which took a massive toll on revenues.
Government fiscal framework remains prudent amid heightened uncertainty
A theme so far in this year's provincial budget season is the incorporation of cautious economic assumptions into fiscal planning reflecting still high levels of uncertainty. Ontario has gone a step further in terms of prudence. This includes considering multiple economic scenarios, building healthy reserves into their planning and using economic growth projections on the low side of consensus in its baseline scenario. On the latter front, our forecasts anticipate much stronger nominal GDP growth than the government this year, in line with consensus estimates at the time the budget was generated. However, in recent weeks, 2021 and 2022 growth prospects for the province have brightened considerably in lockstep with the US and Canada. Using the government's sensitivities, our forecast would result in revenues coming in about $4 billion higher in 2021 alone than what the government expects. It's also worth noting that real GDP growth could even top the 5.9% advance for 2021 that the government assumes in its "faster growth" scenario.
The deficit is expected to narrow over time in all three scenarios provided by the government. Our current baseline forecast appears to be most in line with the government's "optimistic" scenario that shows the budget position moving back into balance by FY 2027/28, two years earlier than the government's baseline (FY 2029/30).
Consistent with their forecast for a rebound in economic activity, the budget anticipates a healthy 7.2% rebound in own-source revenues in FY 2021/22. However, federal transfers are forecast to fall after surging in FY 2020/21.
Government keeps program spending elevated amid pandemic
Budget 2021 includes no new taxes, but announces additional relief including:
A proposed $260 million Ontario Jobs Training Tax Credit, to be put towards re-skilling and re-training. This credit would provide up to $2,000 for 50% of eligible training expenses.
A 20% top-up of the CARE childcare tax credit for 2021, at a cost of $75 million. This would bring the average level of support offered by the credit to $1,500 from $1,250.
$61 million over three years allocated to temporarily enhancing the Regional Opportunities Investment Tax Credit.
Further postponing the property tax reassessment period.
On the spending front, several new measures are announced, including:
A third round of payments to parents through the Ontario COVID-19 Child Benefit. The benefit would be doubled to $400 per child and to $500 for children with special needs.
Making available some $1.7 billion in funding to small businesses through a second round of the Ontario Small Business Support Grant.
Providing an additional $1 billion in COVID-19 relief funding to municipalities.
Investing $400 million over the next three years to support the tourism, hospitality and culture industries which have been heavily impacted by the pandemic. On this front, the government is introducing the Ontario Tourism and Hospitality Small Business Grant at a cost of $100 million, which will provide payments of between $10,000 and $20,000 to eligible small business.
Program spending is projected to remain elevated over the medium term. For FY 2021/2022 however, expenditures drop by 3%, as time-limited COVID-19 spending falls from $20.1 billion to $6.7 billion.
As for the other big-ticket items, healthcare spending is forecast to rise by 4.6% in FY 2021/22, nearly matching the prior year's gain. In the education sector, spending is projected to rise by 2.7%, marking an acceleration from FY 2020/21.
Ontario Economic Assumptions Under Various Scenarios
[ Percent change unless otherwise noted ]
Source: Ontario Ministry of Finance, as at March 2021.

| | | | | | |
| --- | --- | --- | --- | --- | --- |
| Economic Scenario | 2020E | 2021F | 2022F | 2023F | 2024F |
| Real GDP (Planning Scenario) | -5.7 | 4.0 | 4.3 | 2.5 | 2.0 |
| Nominal GDP (Planning Scenario) | -4.8 | 6.2 | 6.4 | 4.5 | 4.0 |
| | | | | | |
| Real GDP (Slower Growth Scenario) | - | 3.1 | 3.4 | 2.3 | 1.8 |
| Real GDP (Faster Growth Scenario) | - | 5.9 | 4.7 | 2.7 | 2.2 |
Net debt to GDP to climb higher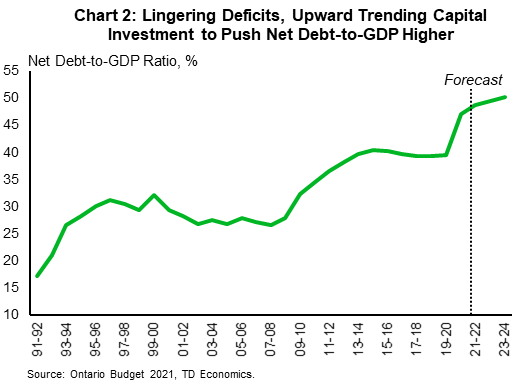 Even with the expectation of a reasonably robust economic recovery, net debt-to-GDP is forecast to increase from 47.1% in FY 2020/21 to 50.2% by FY 2023/24. However, there is some room for improvement on this front should growth surprise on the upside as we anticipate. The government expects the debt ratio to top out at 50.5% by FY 2025/26 – which the government has set as a ceiling – before heading lower thereafter.
Through FY 2023/24, net debt will be driven higher by persistent deficits and an uptrend in infrastructure spending. This elevated stock of debt leads to rising debt servicing charges. As a share of revenue, debt service costs are set to drift higher over the next few years, although are forecast to remain about 6-7 ppts below historical peaks.
The province's overall funding requirement is expected to drop from $59.0 billion in FY 2020/21 to $54.7 billion this fiscal year. Meanwhile, the average cost of borrowing is forecast to increase from 1.6% last fiscal year to 3.2% in FY 2023/24, reflecting the rising interest rate environment. However, the average term of the province's debt portfolio remains lengthy, at 10.7 years. This should give the government some cover against rising interest rates.
Bottom Line
While Ontario's economy is rebounding faster than many had expected, the impact of the pandemic on the province's fiscal position will be felt well into the future. Additional provincial supports will help households and small businesses continue to navigate the pandemic and support a sustained recovery in the near term. Moreover, these amounts are almost certainly to grow larger once the federal government brings down its budget on April 19th. Still, it will leave Ontario facing a major debt challenge, and one that would only be exacerbated if the economy were to experience another unanticipated shock over the next few years.
Government of Ontario Fiscal Plan
[ C$ billions unless otherwise noted ]
Note: Numbers may not add up due to rounding. Source: Ontario 2021 Budget.

Fiscal Year

2021 Budget Plan
20-21
21-22
22-23
23-24
Revenues
151.8
154
160
167
% change
-2.8
1.4
3.9
4.4
Expenditures
190.3
186.1
186.2
185.6
% change
15.5
-2.2
0.1
-0.3
Program Spending
177.8
173.0
172.5
171.1
% change
16.7
-2.7
-0.3
-0.8
Interest Charges
12.5
13.1
13.7
14.6
% change
0.0
4.8
4.6
6.6
Reserve
-
1.0
1.5
1.5
Budget Balance
-38.5
-33.1
-27.7
-20.2
% of GDP
-4.5
-3.7
-2.9
-2.0
Net Debt
399.5
439.8
475.8
503.1
% of GDP
47.1
48.8
49.6
50.2