2023 Newfoundland and Labrador Budget
Brief Return to Modest Deficit on Focused Spending
Marc Ercolao, Economist
Date Published: March 24, 2023
Highlights
After chalking up a higher-than-expected surplus in FY 2022-23, the Newfoundland and Labrador government is anticipating a brief foray back into deficit position in the year ahead. Still, at 0.4% of GDP in FY 2023-24, the Province's deficit is forecast to be relatively modest.
In Budget 2023, the Newfoundland and Labrador government prioritizes health care spending above all, with an 11% spending boost forecast for the upcoming year. This area alone accounts for around 40% of the entire budget.
At 37.3%, Newfoundland and Labrador's net debt-to-GDP ratio came in over five ppts lower than expected in FY 2022-23. The debt burden is expected to increase modestly this year as expenses tick up and nominal growth slows.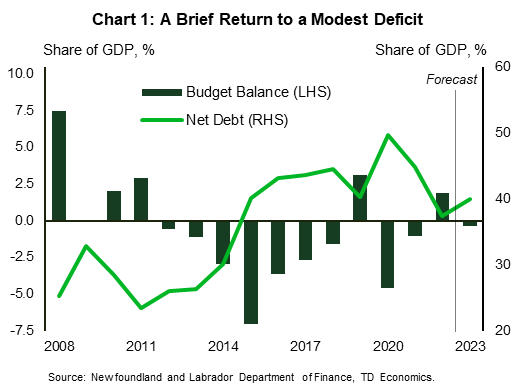 Newfoundland and Labrador, like other commodity-oriented provinces, is coming off an impressive year in terms of fiscal fortunes. Indeed, a surplus now estimated to be 2% of GDP would be the government's largest since the 3.1% tally recorded in 2019 and only its second surplus in the past decade. With revenue gains slated to slow and spending plans advancing, a modest deficit is projected for FY 2023/24, before surpluses resume in the outer-lying years of the forecast plan. This budget did not introduce any new marquee spending initiatives, but instead will continue to ramp up support for health care as well as infrastructure.
Big Upgrade To Budget Surplus in FY 2022/23
This past year's estimated budget surplus of $784 million was roughly double that penciled in at the fall fiscal update ($479 million) and improved by over $1 billion from the $351 million deficit projected in last year's Budget. The improvement was primarily driven by healthier-than-expected increases in personal and corporate income tax revenues and high oil prices, which together left revenues $1.1 billion higher than forecast last spring.
Modest But Focused Spending in FY 2023/24
Newfoundland & Labrador Economic Assumptions
[ Per cent change unless otherwise noted ]
Source: Newfoundland and Labrador Department of Finance, TD Economics.

| | | |
| --- | --- | --- |
| Fiscal Year | 2023 | 2024 |
| Real GDP | 2.8 | 3.0 |
| Nominal GDP | -3.4 | 2.9 |
| Unemployment Rate (%) | 10.1 | 10.5 |
| Employment | 2.2 | -0.4 |
| Retail Sales | 3.4 | 1.8 |
| Population | 1.0 | 0.2 |
| | | 2023-24 |
| Exchange Rate (USD/CAD) | | 0.757 |
| Brent Price ($US per barrel) | | 86.0 |
Total spending is projected to rise by just over 1.0% in FY 2023/24. This modest spending, however, is on the heels of a brisker 3.5% advance this past fiscal year. For the rest of the five-year planning horizon, expenses are forecast to remain effectively flat on average, or down in real per-capita terms, which highlights the government's intention to hold the line on medium-term spending. For the upcoming year, an extra $300 million is earmarked for the healthcare system relative to that planned in last year's budget. To combat rising living costs, the government extended the 8.05 cent per litre reduction on the price of gas and diesel and maintained the $500 home heating supplement for another year. Newly introduced is the 5% increase for the Income Supplement and Seniors Benefit and $64 million allocated to early childhood educator wages and the hiring of teachers. There were no new tax or fee increases in this budget.
Meanwhile, Newfoundland unveiled its ambitious capital spending plan that includes $1.4 billion over the next five years for the improvement of roads and highways and $1.1 billion for infrastructure projects including new hospitals.
A Mixed Revenue Picture
Total revenues for FY 2023/24 are expected to decline by 7.9% to $9.7 billion. It is important to note that this comes off of last year's unsustainable surge, notably a $1.5 billion upgrade of revenues in the fall fiscal update primarily driven by high oil prices and higher inflation. The revenue profile over the next four years is expected to run at a sluggish rate of only 0.6%, but this still slightly outpaces spending projections.

Oil royalties, which will likely remain a volatile revenue source, are expected to generate $1.1 billion in FY 2023-24. However, this equates to a drop of around 10% as oil prices moderate from elevated 2022 levels. The budget assumes Brent prices of $US86/barrel for FY 2023/24, with each $1/barrel move yielding around a $16 million change in royalties. Given that current Brent prices sit around $10/barrel below this projection, there may be a near-term downside risk to royalties.
Newfoundland & Labrador Fiscal Position
[ C$ millions, unless otherwise noted ]
*Includes net income of Government Business Enterprises and Federal Government transfers (including one-time Atlantic Accord Payment) **Excludes Federal Government transfers but includes net income from Government Business Enterprises.
Source: Newfoundland and Labrador Department of Finance.

| | | |
| --- | --- | --- |
| Fiscal Year | 22-23 | 23-24 |
| Revenues* | 10,525 | 9,689 |
| % change | 21.5% | -7.9% |
| Revenues Excluding Federal Transfers** | 8,800 | 7,460 |
| % change | 23.2% | -15.2% |
| Expenditures | 9,741 | 9,849 |
| % change | 7.5% | 1.1% |
| Surplus (+)/Deficit (-) | 784 | -160 |
| % of GDP | 1.9% | -0.4% |
| Net Debt | 15,699 | 16,226 |
| % of GDP | 37.3% | 39.9% |
Economic Projections
The government is basing its own-source revenue assumptions on a rebound in real economic growth of 2.8% and 3.0%, respectively, in 2023 and 2024. Those assumptions are higher than ours (we're around 1.3% on average over the next two years), which partly reflects a conservative view on the Canadian economy as a whole.

Oil extraction and mining activities are critical to the growth outlook as they combine for over 30% of the province's economic output. Oil production decreased by around 10% last year, but the production from Terra Nova, expected to come back online later this year, should provide a boost to oil output. Employment also remains strong in the industry, up 12.5% from last year. A $50 million investment in Newfoundland & Labrador's Offshore Exploration Initiative will continue to support near term drilling activity and employment in the sector. On the mining side, lower expected iron ore and nickel prices will weigh on the value of mineral shipments, but the sector should benefit from elevated employment levels and targeted government initiatives.
Making Progress on Financial Challenges
Newfoundland and Labrador plans to borrow $1.5 billion this fiscal year of which $900 million represents a net new funding requirement. This figure is lower by about $200 million compared to the $1.7 billion borrowing from last fiscal year. Net debt is projected to reach $16.2 billion in FY 2023/24, or just under 40% as a share of GDP. This ratio is still much improved from levels above 50% during the pandemic. Newfoundland and Labrador's debt burden, however, still ranks among the highest across provinces. With GDP projected to rise at a solid clip over the next few years, the debt ratio should gradually decline. Supporting the push to lower net debt, the government is contributing $127 million to the Future Fund which is expected to generate revenue in excess of the interest paid on outstanding debt. The Future Fund, established in October 2022, is a vehicle for managing provincial government debt in the long-term whereby portions of excess resource revenues and occasional one-time contributions are funneled.
Bottom Line
Coming off a banner year for its finances, Newfoundland and Labrador will face a somewhat more challenging environment in the year ahead, especially if oil prices fail to rebound later this year – as both we and the government expect. The government continues to record a relatively high debt burden, but its improving trend over the past few years has reduced some of the fiscal vulnerability to unanticipated events.
Disclaimer
This report is provided by TD Economics. It is for informational and educational purposes only as of the date of writing, and may not be appropriate for other purposes. The views and opinions expressed may change at any time based on market or other conditions and may not come to pass. This material is not intended to be relied upon as investment advice or recommendations, does not constitute a solicitation to buy or sell securities and should not be considered specific legal, investment or tax advice. The report does not provide material information about the business and affairs of TD Bank Group and the members of TD Economics are not spokespersons for TD Bank Group with respect to its business and affairs. The information contained in this report has been drawn from sources believed to be reliable, but is not guaranteed to be accurate or complete. This report contains economic analysis and views, including about future economic and financial markets performance. These are based on certain assumptions and other factors, and are subject to inherent risks and uncertainties. The actual outcome may be materially different. The Toronto-Dominion Bank and its affiliates and related entities that comprise the TD Bank Group are not liable for any errors or omissions in the information, analysis or views contained in this report, or for any loss or damage suffered.