The 2018 Federal Budget focused on gender-based analysis (or 'gender budgeting'). In its wake, clients have asked what it is and why do it? Put simply, it is the process of taking gender into account during the budget process. Beneath that simple answer is a full spectrum of potential processes and outcomes – there is no single approach to gender budgeting. This means that the impact will vary from government to government and from budget to budget. Gender-based budgeting (GBB) offers the potential for 'win-win' outcomes to correct structural biases and impediments, and simultaneously drive stronger economic outcomes for men and women alike.
The remainder of this report provides some answers to the questions we've been receiving. GBB can take a number of forms, occurring ex-ante and/or ex-post relative to the budget process. Increasingly widespread, GBB is not a replacement or substitute for traditional budget focuses, such as investment competitiveness, but rather serves to complement and enhance the overall budget process. Like many tools, GBB must be undertaken with purpose and measurable goals.
Getting the definition(s) right
The OECD defines gender budgeting as "integrating a clear gender perspective within the overall context of the budgetary process, through the use of special processes and analytical tools, with a view to promoting gender-responsive policies" to address structural or persistent gaps in outcomes.1 At its core, gender-based budgeting takes the normal budget process and adds a gender lens. This generally equates to three key areas of focus: the analysis of issues, the restructuring of the budget to achieve equality outcomes, and the embedding of gender systematically through the budgetary process(es).
Checking all of these boxes can be a tall order, so GBB can perhaps best be considered along a spectrum. At one end lies 'after the fact' analysis: what are the by-gender impacts of decisions that have been taken? Governments may also choose to perform 'ex ante' analysis of gender impacts as part of the selection criteria for potential budgetary initiatives, or to undertake a budget baseline analysis to determine the extent to which 'business as usual' meets gender equality needs. Each of these likely implies a larger impact on the budgeting process, but also a greater potential to improve gender outcomes. At the other end of the spectrum are gender-based needs assessments to inform policy design. Table 1 summarizes the broad categories of gender-based analysis commonly employed.
Table 1: Gender Budgeting Approaches Generally Fit Three Broad Categories
Pre-Budget Approaches
Concurrent Approaches
Post-Budget Approaches
Ex-ante assessment of budget measures before inclusion
Including gender perspectives when setting performance targets
Ex-post assessment of budget measures
Periodic assessments of existing expenditures/revenue
Including requirements that a minimum or target proportion of resources be allocated to gender-responsive policies
Gender-based budget audits (conducted by an independent authority such as the Parliamentary Budget Office)
Needs assessment, including conversations with stakeholders to identify policy priorities
Incidence analysis: budget presented with an official assessment of its impact
Inclusion of gender perspectives in spending reviews
Source: OECD, TD Economics
These approaches to gender budgeting are not mutually exclusive. And, seemingly lower-impact actions such as ex-post assessments of implemented measures can have significant long term impacts. Discovering that an existing policy may be having unintended negative impacts on gender equality could result in a re-assessment and thus a policy change. Given the range of actions under the gender-budgeting umbrella, it is important that any conversation specify just which aspect is being discussed.
Not new, but gaining prominence
Gender budgeting is relatively new for Canadians in federal budgets, but the idea is not.2 Australia made efforts during the 1980s to include gender perspectives. Though the practice was not maintained and Australia does not currently undertake gender-based budgeting, the idea spread rapidly and a number of economies, both developing and advanced, include gender analysis in their budgeting process.
Roughly half of the members of the OECD undertake or plan to perform gender-based analysis. Perhaps unsurprisingly, the Scandinavian countries lead the way, but Japan, South Korea, Spain and Mexico also perform some form.3
Why do it?
There is an obvious reason why gender budgeting is undertaken: it is the right thing to do. Attempting to address long-standing biases and structural impediments is clearly a worthwhile goal. The economic case is equally clear. To begin with, improving gender equality creates what economists call 'Kaldor-Hicks improvements' – which is a fancy way of saying a change that grows the overall size of the economic 'pie'.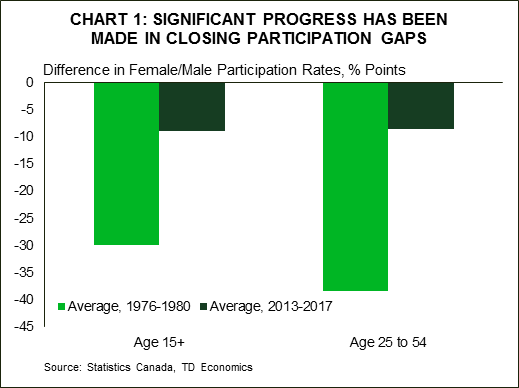 An example helps to illustrate the point. Female participation rates have risen markedly from their 1970s levels, particularly for the 'core' working ages of 25 to 54. This has closed most of the gap against their male counterparts, but not all. A persistence of about nine percentage points remains (Chart 1).4
What would it mean if GBB policies were able to close this gap further, slicing it in half from current levels? There are many moving parts in this analysis, but a simple calculation tells us that taking current employment rates and patterns (i.e. full-time vs. part-time) into account, this change would increase Canada's trend growth rate from 1.7% per year to between 2.0% and 2.2% over the course of the increase (assumed to be five years). That means an extra $6 billion to $10 billion per year of output in real terms. This would effectively offset the impact of population aging on economic growth over those years.
The benefits of gender equality (and increased representation of minorities and marginalized groups) are not just a 'macro' story, but a 'micro' one as well. A number of studies have that greater representation is associated with better outcomes across a number of areas.5 The long and short of it is that when gender-based barriers are reduced, better outcomes are the result.
How is gender-based analysis being used in Canada?
A number of GBB processes have been used in Canada. Budget 2017 took a largely ex-post approach, evaluating the Canada Child Benefit (introduced a year earlier) through a gender lens.6 This year's budget went one step further through what the government has termed "Gender-based Analysis Plus" (GBA). This contained many of the elements listed in Table 1:
Needs assessments were a common feature, identifying gaps in areas such as skills and education, participation and wages, leadership, and others.
While not explicitly setting a target, increased funding for research came with a requirement of strengthening equity, including providing regular updates on progress.
Targets around pay equity were introduced. Equity requirements will be extended to regulated industries and large government suppliers.
In many cases, gender-based outcomes were included in setting performance targets.
These and other analyses were contained in a sizeable (+30 pages) analysis of budget measures, with incidence analysis commonly employed.
Importantly, Budget 2018 also included funding for Statistics Canada to improve the measurement of gender outcomes. As the saying goes, you can't manage what you don't measure, and Statistics Canada will provide an objective source of information for Canadians on the outcomes of the initiatives.
Can Canada drive gender-based analysis further?
The Federal government is in the early days of gender-based analysis/budgeting. As a result, there are identifiable areas where GBA can likely be taken further. For instance, the Canada Workers Benefit (formerly the Working Income Tax Benefit) is a valuable program that supports low income Canadians and eases the transition to paid employment. Budget 2018 delivered an expansion of the program, increasing the maximum size of the benefit and slowing its 'phase out' as income rises, but a gender-based analysis could result in a tweak to the program design. As it stands, only one spouse can claim the benefit, placing secondary earners (typically women) at a disadvantage.7
Budget 2018 also introduced shared parental leave – a 'take it or leave it' benefit of five weeks paid leave for non-birth parents. Here again some gaps can be identified in the otherwise well-intentioned initiative. Income replacement rates for the secondary spouse are the same as in the existing system, and this offers a likely disincentive on take-up. Research has shown that replacement wage rates are important motivators to optimising program use. The current budget maintained the replacement rate, despite greater paid-leave options. This implies an even larger hit to household finances regardless of how the leave is split/shared, disincentivizing use.8,9 This disincentive is likely to be particularly strong for low-income households and single mothers in particular.10
Are there drawbacks to gender-based budgeting?
GBB represents an expansion of the budgetary toolbox, and like any tool, there is always the risk of unintended consequences. A non-holistic view may lead to second-best outcomes. A hypothetical example could be quotas for funding of STEM research, which may lead to high quality research proposals going unfunded, while failing to address deeper structural issues that are leading to under-representation of women. Similarly, policies that drive increased female labour force participation may only address one facet of underlying structural issues. Having more women in the workplace may not address their presence in leadership positions.11 Women participate in the labour market to a greater degree than men via part-time roles which may present more limited advancement opportunities. As in all things, ongoing analysis is required to determine the effectiveness of policy alongside the limitations, and whether first-best outcomes are being achieved.
It is also worth noting some criticisms of the 2018 Federal budget that center on the government's focus on GBB, rather than competitiveness measures given U.S. developments. GBB/GBA and competitiveness are not mutually exclusive - a gender focus does not preclude other potential measures, such as temporary full-expensing of new investment. It is also important to separate the structural impediments that GBB/GBA is intended to address from cyclical economic needs. That said, to the extent that the GBA measures help to improve labour force dynamics, they can be considered in the (long-term) competitiveness column.
Follow-up is crucial
Any policy initiative should include follow-up: are the goals of the policy being met? How and why have the outcomes differed from what was expected? What can this tell us about designing future policy? Gender-based budgeting should, of course, be no different. As it stands today, due to the relative 'newness' of the process in advanced economies, finding examples of ex-post evaluations can be challenging.12 Some illustrative international examples exist. As part of the federal budget process in France, a number of gender-based performance targets have been set, with an update of progress towards the goals provided each year.13 Similarly, the government of the Andalusian region of Spain provides, along-with ex-ante budget assessments, a summary report of gender-based outcomes within the government as part of its budget process.14 Iceland's budget process also mandates progress reports on gender outcomes.15
Broadly speaking, current gender-budgeting evaluations tend to have a two-part focus – near-term and longer-term. Near-term focus is generally on areas where policy levers can work quickly, such as increased funding for domestic violence support. Evaluation of these policies can be conducted almost immediately. The other side of the coin are longer-term goals that are more structural in nature, such as closing participation rate gaps. With horizons of (potentially) decades, evaluating progress in the near term is possible, but any evaluation must by necessity be taken with a grain of salt.
In the Canadian context, perhaps the best example of a government policy that had both significant structural scope and enough subsequent time to allow for fuller evaluation may be the introduction of subsidized childcare in Quebec in 1997. There is clear evidence that this policy resulted in significantly higher female labour force participation, but at the same time, resulted in some 'crowding out' of private childcare arrangements, increasing its cost, as well as other potentially negative outcomes.16 Other issues, such as a decline in childcare quality, have also been identified.17
The goal of this report is not to weigh in on the debate around subsidized childcare. Rather, it is simply to suggest that the studies underpinning that discussion (and others) provide useful information for policymakers. Evaluation findings should be taken into account. This sort of feedback loop will lead to improved outcomes. Moreover, it may be that a policy has some drawbacks, but an overall benefit-cost analysis still suggests a net improvement. Recognizing and accepting potential drawbacks will serve to improve both transparency and government policy, and demonstrate the benefits of GBA, helping to 'mainstream' the process in the publics' mind.
Bottom line
Gender-based analysis and budgeting encompasses a variety of tools and approaches, but all work to the same end: delivering government services in a way that acknowledges their impacts and aims to improve gender equality outcomes. Not only can this approach help to resolve long-standing structural issues, but it also creates the potential for stronger economic outcomes. Like all tools, it must be employed with careful consideration. Importantly, follow-through evaluation of policy changes will not only provide evidence of GBA's benefits, but also help drive the normalization of the process. Ultimately, GBA can help make the budget process stronger and more responsive to the needs of Canadians.