Due to the closeness of the race in key battleground states and a large number of yet-to-be-counted mail-in ballots in Pennsylvania, we still do not know who has won the Presidency. The Senate is also undecided, but looks, as of writing, like it will remain in Republican hands. With the House looking to remain Democratic, this implies the continuation of divided government.
Unsurprisingly, financial markets have been volatile. S&P 500 equity futures were on a roller-coaster ride overnight. Initially futures rose 1.8% around 9pm EST, but then fell 1.5% around 2am EST. The S&P 500 has reversed directions again, trading 3% higher this morning. The equity rally appears to be pricing in divided government, which means less fiscal stimulus, but also less likelihood of higher corporate taxes and less anti-trust pressure on U.S. technology giants, which have driven the equity rally over the last few months.
U.S. Treasury yields rose initially on the expectation of a higher-than-expected level of fiscal stimulus under Democratic control of the Presidency and Congress. The U.S. 10-year Treasury yield rose 4 basis points, to 0.94% just after 7pm EST. That was the peak for yields. Since then, yields have fallen a whopping 16 basis points to 0.78% as of writing. Lower yields imply that market participants are preparing for less fiscal stimulus and less issuance of U.S. Treasury debt. This is consistent with a divided Congress outcome.
The U.S. dollar index initially appreciated by nearly 1% around 10pm EST last night. Since then, the greenback has depreciated and is now unchanged. Less fiscal stimulus means that the U.S. economy will embed more near-term risk and potentially take longer to recover. Additionally, lower expected debt issuance relative to a Democratic sweep means that yield differentials between the U.S. and its trading partners will remain tight. It does not appear that markets are pricing in a lengthy contested election, which would avoid a flight to safety trade into the USD.
Memories of Bush vs. Gore in 2000
The most recent example of a contested election occurred between Al Gore and George W. Bush in 2000. The legal challenge ended up reaching the Supreme Court, which ruled in favor of George W. Bush on December 12th, 2000. The next day, Al Gore conceded the election.
The five-week long court battle over the state of Florida caused significant political and financial market uncertainty. The S&P 500 fell by 6% in the week following the election date (after declining an additional 6% in the two months before the election). The US trade-weighted dollar initially appreciated by 1% over the two-week period after the election date, but then depreciated back to pre-election levels by the date of the Supreme Court ruling. The 10-year U.S. Treasury yield fell nearly 60 basis points over that same November to mid-December time period.
Fiscal Stimulus Up In The Air
The ongoing battle for the White House means that the prospect for fiscal stimulus to be enacted by early 2021 is more uncertain. Investors had been hoping for more clarity on the size of fiscal stimulus, which would provide direct income supports and increased unemployment benefits. The economic recovery over the summer was aided by the rapid implementation of sizeable government support. This has mitigated the downturn considerably. But since, July 31, many of those income supports have expired and a partial lifeline provided by Trump's executive power on unemployment insurance top-ups is also running out of room. With an unemployment rate still more than double its pre-crisis level and no end in sight yet for the pandemic, the need for more stimulus is apparent.
Assuming Republican-control of the Senate, the size of fiscal stimulus is likely to be smaller than the initial round. Still, the Senate has previously moved on a $500 billion plan that would reinstate enhanced federal unemployment insurance at $300 per week, authorize new funds for small business loans through the PPP and Main Street Lending Program, as well as sector specific supports (for airlines and the hospitality sector) and COVID-19 testing, treatment and vaccine research and distribution.
The level of support for state and local governments remains an area of considerable uncertainty. Senate Republicans have been reluctant to include this in past bills. State and local governments face considerable budget gaps, likely in the neighborhood of $500 billion after reserves are exhausted. Without federal aid, these governments will have to cut operating expenditures which will mean layoffs and furloughs. An early glimpse of this was already evident in the September payrolls report with more than a quarter-million workers removed from government positions.
For financial markets, the passage of even a small fiscal stimulus package would aid the economic and spending recovery, though the devil will be in the details and a divided government means that negotiations could remain fraught. In the event of passage of a bipartisan bill, it should lift corporate revenues and support risk assets. It would also mean higher Treasury issuance, a rise in the U.S. debt-to-GDP ratio, and likely higher bond yields in the medium term.
Taxes Increases Likely Off The Table For Now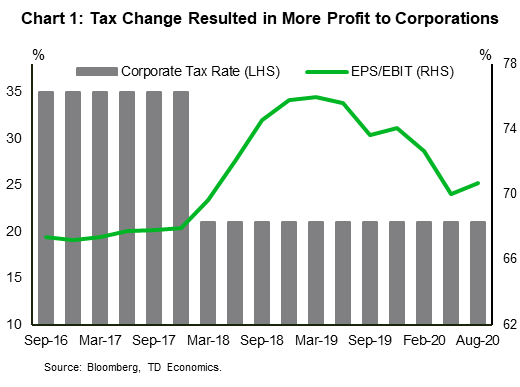 One area that appears to be offering relief to financial markets is the reduced prospects for tax increases. As we discussed in a piece put out before the election, Biden campaigned on tax increases of just under $4 trillion, including lifting the corporate income tax rate to 28% (from 21%). This is a substantial part of the Biden tax plan, estimated to raise around $1 trillion over the next decade.
Should the Senate remain controlled by Republicans, tax hikes appear unlikely, perhaps at least until the mid-term elections in 2022 (in the event that the Senate composition shifts at that time). There is little doubt that the Tax Cuts and Jobs Act (TCJA) had a substantial positive impact on corporate earnings. When it was implemented, the earnings per share of S&P 500 companies rose from 67% of earnings before interest and taxes (EBIT) to 75% by the end of 2018 (Chart 1). Consistent with the net-present value (NPV) framework, the tax change caused a level shift up in equities. Earnings per share have fallen more recently, putting them even more at risk in the event of a change in the corporate tax rate.
On Trade, Congress Matters, But Not As Much As The President
Prior to COVID-19, one of the most prominent economic news stories was international trade. In Trump's final two years of his first term, the U.S. inked a new trade deal with its North American neighbors, as well as a "Phase 1" deal with China, but not before an escalating series of tariffs and counter tariffs.
Should Trump win, he will continue with his tough stance on China, as worries about the trade deficit, and concerns over national security and intellectual property theft haven't receded. In the criteria under the Phase 1 trade deal, China agreed to buy an additional $77 billion in U.S. goods and services in 2020. That means that U.S. exports to China over 2020 should have reached $263 billion. In the first half of 2020, China has only purchased 27% of that target. If China doesn't significantly ramp up its purchases, this forms the basis of worsened tensions in 2021. Indeed, since the pandemic and recession, the trade deficit with China has expanded considerably (Chart 2).
In other areas, trade tensions could also be scaled-up. Trump has taken a strong stance on Europe's digital tax. These taxes are aimed at the profits of the big U.S. technology giants which operate in Europe. Trump has already imposed retaliatory tariffs on French wine and cheese (amongst other goods). With the geographically expanding clout of U.S. technology firms, there is a case for international taxation of profits made internationally.
Should Biden win, a more conciliatory approach with America's traditional allies appears likely, but his rhetoric with China has been similarly sharp to President Trump's. Concerns about the size of the trade deficit and national security and intellectual property theft reach across the aisle.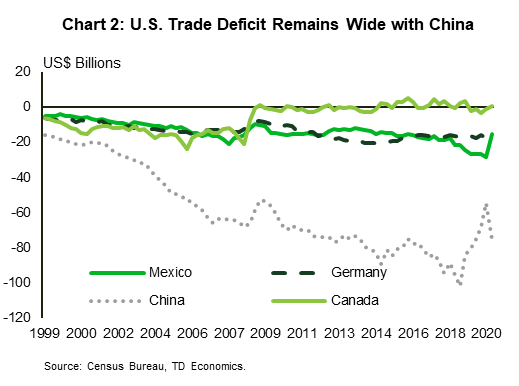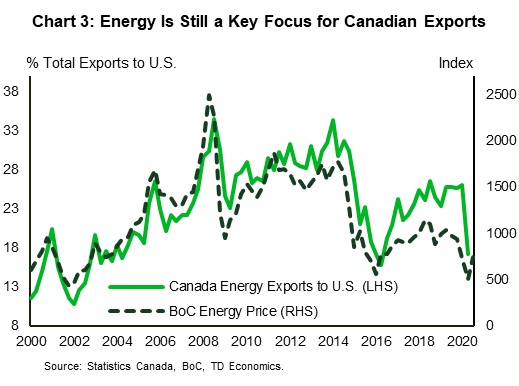 The energy sector also has a lot at stake. Trump's stance on environmental policy is well known. The administration has been a strong supporter of the energy industry. This is relevant to Canada, given the weight that energy has in trade between the two countries (Chart 3). One caveat we must make is that although tariffs on energy are less likely, tariffs on other products, such as steel and aluminum, may continue. Canadian producers know this all too well.
With Biden, a reversal of Trump's deregulation push appears likely. Tighter standards on methane emissions are high on the list of changes he can make. While Biden promised not to ban fracing, he pledged to ban new oil and gas permitting on public lands. Biden has said he would rejoin the Paris Climate Agreement, which he can do without the Senate. He also plans to hold other countries accountable for their climate impact and would institute a carbon border-adjustment tariff on countries that do not live up to their commitments, though this may be harder to implement with a Republican Senate and potential opposition in the courts. Moreover, with the Senate still in Republican hands, its ability to block Biden nominees may constrain who he appoints to key regulatory agencies, likely exerting a moderating influence on any potential changes.
Putting It Together
If Donald Trump remains in the Oval Office and if Congress is split between Democrats and Republicans, a modest fiscal stimulus package appears likely in the coming weeks. We suspect it could be less than discussions that were occurring previously between Mnuchin and Pelosi, when the fiscal package was hovering around the $2 trillion mark. Still, this should support risk assets and could modestly push Treasury yields higher in the months ahead. With greater certainty on tax policy, risk assets can remove the risk of higher taxes on corporate earnings. At the same time, Trump's more inward focus towards international trade may cause the dollar to appreciate versus the currencies of export-oriented countries.
If Joe Biden wins the Oval Office, but Republicans wield control over the upper chamber, we suspect the size of the fiscal package will be further reduced relative to a Trump win, as history has shown that the Senate would have less desire for compromise. Still, even a modest package should support risk assets and Treasury yields at current levels. With Biden's proposed tax hikes unlikely to pass, concerns about the deficit may eventually push yields higher, though this is likely to have to wait for better evidence of a more comprehensive economic recovery.
Over the medium term, whether it is Trump or Biden in the Oval Office, there is some potential for Congress to agree on additional infrastructure spending. This is more likely to be on traditional spending areas (highways, airports and the electrical grid) and less likely on Biden's green energy priorities.