Following in the footsteps of our recent quarterly economic forecast report, we have adopted a Q&A format for this update on Canadian housing to address salient questions that have arisen during this unprecedented time.
Q1. How have Canadian home sales defied other, more dour headlines during the pandemic?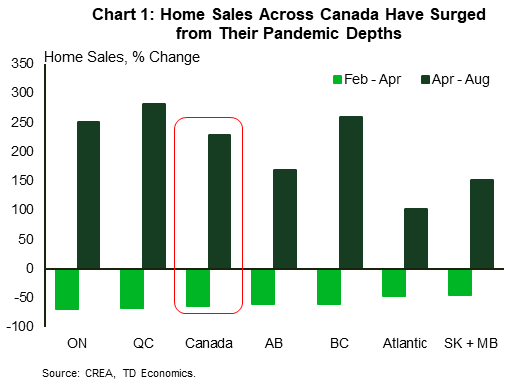 After coming to a near shutdown during mid-March and April, housing market activity has come roaring back, as both buyers and sellers have jumped off the sidelines. Since hitting their spring low, sales are up an astronomical 230% through August. As such, they have achieved the vaunted "V-Shaped" recovery and then some, being 20% above pre-pandemic (February) levels by August. In fact, we estimate that Canadian sales totaled around 165k units in the third quarter, beating the previous record high by 20% and marking a 1300% annualized quarter over quarter gain. And, this strength has been wall-to-wall, as every province has recorded a massive comeback in sales (Chart 1).
Defying the more bearish forecasts, these developments have occurred at a time when the economy contracted at a nightmarish 13% rate in the first half and the Canadian unemployment rate is in the double digits. What explains this disconnect? There are several reasons:
Significant pent-up demand lifted sales: There were only 85k units sold across Canada in the second quarter during the typically busy spring selling season, due to the uncertainty caused by the pandemic. However, fundamentals such as population and employment as well as the level of mortgage rates suggest that sales "should" have been between 125k and 140k units. As such, markets had significant ground to make up after April.
The job loss skew: Job losses during the pandemic have been disproportionately skewed towards younger, low-wage workers who are less likely to be in the market for ownership housing. And these losses have mostly occurred in industries where homeownership rates are relatively low, lessening a potential source of selling pressure (Chart 2).
Rock bottom interest rates: The Canadian 5-year bond yield is currently near historic lows and is likely to stay sub 1% through next year. In tandem, 5-year fixed mortgage rates have dipped below 2% to record lows. In their latest interest rate decision, the Bank of Canada committed to holding the policy rate at the effective lower bound until economic slack is absorbed, such that their target of 2 percent inflation is "sustainably achieved". This implies lower rates for much longer.
Government programs have backstopped household incomes: The CERB and now expanded EI and other support programs have provided significant support to household incomes, so much so that aggregate income posted a record increase in the second quarter, despite historic job losses. In our view, this factor is likely playing a larger role in stemming a steep rise in supply on the market owing to increased financial stress, rather than boosting sales.
Supply has also come back: Homes cannot be purchased if they are not listed, so its vitally important that listings have also recorded a heroic rebound from extremely depressed levels.
Other supportive developments: Firstly, population growth in Canada has slowed sharply post-pandemic but not quite to the extent that we had anticipated in June. Also, instead of travelling during the traditional July/August vacation periods, people stayed home on account of the pandemic. This gave them more opportunities for buying and selling, which they likely took advantage of. We've seen this play out in renovation spending, where homeowners took the opportunity caused by being at home to upgrade their houses.
Q2: What about home prices?
As for Canadian average home prices, they have rapidly heated-up after posting a large drop in April (which was calculated from a severely depressed level of transactions and therefore relatively meaningless) and are now back to growing at a frothy double-digit annual pace, just as in February, before the pandemic began to ravage the economy (Chart 3). As a result, they hit a new record high of just over $600k in August. Regionally, the rebound in prices has been broad-based, with positive annual price growth in every province in August, and 6 of 10 posting double-digit advances. The softest y/y gain occurred in Alberta although even here, prices were still up 5.3%.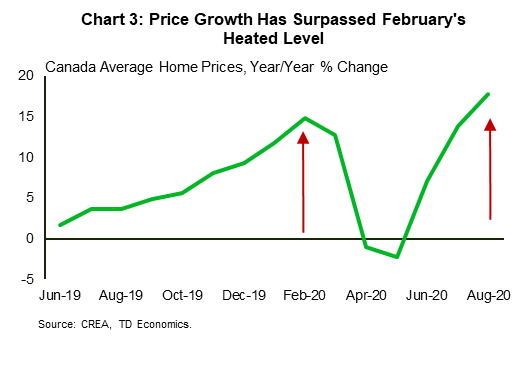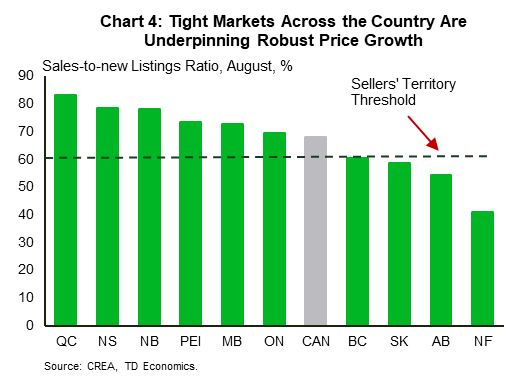 Several factors explain this increase. Firstly, sales have surged, upwardly pressuring prices. Second, while listings have rebounded, they have not come back to the same extent as sales, and there are likely structural factors holding them back (see report). This means that markets have tightened even further from their extremely tight positions heading into the pandemic (Chart 4). Finally, shifts in the composition of what is being bought and sold has boosted average prices. This last factor is examined in the next question.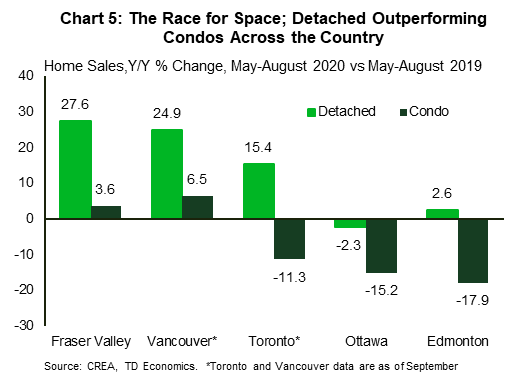 Q3. Have housing preferences really changed during the pandemic? Is there a "Race for Space" going on? Are people fleeing cities for the suburbs?
In addition to the factors mentioned above, home sales, in the aggregate, have been supported by a shift in preferences towards larger units like detached housing across several major markets in Canada (Chart 5). This shift may be taking place in order to afford additional space for those who work from home, or to escape the density (and COVID-19 risk) of condos.
This move away from lower valued condos towards more expensive detached units has also boosted prices. Indeed, if one assumes that detached sales recovered at the same rate as condos since April, then median prices would be more than 1% lower in Toronto and Vancouver, and 3% lower in Fraser Valley, compared to their actual levels in August. What's more, year-on-year growth in average home prices was 4 and 8 ppts higher than MLS benchmark prices (which control for shifts in the composition of sales) in Vancouver and Fraser Valley, respectively in August. Meanwhile, in Toronto, the gap was about 2.5 ppts in September.1
It's an open question as to whether this trend towards detached housing has staying power. In Toronto and Vancouver, this shift is likely being supported by the fact that condo prices have appreciated at a stronger rate than single-detached units in recent years, leaving condo owners significant equity to use to trade up into these larger units. And, the ratio between single-detached and condo prices remains below its long-term average in both markets, (Chart 6) suggesting some further room to run for this trend. However, once a vaccine is widely available, it's possible that condos outperform as they represent the most affordable window into homeownership (particularly as the detached market remains chronically undersupplied) and the attraction of big-city living resumes. Notably, since the Financial Crisis, condo sales have generally outpaced those of single-detached units in Toronto, Vancouver, and Montreal.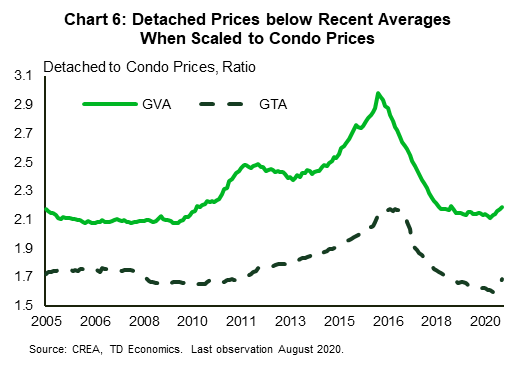 In terms of a flight to the suburbs, there is some evidence of this trend in the GTA (Chart 7). Since April, less expensive jurisdictions have seen stronger sales increases in Toronto. Elsewhere, in commuter cities into the GTA (i.e. Hamilton/Niagara, Barrie, Kitchener-Cambridge-Waterloo, Guelph, St. Catharines-Niagara), home sales have risen sharply since April, but lagged the gains made in Toronto.
Q4. Can the strength in resale markets be sustained in coming quarters?
In short, the answer is: unlikely. A wide disconnect between housing, the economy and/or job markets doesn't tend to be sustained. And, it's more likely that housing moderates than job fundamentals improve sharply from here, given the lasting impacts of the pandemic.
We see an orderly moderation in housing activity taking place over the next couple of quarters, as sales levels normalize from their outsized third quarter pace. Thereafter, a few factors will likely weigh on the pace of sales through 2022. First, and perhaps most importantly, affordability appears to have been severely eroded in the third quarter (Chart 8). And, although we anticipate prices to pullback from their elevated third quarter level, affordability is likely to remain a challenge. Second, population growth is likely to be slower than the outsized gains observed in recent years. Third, we expect some modest upward drift in bond yields from their current rock-bottom levels (Chart 9), reflecting continued economic recovery.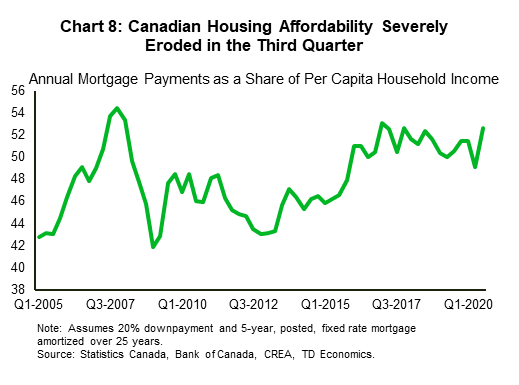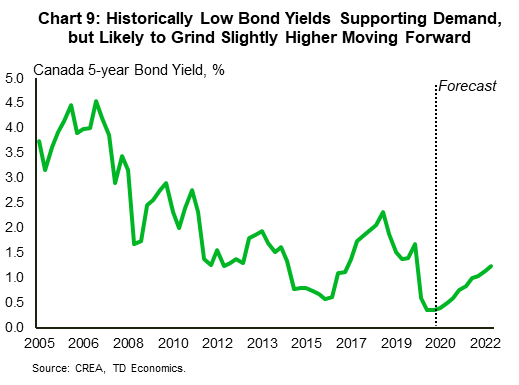 Steeper sales declines are forecast in the oil-producing provinces in 2021, reflecting drawn out recoveries (see Table). In contrast, lesser drops are forecast in other parts of the Atlantic Region and Manitoba, consistent with more contained COVID-19 curves and firmer economic recoveries. Elsewhere, because of how it's calculated, average annual sales growth in Quebec, B.C. and Ontario is given a significant boost next year by the massive third quarter rebounds in 2020. However, this conceals a steady cooling in sales throughout next year.
With respect to Canadian home prices, we foresee much of the same, with some easing taking place from an unsustainable third quarter gain that was the strongest since at least the late 1980s. However, unlike sales, an immediate fourth quarter pullback is unlikely. In fact, another (modest) gain could be in the cards. This is largely a function of extreme market tightness heading into the fourth quarter, and the shift in sales towards larger, more expensive units in Toronto and Vancouver, as well in as other areas like Montreal.
After the fourth quarter, Canadian prices will likely drop through the first half of 2021 by around 7%, before regaining some traction later next year. While this sounds like a big hit, it would still leave the upward trend in prices, established prior to the pandemic, in place (Chart 10). Some added pressure on prices could emerge on the supply side. Case in point, the end of mortgage deferral programs is likely to spark some additional supply on the market.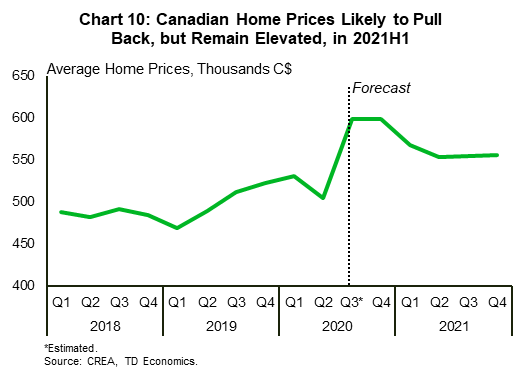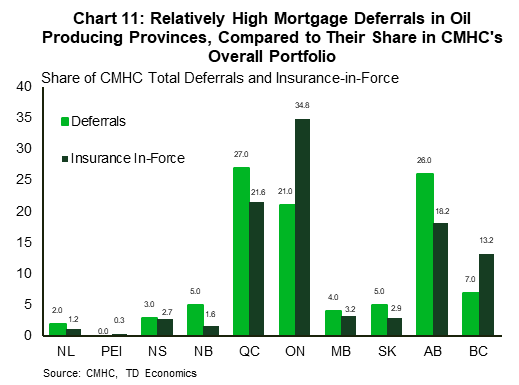 Provincially, the price story is much the same as sales. Larger declines are anticipated to take place in the oil producing provinces in 2021 (see Table). These are provinces where deferrals are relatively high (Chart 11) and population growth should be comparatively weak. Meanwhile, lesser drops are expected elsewhere, reflecting tighter conditions, a smaller share of deferred mortgages, and a shallower drop off in sales.
Q5: Will the end of mortgage deferral programs spark large-scale selling activity, thereby fueling massive price corrections?
Our baseline forecast assumes some upward pressure on listings as mortgage deferral programs end. However, this looming supply increase is more likely to weigh on, rather than upend, price growth. This view is underpinned by several factors including:
The expectation of continued job gains, as the economy moves along its recovery path.
Evidence that borrowers who opted for deferrals are repaying. Indeed, some 32% of such borrowers have resumed payments as of August 31st.2 This may reflect the notion that borrowers, to some extent, tapped mortgage deferral programs out of caution instead of necessity during the pandemic.
Publicly available information released so far points to low delinquency rates on mortgages where deferrals have ended. What's more, not every mortgage that becomes delinquent will result in a sale, and generally households will let other obligations lapse before mortgage payments.3
Most deferred mortgage balances are held by borrowers with solid credit scores (as detailed in our latest report on Canadian household finances).
Markets are extremely tight and can therefore handle some increase in supply without a collapse in prices.
These factors aside, how the end of the mortgage deferral programs play out is still uncertain and represents a downside risk to our price forecast.
Q6: How have condo markets fared in the wake of the pandemic?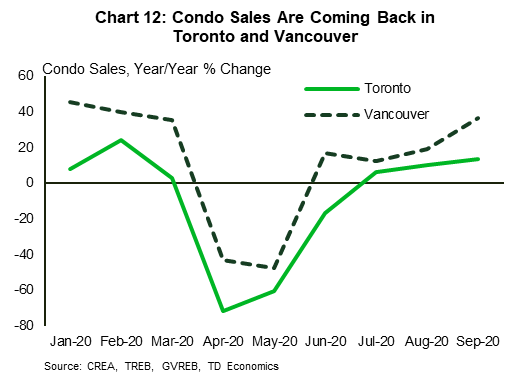 In Toronto and Vancouver, condo demand has recovered from its April low, such that sales were 15% above year-ago levels in Toronto, and 40% in Vancouver as of September (Chart 12). However, the real story is on the supply side of the market. Condo listings increased by 80% year-over-year in Toronto, and 50% year-over-year in Vancouver, in the third quarter. This could be a function of a few factors:
Some (potentially over-levered) AirBnB owners listing their properties.
Perhaps some selling on the part of investors, as falling rents have made carrying costs more burdensome. Industry data suggests some evidence of this phenomenon playing out, as the number of vacant condo listings since April is up year-on-year.4 However, it is important at this juncture to emphasize that condo sales have been following an upward track. And, given that investors play an important role in condo demand, we would caution against concluding that investors are fleeing to the sidelines.
Condo owners have built up tremendous equity in recent years and are listing their units in order to trade up into larger homes.
As a result of supply outpacing demand, condo markets have become more balanced in Toronto and Vancouver. Indeed, as of the second quarter, sales-to-active listings ratios were below long-term averages in both markets, although still within one standard deviation. And, after a detour into negative territory over the April to June period, benchmark prices are growing positively in both markets. However, if this supply-demand imbalance continues, these markets will further loosen, potentially leading to price declines. Such an outcome would be consistent with our view that price growth is set to ease moving forward.