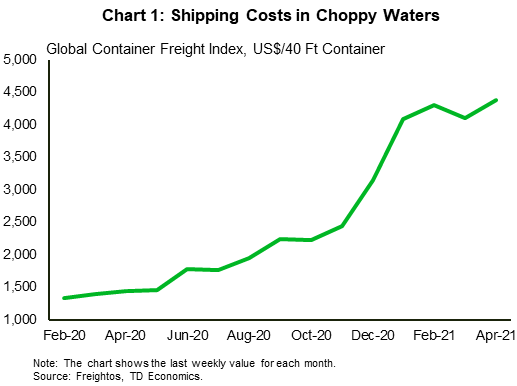 The pandemic's onset last year reminded us of how fragile global supply chains are. If that wasn't enough, this year's rise in freight costs and shortages of key manufacturing inputs have once again reminded us of the vulnerabilities of relying too much on efficient rather than resilient supply chains. Supply-side bottlenecks have increased producer price index (PPI) inflation. The extent to which CPI inflation increases will depend on how much of the increased cost burden businesses pass on to consumers. Given the surging consumer demand, businesses are in a good position to pass on a large chunk of their higher costs to customers. Meanwhile, businesses are already shortening supply chains to reduce supply-chain related uncertainty. While this would indeed make them less vulnerable, it could also push up prices in the medium to long-term.
How Did We Get Here?
For context, lets start with developments in 2020. In the first half of last year, thousands of empty shipping containers were left stranded on European and American shores due to lockdowns. In the second half of 2020, European and American demand for Asian-made goods rebounded. This led to a sharp rise in freight rates. Why? Because too much money was chasing too few containers! In fact, the cost of shipping between China and Europe hit a record high late last year on the back of recovery in consumer demand and container shortages.
Fast forward to 2021. The Suez canal incident further exacerbated container shortages. The canal's blockage prevented its usage by other cargo ships, some of which were forced to take longer and costlier detours. This delayed the arrival of containers at their destinations and contributed to a temporary increase in shipping costs which are already more than three times the level a year ago (Chart 1). The Suez Canal carries over 10% of global trade. The six-day incident held up almost $60 billion ($9.6 billion each day) of global trade. The long-term trade impact of these disruptions is likely to be small given that the global trade in goods amounts to roughly $18 trillion a year. However, the delays will have a domino effect, which will reverberate across global supply chains for months to come.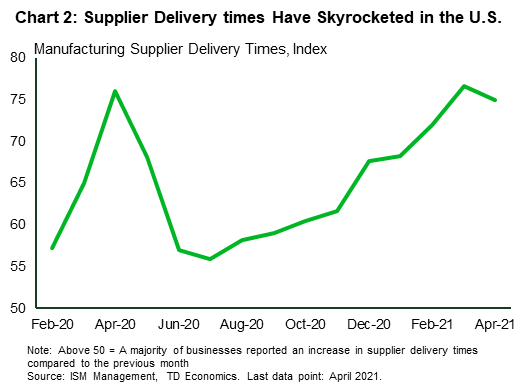 To make matters worse, surging global demand has contributed to a shortage of microchips and semiconductors. A blaze in one of the world's leading auto chip makers in Japan and an uncharacteristically cold winter in southern U.S. added fuel to the fire. A drought in Taiwan further threatens to slow down the chip production since large quantities of water are used in the process. Moreover, U.S.-China tensions and concerns of a prolonged shortage have pushed Chinese companies to stockpile supplies. But its not just the Chinese companies, manufacturers across the world are stockpiling whatever they can get their hands on to reduce uncertainty around future shipments. These developments have been especially problematic for the auto industry which had already slashed production due to a semiconductor shortage. But it doesn't stop there, a global chip shortage has also hampered production of other durables such as home appliances and computers.
As a result, businesses are faced with high supplier delivery times and low inventories (Chart 2). Meanwhile, consumer demand is likely to jump even more as restrictions are eased. But logistical bottlenecks will keep a lid on supply. Therefore, the 'demand-outpacing-supply' problem will become more acute over the next several months.
What Does this Mean for Inflation?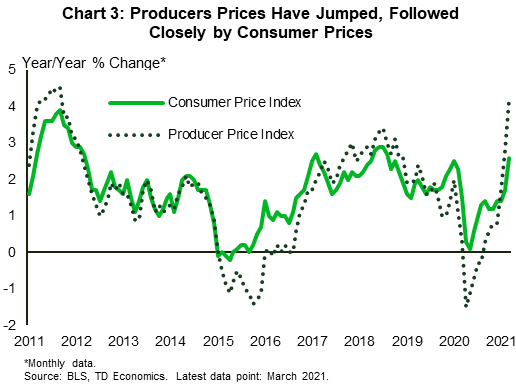 All of this is lighting a fire under business costs which are already on the rise. In fact, US producer price index (PPI) inflation came in at 4.2% (y/y) in March.1 This was the biggest annual gain in 9.5 years! While some of it can be attributed to the so-called 'base effect', there is no doubt that producer prices have gone up. So far this year, factory gate prices (PPI prices) are up on average 0.9% quarter-on-quarter. This is much higher than the first quarter averages in 2020 and 2019, when producer prices grew by only -0.2% and 0.1%, respectively.
What this means for CPI inflation depends on how much of the increase in costs are passed on by producers to consumers. Historically, producer prices have often moved hand-in-hand with consumer prices. But things have changed in recent months. Chart 3 shows that there is a gap of 1.6 ppts between year-on-year producer price growth and consumer price growth. This is the biggest gap since the U.S. started publishing the PPI data.2 This is indicative of the pressure businesses are facing due to supply chain disruptions.
Businesses have two options:
Pass on all or part of the increase in input costs to consumers. Given the surging consumer demand, businesses are in a good position to pass on the higher costs to customers. This approach would increase CPI inflation (depending on the extent of the price pass through). But businesses are faced with a trade-off. Such an approach could prompt consumers to switch demand to other businesses who don't pass on the costs to consumers. However, this is unlikely given that the rise in inputs costs is being experienced by businesses across the board.
Businesses can also absorb the increase in costs. This approach would lower business profits but have less of an impact on CPI inflation. The upside to this approach is that consumer demand for goods produced by businesses that absorb costs will remain stable. It may even increase, depending on how much of their excess savings households unleash.
The longer these disruptions last, the higher the likelihood that businesses pass on the rising costs to consumers. In fact, several American companies have already outlined price hikes in response to rising material costs. For example, appliance maker, Whirlpool, is phasing in price increases of between 5%-12% at least until the end of June. Meanwhile, American conglomerate, Proctor & Gamble has said that price increases will range from mid to high single digit percentages and will go into effect in mid-September.
The impact of these developments on CPI inflation is not a matter of 'if' but 'when'.
3
So, if the price of your coffee hasn't gone up yet, don't think it won't go up in a few months from now. It all depends on the duration of the ongoing disruptions. To be clear, this is not an American phenomenon. In fact, it's a global one. China – which is ahead of the curve in terms of economic recovery – is already seeing a rise in the price of durables because of rising manufacturing input costs. In fact, some toy wholesalers in China have raised prices by as much as 15%. Factory gate prices have been rising too.
Supply Chain Disruptions Are Here to Stay
Speaking of durations, the impact of supply chain disruptions will also be felt in the medium to long-term. Businesses are already changing their business models and shortening their supply chains by bringing them closer to home. This makes them less vulnerable to future supply chain disruptions. But such measures would also reduce their access to cheaper inputs from other parts of the world. It would also entail higher costs for consumers. Exporters would also become less competitive as they would have to rely on more expensive domestic inputs rather than cheaper foreign inputs.
Even the higher freight costs are here to stay. Businesses involved in international trade usually sign annual deals with freight carriers to lock in their rates. Along the Asia-North America trade route, contract rates are currently almost $3,000 for a 40-ft container, 50% higher than a year ago. This is indicative of businesses expecting freight rates to continue to stay elevated over the next several months.
One way to ease capacity is to build new ships. In fact, orders for new container ships hit a 5-year high (Chart 4). But this is not a short-term solution. It takes years to construct container ships. A quicker solution is to producer additional containers. But new containers are costing $3,500 each, up from $2,500 in November 2020 and $1,600 in 2019 (Chart 5). The high price tag simply crowds out many prospective buyers. But even if we have enough containers, issues related to weak capacity and infrastructure across major seaports (especially in the U.S.) need to be resolved. There is no easy way out.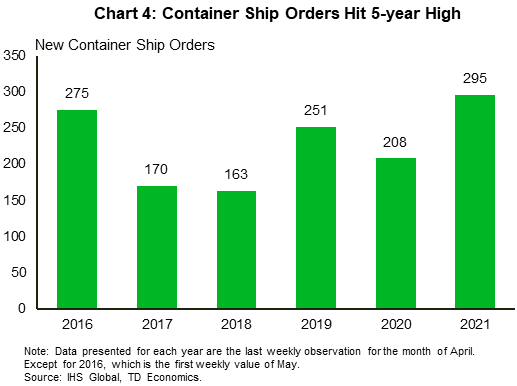 Bottom Line
Last year, the pandemic reminded us how fragile global supply chains are. But that wasn't the only reminder. Since then, growing supply-side bottlenecks have contributed to an increase in shipping costs and shortages of key manufacturing inputs. These disruptions are likely to increase CPI inflation in the near-term (they have already increased prices for producers). The extent to which consumer prices go up would depend on how much of the increased cost burden businesses pass on to consumers. Supply chain disruptions will have long-term consequences too. Businesses are already shortening supply chains to protect themselves from future setbacks. While this would indeed make them less vulnerable to future disruptions, it could also push up prices in the medium to long-term. And don't forget, supply chain disruptions not only carry implications for inflation but also have the potential to dampen the economic recovery.