2022 is not over yet, but investors would likely prefer to forget it. Russia's war in Ukraine and the fastest increase in bond yields in a generation have taken a toll on markets and the economy. These are key themes driving our latest list of questions and answers on the economic outlook and risks. We also discuss housing markets, as well as the prospects for consumers as they get squeezed by high inflation and interest rates.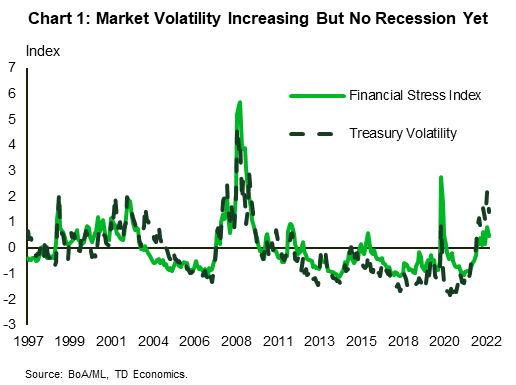 Q1. Under pressure: How are financial market stresses playing out?
Financial markets are officially stressed out. High and persistent global inflation coupled with a rapid ascent in interest rates has equities on pace for their worst year since the financial crisis. Long-term U.S. Treasuries are faring worse with the biggest annual price decline in 40 years.
Financial market fears are captured in our Financial Stress Index (FSI, Chart 1). The index is now at levels similar to the European sovereign debt crisis of 2011/2012 and the oil shock of 2015. These periods corresponded with slowing economic growth, but not a recession. As tough as times seem for financial markets, volatility would need to surge even more to correspond to the stress levels of the last three recessions of 2020, 2008, and 2001.
Yet, there are nuances beneath the narrative offered by the aggregate index. One area of note is the U.S. Treasury market – typically the safe haven for investors in times of trouble (see Dollars & Sense). However, the pace of Federal Reserve interest rate hikes alongside Quantitative Tightening have shocked the bond market. Investors in the U.S. 30-year Treasury bond have lost approximately 36% of the value of their investment over 2022. The aggregate FSI masks movements in the Treasury volatility index, which is comparable to the 2020 and 2001 recessions. (See Question 3 for details of Treasury market illiquidity.)
The other nuance within the FSI is related to duration. Although the peak level of stress within North America is not comparable (yet) to recession periods, risk aversion is being sustained longer than prior comparable periods. Duration matters in its capacity to undermine wealth and confidence within the economy. And, since stress-levels are starting from an unfavorable position, it's possible that relatively minor surprises on the global or domestic front can fray investor nerves more than what would normally occur during prior historical periods.
Q2. Does financial stress risk toppling EMs and global stability?
The trade-weighted U.S. dollar has appreciated 10.5% so far this year, with much of that occurring in the past 8 months. The combination of a rising U.S. dollar and rapid interest rate hikes within advanced economies gives pause on whether the global economy can get sideswiped by a balance of payment and debt crisis in emerging markets (EMs). These economies have a substantial volume of debt coming due in the next two years and, for some, a large share is denominated in U.S. dollars (for more details see our recent report). This is a greater risk for nations reliant on oil imports, as the dual force of rising prices and a rising greenback drives a terms-of-trade shock that risks draining their reserves.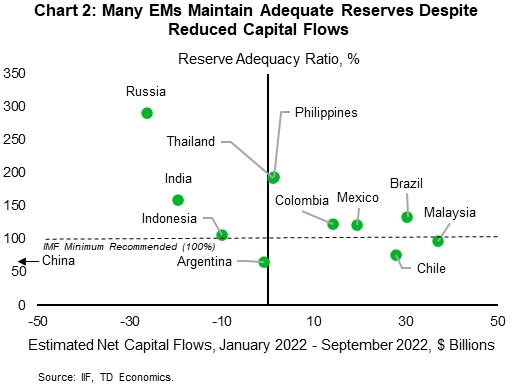 Fortunately, EMs amassed considerable reserves over the years that continue to be sufficient to offset the current balance of payment challenges. Despite sharply reduced capital flows, many maintain reserves in excess of minimum recommended levels (Chart 2).
However, nothing is ever static. Even for those still within a "safe zone", financial stability would unravel if a global event evolves towards a larger shock on the scale of the Asian Financial Crisis (1997-1998) or the Global Financial Crisis (2008-2009) periods.
Our view is that, for most countries, ongoing outflows and falling reserve balances should be manageable through next year. The immediate risk over the next 12-to-24 months is that inflation in the U.S. proves to be even more persistent than expected, cornering the Fed to significantly extend rate hikes beyond the current market pricing of roughly a 5 percent terminal rate. Further policy divergence would further pressure capital outflows from EMs, accelerating the deterioration in their accumulated reserves.
Q3. Given market volatility, can QT really be akin to watching paint dry?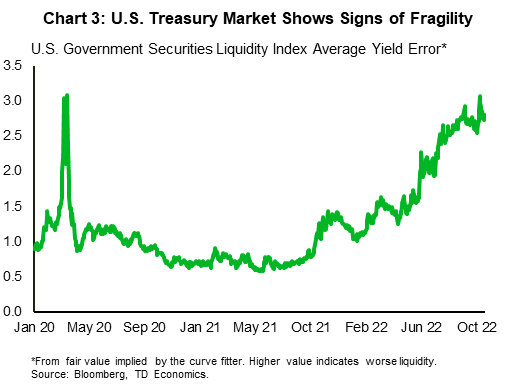 So far, the evidence suggests the answer is no. U.S. Treasuries are the ultimate safe asset for the global economy and support the systemic stability of institutions across the market. Recently, market depth (the ability to trade large market orders without impacting the price) and bid-ask spreads (the difference between the highest price that a buyer is willing to pay and the lowest price that a seller is willing to accept) have deteriorated. There's growing caution in intermediating large-sized orders and the increased costs of trading in the environment of increased volatility. According to the Financial Stability Report, the U.S. Treasury market continued to function smoothly in the third quarter, but measures of trading costs remain elevated, and liquidity is reduced.
The Bloomberg U.S. Government Securities Liquidity Index tracks average yield deviations from fair value, and reached a high of 3% on October 31st (Chart 3). The recent deterioration started when the Fed began to reduce accommodative monetary policy. The gap has since grown larger alongside the policy rate. On its own, a rising policy rate should not result in increased fragility and a fixed income securities sell-off is unavoidable during a rising rate environment. However, heightened uncertainty about the future path of monetary path has injected more instability into an already vulnerable environment.
The Fed's Quantitative Tightening (QT) also removes a key buyer from the market. Since June, the Fed has reduced its nearly nine trillion-dollar balance sheet by no longer reinvesting the proceeds of maturing securities. By design, the monthly run-off of Treasuries has been accelerating over four months, reaching the desired cap of $60 billion in October. At this pace, over the next year, there's as additional $700 billion in government securities that needs to be absorbed by the private sector.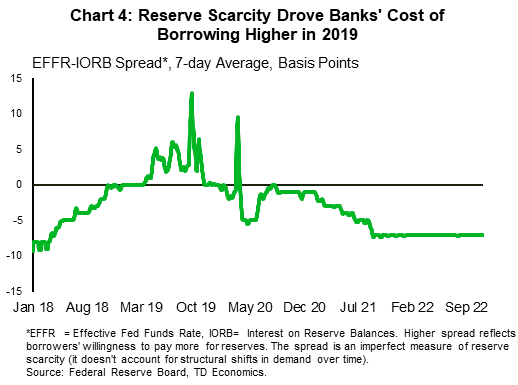 In 2017, then-Chair Janet Yellen compared the Fed's balance sheet reduction to "watching paint dry" – a process that would go unnoticed in the background. However, in practice, that round of QT ended with a stress episode in the repo market in 2019, when increasing reserve scarcity prevented banks from lending in the money markets where demand for cash drove repo rates higher (Chart 4). This isn't the case today, but more financial tightening lies ahead and it's possible that QT could be akin to watching milk boil. Everything looks fine, until it suddenly isn't.
Where that temperature lies remains a trial-and-error exercise, and any market dislocation that risks the smooth functioning of financial markets would quickly prompt the Fed into action on a resolution. The repo market experience led to an establishment of a domestic Standing Repo Facility (SRF), which should serve as a backstop in money markets. By providing funds in the SRF, the Fed can support a ceiling on repo rates, reducing the potential for disruptions.
In the current environment, this facility alone won't solve all problems in the Treasury market and there are already proposals being explored as key backers of the U.S. Treasury market – the primary dealers – face restraints to warehouse government securities under tougher regulations post-Global Financial Crisis. Since then, the dealers' share of government holdings declined by 15 percentage points, reducing their ability to intermediate market activity.
The Department of the Treasury is discussing a government securities buyback program, which would effectively swap highly liquid Treasuries for less liquid ones – a measure that will provide tactical relief and balance sheet space to dealers. In addition, more fundamental reforms are currently under discussion with proposals ranging from universal central clearing of all trades to creating an "all-to-all" trading market resembling the equity market, thereby removing primary dealers from the equation.
Wherever the new policy lands, it will take some time to implement. In the meantime, there's always a risk that the Fed may be forced to respond in advance to any outsized Treasury market stress. Absent this, we expect the Fed to wrap-up its QT program by early 2024.
Q4. How exposed is Europe's economy to a bad winter?
One risk that has evolved favorably is better-than-expected third quarter GDP growth in the Euro area. Many were braced for a contraction, and instead, the economy scratched out a gain of 0.2% quarter-over-quarter (unannualized). And the best news for the region has evolved in the natural gas space. Prices have fallen roughly 70% from the peak, thanks to warm weather and nearly full storage that reduces the need for new imports. This leaves the energy market on much better footing heading into the winter than was expected just a few months ago when Russia stopped flows through the Nord Stream 1 pipeline.
However, the full force of winter remains unknown and recent events have not altered the continent's energy supply risk. Despite the fall in prices, wholesale natural gas still costs 600% more than during the pre-pandemic period. Energy prices ultimately run into a floor due to Europe's reliance on LNG deliveries. This means that reduced consumption is still required to avoid shortages. So far, here too the news has been positive. Among the 27 EU member states, gas consumption is down 10% from pre-crisis benchmarks (2019-2021). Furthermore, in countries where October data is available, usage is down 25% y/y.
With all risks being two-sided, this one is playing out to the upside. However, the outlook for the euro area remains challenging even if the worst-case scenario is avoided. The energy shock is still fueling inflation and eroding disposable incomes. Consumer confidence is also eroded by the war in Ukraine and sky-high energy costs. This sentiment won't be helped by the ECB rapidly raising interest rates and an economy that's likely to enter a recession in the fourth quarter of this year.
Q5. Is there something good going on?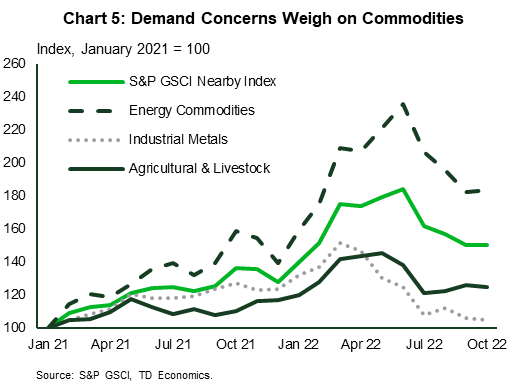 As 2023 unfolds, a weakening global economy will become more apparent. This weakening is already helping to cool goods inflation as the shortages and supply chain snarls that kick-started the year-long burst in inflation are beginning to fade.
Softening demand for goods has freed up space for transportation. Freight rates by ships have fallen rapidly – down more than 70% since the fall of 2021. Manufacturers are now able to "catch up" and clear order backlogs. Global PMI readings show that backlogs of work have contracted for four months in a row, while pressures on manufacturers' supplier delivery times have eased to a two-year low. Both are more in line with pre-pandemic norms. As expectations for further economic deterioration in 2023 build, the astronomical rise in commodity prices is also unwinding (Chart 5). Looking forward, the lagged transmission of upstream to downstream prices will wash out, and these influences will make their presence more known in consumer prices
Q6. Is the U.S. economy's return to growth a head fake?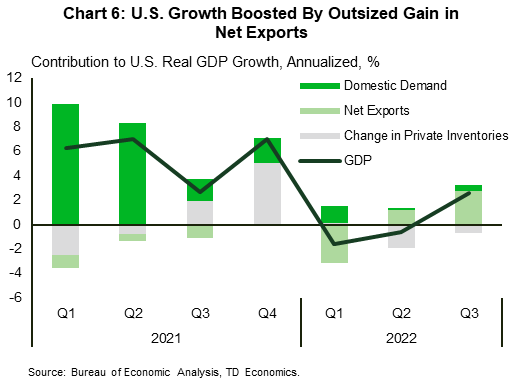 Not yet. After having contracted through the first two quarters of the year, the U.S. economy expanded by a robust 2.6% (annualized) in the third quarter. That figure was inflated by a large and unsustainable surge in net exports, which added nearly three percentage points to GDP (Chart 6). In contrast, final sales to private domestic purchasers, which includes household consumption and fixed investment, was flat on the quarter, maintaining a steady deceleration trend since the start of the year.
The slowdown in domestic activity in the third quarter was almost entirely due to an outsized decline in residential investment, as sharply rising interest rates have tightened their grip on both home sales and residential construction. Consumers and businesses, however, did not buckle under the pressure. Businesses accelerated investment, while consumer spending pushed forward, albeit at a below-trend pace.
A slowing in domestic activity has not undermined the narrative around U.S. resilience. Robust job growth is helping to maintain spending patterns and some degree of consumer confidence, alongside upward pressure on wage growth. Unlike other business cycles, households also have the benefit of dipping into pandemic-related excess savings. Moreover, the household debt-to-income ratio remains near the lows reached after the last deleveraging cycle. There are no red flags yet, but it does appear that despite these benefits, households are relying more heavily on consumer credit to fuel purchases (Chart 7).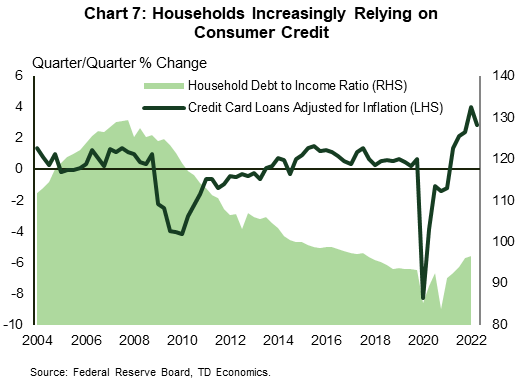 The preliminary data on the fourth quarter indicate another quarter marked by business and consumer resilience. Consumer spending is currently tracking 3%, while business investment looks set to moderate from last quarter but is still expected to expand by 2.5%. The combined forces will push GDP to 2% in the fourth quarter and coincidentally match 2022's annual growth rate. Thereafter, it would be a stretch to believe that the rapid interest rate cycle won't leave deeper scars. We forecast growth to slip to a stall-speed for most of next year and remain well below trend through 2024. Some degree of economic pain is necessary to stabilize inflation back to the central bank's 2% target. However, there is also a case to be made that this notion of resilience could be the ticket that helps the U.S. economy stave off the mass job layoffs that are most feared.
Q7. What's the impact of high interest rates and inflation?
There is little doubt that households on both sides of the border are being squeezed by the highest inflation in 40 years and the sharp increase in interest rates. Even so, discretionary spending in the U.S. has not collapsed. Higher frequency data still indicate that consumers are willing to open their wallets for travel, eating out at restaurants, live entertainment, and personal care services. However, this is coming at the expense of more recreation related goods purchases, which had soared during the pandemic.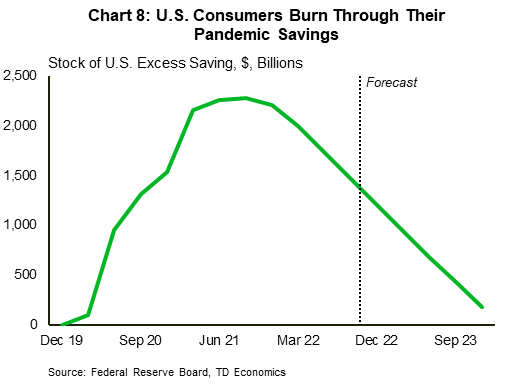 Time will take its toll on consumer spending patterns. Spending is outpacing income growth, causing the savings rate to steadily decline among U.S. households. The same is true for holdings of excess savings. At the current pace, we estimate excess savings accumulated during the pandemic will be eliminated within roughly a year (Chart 8). This is a good news, bad news story. The good news is that a cushion remains to absorb higher prices and any remaining pent-up demand. The bad news is that it is not sustainable. It is more likely that precautionary behavior will kick-in well before households ever exhaust their savings, leading to a more moderate pace of consumer spending.
Fortunately, this cycle has another unique characteristic relative to the prior one. The deleveraging cycle that came to mark the post-GFC period can still be seen by the low debt-to-income ratio today. This means that the increase in U.S. household debt-servicing costs is more manageable. And this time around, American mortgage holders are more skewed to a 30-year fixed rate that helps insulate from payment shock on renewal.
The same cannot be said north of the border. Canadians hold much more debt relative to their disposable income. Debt service costs already take a greater bite – 13.6% in Canada versus 9.6% in the U.S. (Chart 9) and mortgage holders face larger risks due to terms that require renewal at the five-year mark or less. As a result, mortgage payments on the average home purchased five years ago could increase by $350 per month when renewed in the third quarter of this year1, if the amortization length was left unchanged.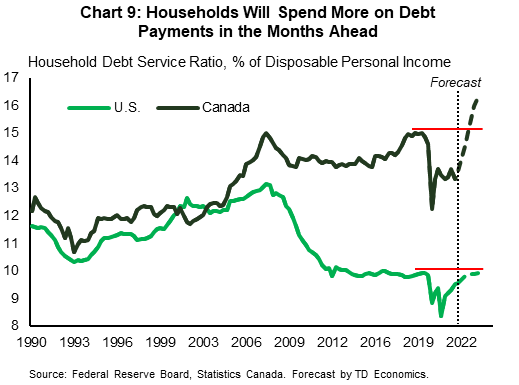 Canadians' exposure to variable rate mortgages is also significant. Variable rate mortgages surged in popularity during the pandemic and now account for 34% of the overall stock of mortgage credit, higher than the previous peak of 25% in 2018. These uniquely Canadian features mean that rising interest rates will be felt much more by Canadian consumers than by their U.S. counterparts.
Relative to a quarter ago, the Bank of Canada has signaled a willingness to bring interest rates even further into restrictive territory. Canada's debt service ratio is projected to eclipse its previous peak of 15% early next year. With interest-related payments expected to surge by 60% between 2022Q2 and 2023Q4, households could spend an additional $18.6 billion2 on debt servicing this year, followed by another $34.4 billion increase next year3. As Canadians dedicate more to housing, hard choices will be made with discretionary spending, like dining out and travel likely to take a hit. We have downgraded our consumer spending forecast to reflect a sustained period of sub-1% growth in consumption in 2023 and 2024. We expect a few quarters of modest contraction later next year when the crowding out of discretionary spending takes full effect.
Q8. Will eroding U.S. housing affordability usher in another bust?
U.S. housing affordability has taken a massive hit this year with 30-year fixed mortgage rates rising from around 3% at the start of the year to 7%. As a result, the mortgage payment on a new purchase of a median-priced single-family home is up approximately 60% from a year ago and has doubled since the start of the pandemic. It is no surprise that the housing affordability index has fallen below its Global Financial Crisis trough – to the lowest level since the early 1980s. This weight on demand is evident with existing home sales down 28% from the start of the year.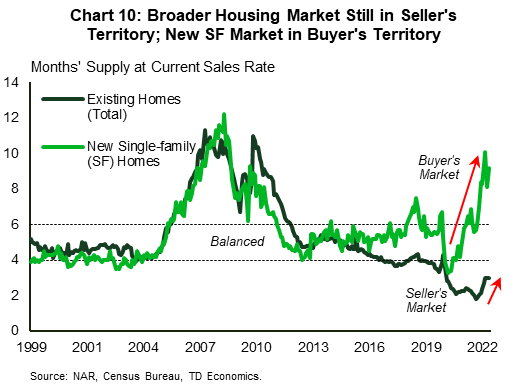 Prices have followed suit, falling back from the spring peak. The median seasonally adjusted U.S. home price is down 3.5% since May. Regionally, the CoreLogic home price index shows that prices have pulled back from recent peaks in three quarters of all U.S. states. The largest declines have been seen in Washington (-6% recent-peak-to-August), Idaho (-5%), South Dakota (-5%), California (-4%), along with Nevada, Arizona and Hawaii (all -3%). Relative to the national average, these states experienced a much sharper deterioration in housing affordability relative to their historical norms. Across most other states, the decline in home prices has been milder – falling by only 1%. Focusing on TD's Footprint along the East Coast, the biggest declines have occurred in New England (-1 to -2%), with the Carolinas and Florida showing the greatest resilience.
U.S. home prices have further to fall, but we anticipate the magnitude will be half that experienced during the housing crash of the Global Financial Crisis. This amounts to around a 13% decline in prices by mid-2023. Despite a much more dramatic increase in borrowing rates, lower consumer leverage and better underwriting standards should limit the downward pressure on prices.
Another distinction between the early-2000s and now is that existing home inventories, which make up the bulk of the market, remain near record lows. This contrasts with the new home market, where inventories have risen sharply in recent months and are currently sit at the highest levels since the Global Financial Crisis. The recent divergence is atypical and suggests existing inventories will soon start to turn higher (Chart 10). However, elevated interest rates may put a lower ceiling on listings, helping to limit the downside pressure on prices.
Q9. What about Canada's housing market?
Canada's housing market has also been adjusting to the dramatic rise in mortgage rates. Sales have cratered since the end of last year and are trending at levels that haven't been consistently seen since 2012. This means that sales are undershooting levels aligned to fundamentals like income, household formation and housing supply (Chart 11). However, mortgage rates are expected to head higher still, and this will keep a weight on markets.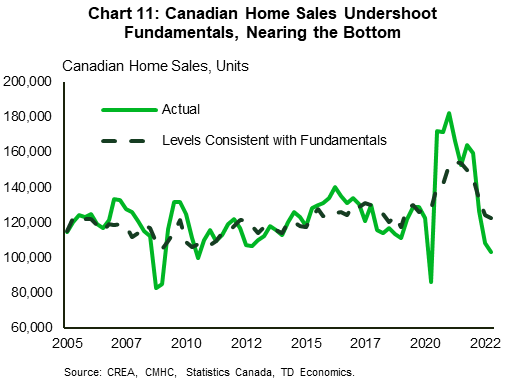 TD Economics is forecasting weaker quarterly sales and price growth next year compared to our September forecast, though only marginally so. We still see Canadian average home prices falling by just over 20% on a peak-to-trough basis, even with the weaker quarterly growth pattern assumed. This is because prices are likely to decline by less than we originally thought in the fourth quarter of this year. At the same time, Canadian home sales should bottom at levels around 40% lower than those prevailing early in 2022. Note that with home sales already down about 30%, the largest part of the sales adjustment has likely occurred.
Our baseline forecast also expects resale supply to remain sluggish over the next few quarters, as potential sellers remain hesitant to list their homes amid a weak backdrop. After which, an orderly increase in supply is expected to take place, as markets find a bottom next year, and demand and prices begin to recover. However, as discussed in question 7, many homeowners are facing sharply higher monthly mortgage payments. The increase in carrying costs may force some overstretched owners to list their homes. We are cautiously watching how this dynamic unfolds and recognize that it represents a downside risk to the price forecasts. In a scenario where 2% of homeowners with mortgages are forced into listing their homes (consistent with results of a recent survey of Canadian homeowners), Canadian average home prices could be 4% lower by the end of 2024 than our current baseline.
In the market for new homes, we see new supply trending lower through 2023, impacted by prior declines in home sales, a weaker economic backdrop, and higher interest rates. In this regard, residential building permits have dropped to their lowest level since 2020 (on a three moving average basis), signaling a lower near-term pace for starts after they declined 11% m/m in October.
However, once Canada's housing market adjusts to this historic hike cycle, housing supply will face tremendous pressure to keep up with the federal government's new immigration targets, which envision 465k, 485k and 500k newcomers entering the country in 2023, 2024 and 2025, respectively. If achieved, each year would mark a record high for immigration and means that demand for rental units will stay strong. Eventually, these cohorts will transition towards demanding ownership housing.
Q10. Why is the BoC easing up rate hikes?
Despite rhetoric by the Bank of Canada that now was not the time to ease up on rate hikes, the Bank of Canada scaled down its hiking path with a surprise 50 basis point increase in October. If you were wondering what changed, you weren't alone. Market expectations were fully priced for a 75-basis point increase and that the central bank would closely follow the Federal Reserve through the first half of 2023. Now with the BoC's pivot, markets have the Canadian policy rate peaking half a percent below the fed funds rate.
So why the smaller magnitude of rate hikes? The answer lies in what was detailed in question 7. The high exposure of Canadian households to interest rates coupled with the fastest rate hike cycle in nearly three decades, leaves the central bank with a much slimmer margin for error in the event of a policy overshoot. This risk is implicit within the BoC's own forecast, which reflects negative consumption growth through the first half of 2023. We agree that the Canadian consumer is about to get squeezed, which will cause GDP growth to tread water at around 0% growth over 2023 and force the unemployment rate to rise to a peak of 6.5% (from 5.2% currently).
Q11. Will the weaker loonie reignite inflation in Canada?
Over the last year, the loonie is down 8% compared to the U.S. dollar. This is pretty good relative to the drop in other currencies like the euro, pound, and yen, but the depreciation runs counter to the Bank of Canada's ability to bring down inflation.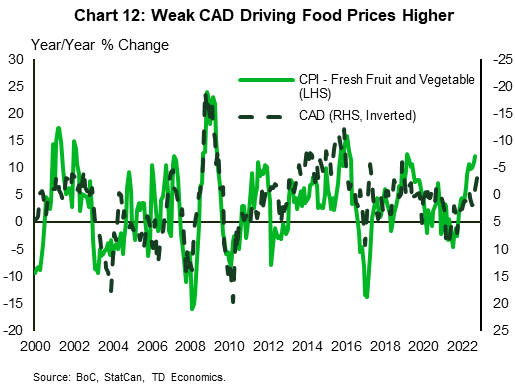 As a small open economy, Canada has always been susceptible to currency fluctuations and the related transmission to prices for a wide range of heavily imported products, ranging from living room sofas to avocados. In this cycle, food costs in the CPI basket have been particularly problematic for the BoC. While overall CPI has grown by 6.9% year-on-year (y/y) in October, food prices shot up well above that at 10%. Most of this increase is from a necessity – food purchased from grocery stores (up 11% y/y), instead of food purchased from restaurants (up only 7.7%). Supply chains and energy costs were already at play here, and now the lower Canadian dollar is providing an additional layer of price pressure (Chart 12).
For the BoC, this is somewhat of a double-edged sword. The BoC is more constrained than the Fed in raising interest rates due to the real risk that it triggers an unorderly deleveraging cycle. But at the same time, a widening interest rate differential between the two countries weakens the Canadian dollar and pressures import prices. Talk about threading the needle. We expect this trade-off will cause the BoC to stop its rate hike cycle at 4.50%, relative to a Federal Reserve at 5.00%. In turn, the loonie may flirt with the low 70 U.S. cent threshold in early 2023.
Q12. What is America's homegrown inflation problem?
The Federal Reserve is sprinting to bring inflation back under control. Despite the slowing in core CPI to 0.3% month-over-month (m/m) in October, the three-month annualized increase remained elevated at 5.8%. Higher shelter cost is one of the leading culprits. Even as many core services slowed in October, shelter costs surged 0.8% (m/m). Unfortunately, this component is highly influential, accounting for just under half of the core CPI basket (42%) and a third of the overall basket.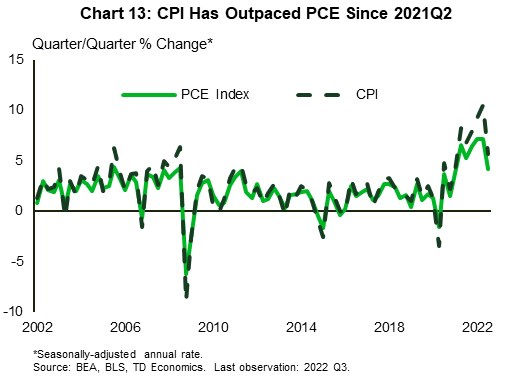 When tracking inflation in the CPI, the Bureau of Labor Statistics (BLS) estimates the services provided by shelter, rather than the change in home values. Specifically, shelter costs capture rent and owners' equivalent rent (OER) that homeowners would pay if they were renting their own home. Since most individuals don't move often, price movements in new leases often take 9 to 12 months to show up in CPI (please see our recent report). This long lag means that shelter costs will continue to accelerate and account for a disproportionate amount of the increase in the monthly CPI figures to about mid-2023, even though actual rent costs have already begun to roll over. Our forecast assumes core CPI reaches 4% y/y by the end of next year and drifts lower to just above 2% by the end of 2024. This known persistence of shelter costs implies that both core goods and services (excluding shelter) will need to show a meaningful deceleration over the next year for inflation to return to an acceptable range by the end of 2024. And this is the ultimate problem with driving forward on policy rates, while looking in the rear-view mirror.
Fortunately, the Fed is starting to pivot its rhetoric to being more forward looking. First off, their preferred measure – the core PCE index – assigns a much lower weight to its shelter category (17%) and, as a result, is trending lower (Chart 13 and see our recent report). In a recent press conference, Powell acknowledged the long lags within shelter costs and signaled an intent to look past that influence. Secondly, other senior central bank officials have also recently adopted a softer tone on the pace of rate hikes. Their communication indicates that the Fed might be ready to slow the pace of rate increases at the next FOMC meeting.
Despite these recent pivots in rhetoric, financial markets have spent the past year laser-focused on every inflation number for guidance on the future path of policy rates. The Fed will need to walk the line on the degree to which it is willing to look through the lags relative to dialing back the pace of monetary tightening.
Q13. When should we expect the Federal Reserve to pivot?
A fed funds rate at 4% now in restrictive territory. But there is no stop-sign yet being waved on interest rates by the Federal Reserve. In fact, Chair Powell commented at the November FOMC meeting that relative to the committee's view in September, the terminal rate would likely be higher today. Back then, Fed members had penciled a median peak in the fed funds rate at 4.6%.
However, the winds shift quickly in this environment as central bankers keep all options on the table at all times. Powell's comments were made prior to the release of the October CPI report, but a favorable inflation print appears to have shifted the winds. Now, Fed members are speaking about being on the "back end" of the inflation surge and that news on inflation has been "mostly good".
We have consistently been of the view that the Fed will overpromise and under deliver on the peak level for the fed funds rate. This is required tactically to anchor inflation expectations and prevent a premature easing in financial market conditions through relief rallies.
Come December's FOMC meeting, we are expecting a 50-basis point hike, followed by 25 basis point increments in the early part of 2023 as needed. This will allow the Fed time to pause and watch the impact of its past policy actions on incoming economic data.
Beata Caranci, Chief Economist | 416-982-8067

Derek Burleton, Deputy Chief Economist | 416-982-2514

James Orlando, CFA, Director | 416- 413-3180
Leslie Preston, Managing Director | 416-983-7053

Andrew Hencic, Senior Economist | 416-944-5307

Thomas Feltmate, Director | 416- 944-5730
End Notes
3-5 year fixed term mortgages renewing this year account for about 13% of total mortgage credit, 3-5 year fixed term mortgages renewing next year account for about 15% of mortgage credit outstanding (as of August 2022).
This is equivalent to 1.3% of the annualized household consumer spending in 2022Q2
This is equivalent to 2.3% of annualized household consumer spending in 2022Q2.
Disclaimer
This report is provided by TD Economics. It is for informational and educational purposes only as of the date of writing, and may not be appropriate for other purposes. The views and opinions expressed may change at any time based on market or other conditions and may not come to pass. This material is not intended to be relied upon as investment advice or recommendations, does not constitute a solicitation to buy or sell securities and should not be considered specific legal, investment or tax advice. The report does not provide material information about the business and affairs of TD Bank Group and the members of TD Economics are not spokespersons for TD Bank Group with respect to its business and affairs. The information contained in this report has been drawn from sources believed to be reliable, but is not guaranteed to be accurate or complete. This report contains economic analysis and views, including about future economic and financial markets performance. These are based on certain assumptions and other factors, and are subject to inherent risks and uncertainties. The actual outcome may be materially different. The Toronto-Dominion Bank and its affiliates and related entities that comprise the TD Bank Group are not liable for any errors or omissions in the information, analysis or views contained in this report, or for any loss or damage suffered.